a gentle, unassuming mirror ~in person~ exhibition
January 20, 2023 - February 24, 2023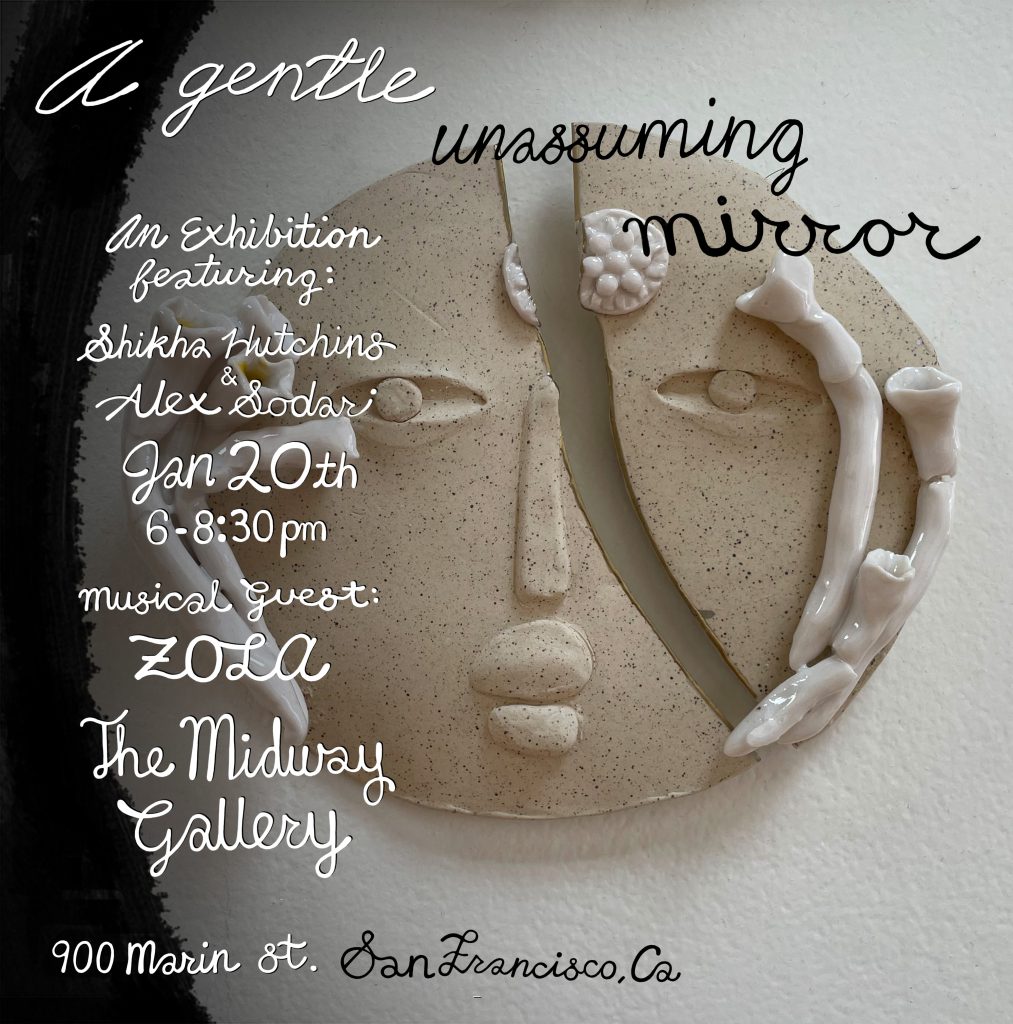 ---
San Francisco, CA– In conjunction with the current virtual exhibition, "a gentle, unassuming mirror" with artwork from The Midway's Artist Studio Residency artists Shikha Hutchins and Alex Sodari, opens on Friday, January 20th at The Midway.  The exhibition is curated by Norah Crean and can be viewed in person in the Gods & Monsters gallery at The Midway,  January 20, 2023- February 24, 2023.  
The words "we are mirrored in nature," may have been uttered from Ghandi, or Euclidean Grecians, but it's a phrase many identify with.  The mirror from nature is often anthropomorphic, subtle, and unassuming.  The lens of the natural world leads us to detach from our expectations of where we "should be" and attach to where we are.  In whimsical sculptures and colorfully illustrated  codices, this summer's artist in residency holds a mirror to our relationship with nature. 
"a gentle, unassuming mirror" showcases a body of work from both artists in residence, Shikha Hutchins and Alex Sodari.  These selected artists were chosen from a talented pool of candidates in an open call by The Midway.  
Shikha Hutchins hails from the world of ceramics, clay, and tactile release from head space to hand space.  She has successfully led two ceramic workshops at The Midway, and will be revealing her series of clay masks.  Hutchins' body of work is called "MRMR: Persona."  The MRMRsor Morphic Resonance Muse Rishis, an acronym coined by Hutchins, reminds us of our deep connection to the natural world. She imagines them "peeking around a tree, a little tipsy on flower nectar, winking and inviting us to join them in their reverie."  
Alex Sodari has spent his hours at The Midway building a studied body of work, "El Oeste."  The paintings, paper mache sculptures, and handmade books  by Alex, display an array of imagined creatures and characters amidst California landscapes.  Their focus on magical realism coats the work with a softness and viewpoint that makes imagery and landscapes fun, idiosyncratic, and cathartic.  Sodari also led a well-attended, thorough zine-making workshop, "Exploring Worlds in Ink," on August 17th at The Midway.  They showcased their illustration skills and knowledge of materials with attendees who went home with self-crafted zines.  
"a gentle, unassuming mirror" opens January 20th, 2023 in the Gods & Monsters Gallery at The Midway.   
Opening reception is Friday, January 20th, 6-8:30pm and open to the public.
Musical Guest ZOLA
Follow The Midway Artist Studio Residency @themidwaygallery on Instagram and Facebook. 
Support The Midway Artist Studio Residency by sharing open calls for applications and keeping up with announcements at https://themidwaysf.com/art/artist-studio-residency/. 
APPLY! Applications for 2023 Midway Artist Studio Residency are open through January 5, 2023.
Purchase artwork by contacting norah@themidwaysf.  Purchased works support the artist and The Midway Artist Studio Residency. 
Written by Norah Crean
---