The Midway's Artist Studio Residency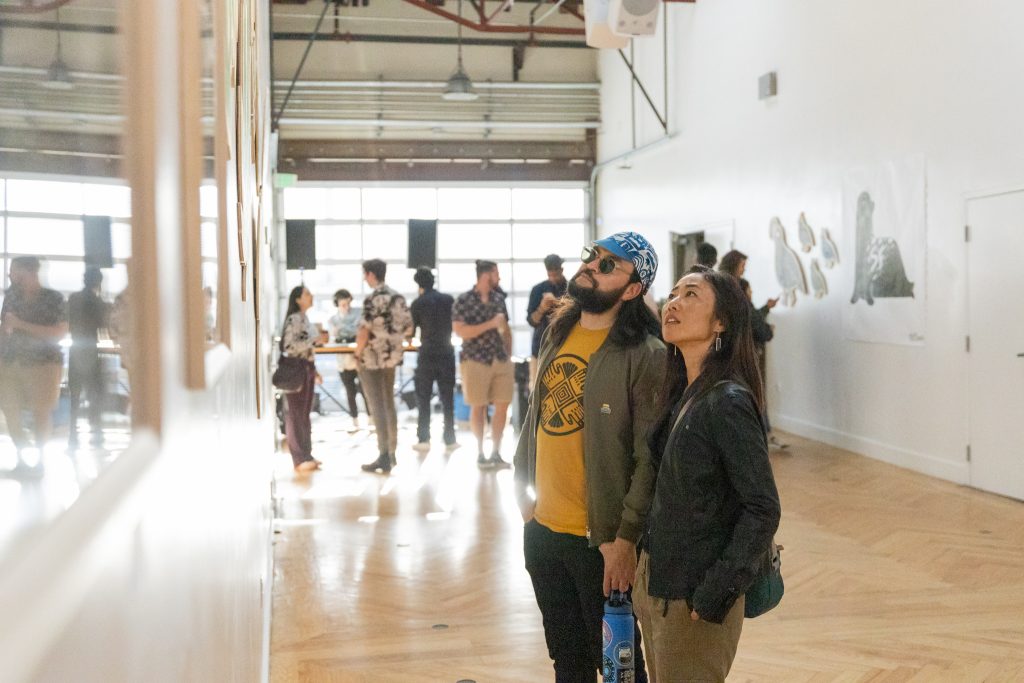 Overview:
The mission of The Midway's Artist Studio Residency (MASR) program is to forge a relationship between local artists and The Midway. As a venue that promotes artistic relevancy and cultural necessity, The Midway offers a studio space free of rent to each participating artist. Programming includes:
1. Monthly workshops
2. Works of art
3. Curated exhibitions in The Midway Gallery
4. Promotions
The Midway's Artist Studio Residency will also exist as an Exhibition Program that focuses on engaging the public and revealing the art-making process through exhibitions, events, talks, publications, and other opportunities. The program is open to artists of all generations, nationalities, and disciplines. Applicants must be 21 or older.
After participating in the Midway Artist Studio Residency, artists have gone on to
SOMArts Curatorial Residency
Large scale mural commissions in historical Calle 24 Latino District
Recology San Francisco Artist in Residence
Domaine de Boisbuchet Residency Programme
Who: 2 early- to mid-career artists across all mediums. Priority given to artists living in San Francisco.
Length: 3 months per Winter and Summer cohort
Participation:
MASR participants must make a serious commitment to the program for the entire three-month session. Participants are expected to utilize the studio actively and consistently (artists should be in their studios an average of 20–40 hours per week). In addition, regular attendance and participation in all MASR related public programs is required.

It is vital to the success of the program that MASR participants take full advantage of the unique resources The Midway is able to provide. For this reason, MASR participants cannot simultaneously participate in another residency or degree-granting program while participating in MASR.
What is provided as part of The Midway Artist Studio Residency:
– 24/7 access* to your own studio at The Midway
-Private 10′ x 10′ studio
– Work tables and chairs
– Overhead and natural lighting
– WiFi
*with the exception of full-venue buyouts, which may occur during residency
Important Program Notes:
– Housing is NOT provided – artists must secure their own accommodation for the duration of their residency
– Studios facilities do not offer access to medium- or technique-specific amenities such as a woodshop, print or media lab, or a dance floor (please consider this when preparing your proposal and residency goals)
– Artists must provide their own tools and materials (restrictions apply)
– Artists must be at least 21 years old
– Artists may not have access to their studio in the case of venue buyouts or other restricted/private events
Community Building & Professional Development:
An integral aspect of The Midway Artist Studio Residency is the opportunity to grow both a network of peers, curators, educators, and other arts professionals working in San Francisco.
To support this initiative each participating artist is required to lead a minimum of one workshop during their residency.  These workshops will be open to the public with revenue from ticket sales going to The Midway. Artists are also required to provide artwork, made while in-residency, for a group show at the end of the residency.   
Artists are expected to have a comprehensive body of work, completed during the residency, to exhibit in The Midway Gallery for a final group show.
Publicity: Permission for The Midway to post and share photographs and written promotions of participating artists, ongoing artwork, and studios is required.
Stipend: No stipend is provided
The application period is now closed. Applications will re-open in November 2023.