'timed adaptations,' opens July 10th at The Midway Gallery.
July 10, 2021 - August 23, 2021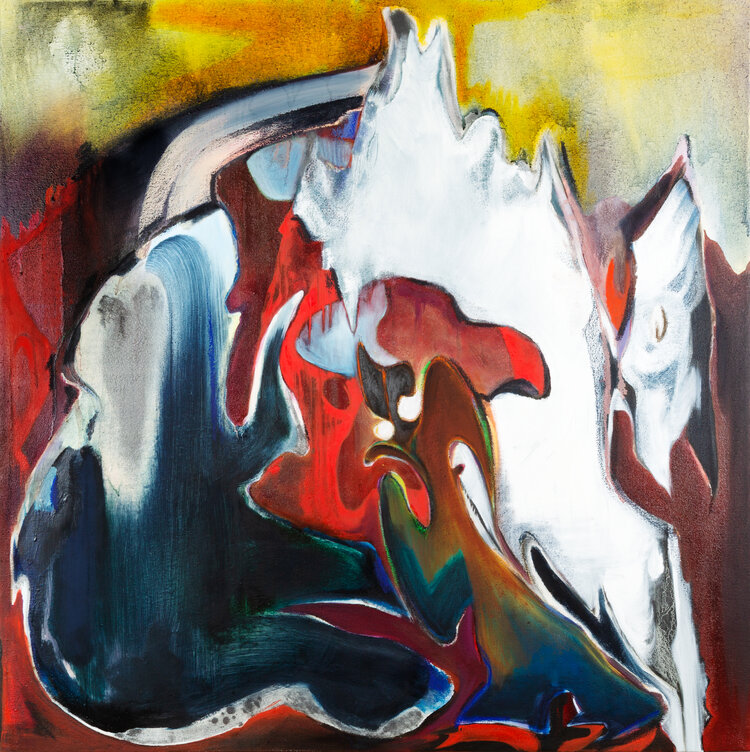 San Francisco, CA– The Midway has re-designed and re-instated an artist residency program in the shape of, MASR, The Midway's Artist Studio Residency. For the past 10 months, 3 artists who were jurored in, have been working diligently in a 10' x 10' studio within the 40,000 sq foot venue. 'timed adaptations' will open on July 8th in a culmination of work from MASR artists, Emily Benz, Adrianna 'Boo' Alejo Sorondo, and Sasha Vu. Exhibition will be curated by Norah Crean.
The artists were welcomed into the empty venue (outside of close staff) with the promise of 6 months of free studio space. Due to the pandemic, that time has unraveled into what will be a 1 year residency once the artists move out in September. In that time, artist Adrianna 'Boo' Alejo Sorondo, gave birth to her first child.
Boo has formulated pieces that reveal her catharsis as a new mother. She has redefined herself over and over inside the studio. She says her focus is now to come into the studio and "create joy with my baby."
You'll discover Boo's joy through her love of beautiful, playful color palettes amongst strong Meso-American symbolism. Viewers will notice the branches of avocado trees honoring her father who taught her much of the plant knowledge that deeply informs her work. Registers of sky and earth can be seen with rough, unrefined color swatches that call reference to the graffiti artists in the bay whose artwork is continuously covered by a landlord's rushed paint job. Boo adapts traditional symbolism into images that have been informed by her life as a millennial mother in the Bay.
Adapt? Emily Benz's entire body of work speaks to the necessary adaptations she has made throughout the pandemic. Large scale canvases with nebulous figures show viewers the artist's dramatic shift in wavelength. Benz's work is studied and calculated, showing viewers a nuance of change through her unique style.
Sasha Vu presents viewers with bright, meditative imagery depicting themes of decomposition. Her paintings and mirror installation invite viewers to confront themselves in lieu of rebirth, genesis, and death.
At The Midway, Boo, Sasha, and Emily have been living in a microcosm of timed adaptations, knowing their time in the studio has an end but not knowing what the pandemic will bring next.
'timed adaptations' opens July 10, 2021 at The Midway Gallery. Opening reception date Saturday, July 10 6-8pm. Stay tuned for more events throughout the exhibition.
Schedule a viewing or purchasing inquiries:
Email [email protected]
The Midway Gallery is open Monday-Friday 10am-3pm and by appointment.
WAYS YOU CAN SUPPORT THE MIDWAY ARTIST STUDIO RESIDENCY
Follow us on instagram @themidwaygallery and share photos.
Stack your creative tool belt and participate in our Spring Artist Workshop Series. Tickets can be purchased at https://themidwaysf.com/events/.
EXPLORE MASR ARTISTS
Links