Three
August 5, 2022 - September 16, 2022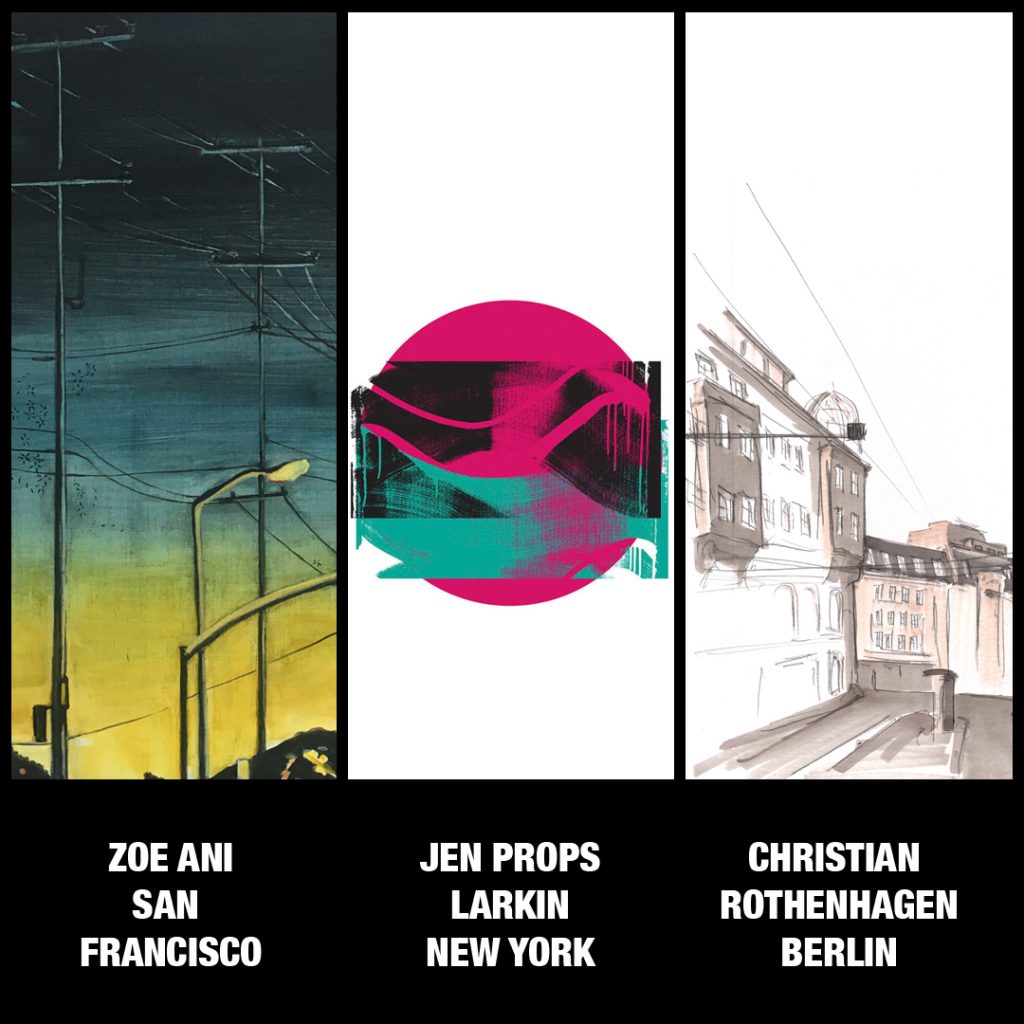 THREE, an exhibition with three friends, three cities and three perspectives that highlights a
shared urban emotional and physical landscape.
Opening at The Midway on August 5, 2022, this exhibit of individual and collaborative works by Christian Rothenhagen, Jen PROPS Larkin, and Zoe Ani will create a space to showcase a vision of their shared love of the city, be it New York, San Francisco or Berlin.
Rothenhagen's precise fine line drawings are combined with Larkin's spontaneous breathtaking color movements and are juxtaposed with Ani's color fields and intimate details of city landscapes.
Art is a key component that sustains the soul in spite of absence, time and distance. Their shared vision helped navigate these three through life's tumult. It is this shared visual language that will celebrate the commonality of city life, city love and elevate this uniquely urban connection shared by three friends.
---
About the Artists:
Christian Rothenhagen/ aka deerBLN is a fine artist and designer who grew up and lives in Berlin. He has had various publications and artist features in quite a number of books and magazines, both national and international.
He is known for his conceptional, architecture focused drawings, paintings and installations – capturing the changes of his beloved city of Berlin and San Francisco (his second love/ wich he frequently visits since the mid 90ies).
He shows his personal view on the city and it's transformation, creates pause for the viewer and tries to "freeze" some moments in time. His art is mostly presented in galleries, but can also be found in the streets.
Over the last two decades his works have been exhibited in solo- and group shows in Europe, the USA, Canada, the Lebanon, China and Japan.
https://deerbln.de/
IG @deerBLN
Zoe Ani began drawing as a teenager in southern Oregon. They developed skills in drawing during cross country travels and forged a unique art education by pursuing opportunities to learn and work in alternative settings.
Zoe studied painting at The Art Students League in New York City and focused on encaustic at Penland School of Crafts in North Carolina. They continued to pursue their craft in a tiny studio in Brooklyn, NY. They transitioned back to the west coast after twelve years in New York City to connect with familiar landscapes. Zoe works in a studio in the Dogpatch neighborhood in San Francisco, CA. They have recently exhibited in SF City Hall and have an upcoming exhibition at Napa County Library in 2023.
https://www.zoeani.com/
IG @zoe_ani
Jen Props: Some of my biggest inspirations come from my childhood trips to NYC, with my family. My eyes lit up at all of the colors, sounds, and movement of the vibrant metropolis. One of my earliest memories, that has stuck with me all of these years, was driving in from Long Island, and seeing the Keith Haring "CRACK IS WACK" mural. I then started to see murals, graffiti and type everywhere. When I moved in at 18, I started tagging the streets with "PROPS". I also dabbled in stencils, spray painting my graphics all over Manhattan and Brooklyn. In the early '90's, I started to exhibit my art in galleries, and it brought me all over the world: Tokyo, London, Paris, Biarritz, Berlin, as well as the country; San Diego, Los Angeles, San Francisco, Seattle, Portland, Chicago, and Denver, to name a few.
I have been painting ever since and sharing my work both in galleries and on the streets. Stickers have become the main way of sharing my work on the streets, but fine art, screen-printed works on paper, murals, tee shirts and totes, are my main artistic practice now. Bold color, typography, Expressionist flow of paint and drips, hip hop music, breakdancing, skateboarding, surfing, and movement in general, are intertwined in my paintings which I call "Handmade Graphic Design".
www.jenprops.com
IG | FB: @jenprops
---
THREE opens Friday, August 5, 2022 with a reception from 5-8pm at The Midway Gallery.