Symbols & Invocations
March 4, 2022 - April 14, 2022
Artwork by Rayos Magos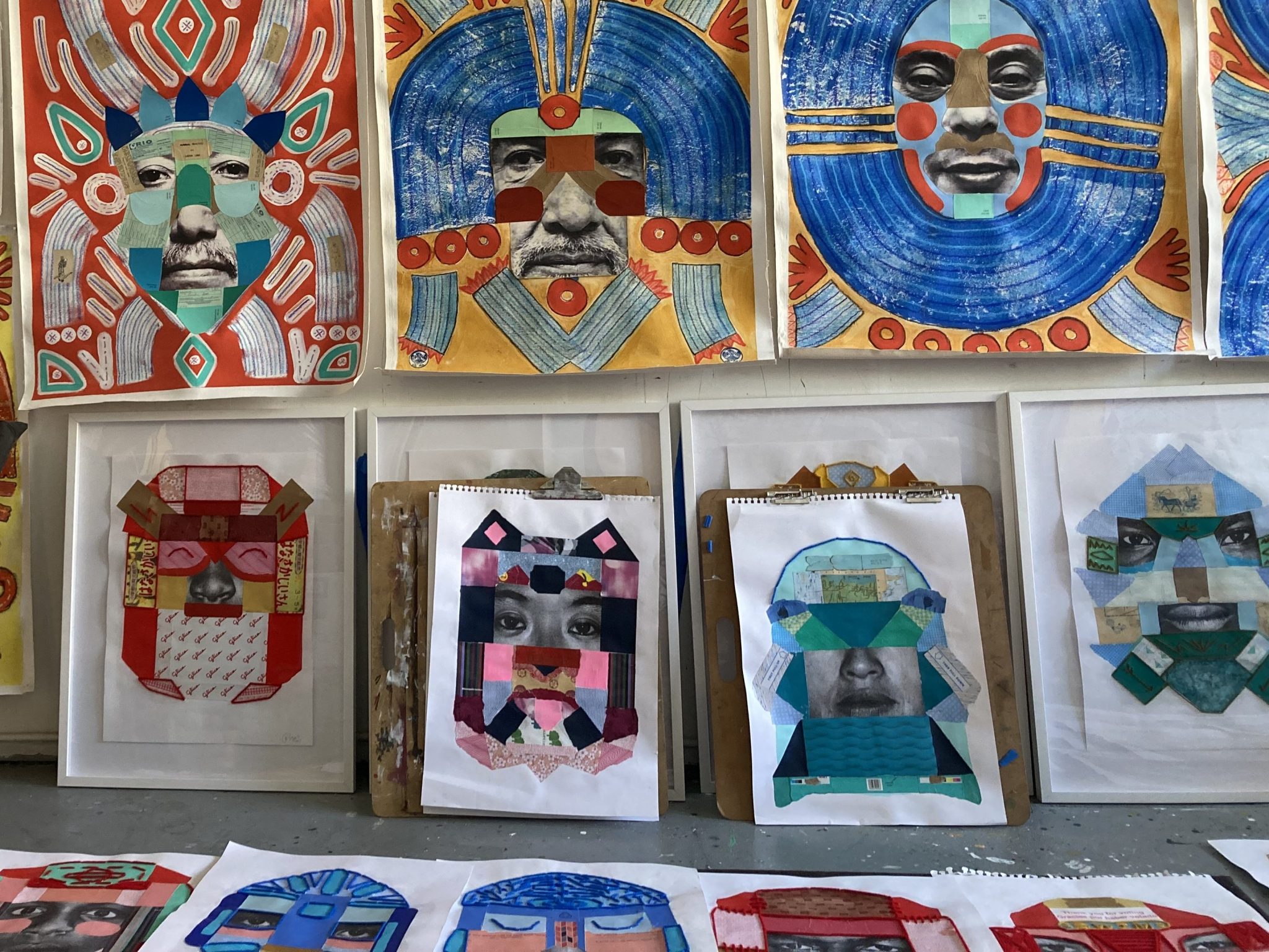 FOR IMMEDIATE RELEASE
San Francisco, CA— We need to find a new level of observation. Immersive exhibitions are reaching their precipice as many are flooded with promotions for art exhibitions that read more as a blockbuster movie. Inaccessibility (cost of ticket) and production (sterile) may leave some of us feeling estranged.
In his first solo exhibition at The Midway, viewers arrive at a multi-series body of work by Rayos Magos. The exhibit is an initial debut of work never seen before in the United States and comprised of a site-specific mural, bold, concentric, and colorful portraits, and a visual language of symbols in printmaking and paint.
'Symbols & Invocations' releases us into Magos' multi-media work, allowing us to stand by him in his search for the connection between himself as a Bay Area artist, and a man of Mexican/ MesoAmerican ancestry.   With fascinating parallels to Carlos Castaneda, we see Magos invoking symbols of Mesoamerica in his use of collage, paintings, and his premier medium, printmaking, in an anthropological approach.  
Viewers of 'Symbols & Invocations' will be able to see Magos' heavy brushwork through use of utilitarian paint rollers. In his collection of essential workers as warriors, Magos "remixes" photographic portraits he has captured into bold, eye-catching odes. "The theme of [this] work is to document and highlight everyday people as warriors, heroes, who are essential to their communities' survival. By elevating our local heroes we begin to acknowledge that we all have a purpose, a role in our
collective society," says Magos. Rayos was selected and is currently the sole artist resident in the Palo Alto Public Art Program.
Estrangement, disconnection, and sterility are the furthest sensations viewers will observe in this body of work.
–Norah Crean
'Symbols & Invocations' opens Friday, March 4th at The Midway Gallery.
Reception free to the public Friday, March 11 6-8pm at The Midway Gallery.
Photo: Rayos Magos' studio in San Jose, CA.

Follow Rayos on Instagram @rayos_magos
Follow The Midway Gallery on Instagram @themidwaygallery