Mine
June 16, 2022 - July 18, 2022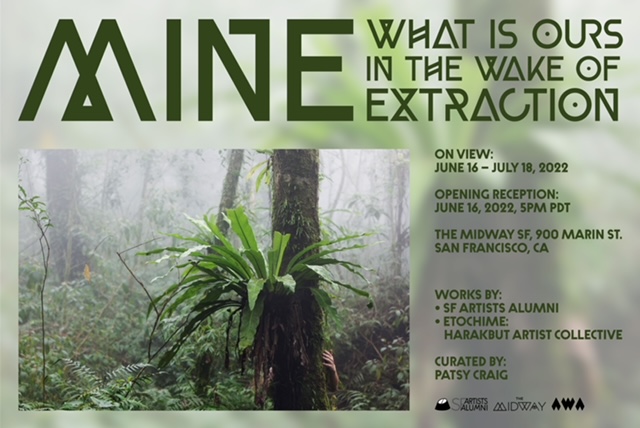 ex·tract
a) to draw forth (as by research);
b) to pull or take out forcibly;
c) to obtain by much effort from someone or something unwilling.

The Earth system has now entered the Anthropocene, a geological age in which plantation monocultures, pollution, and industrial-scale resource extraction are damaging or destroying vital ecological systems on which the planet and its biological diversity depend. Globally dominant modes of human existence are driving us towards ecological collapse. Due to our ethically untenable relationship to nature, the Earth System is in crisis. Moreover, large numbers of people who have done nothing to cause this crisis are most exposed to its consequences. Many come from cultural traditions that enrich and perpetuate healthy biodiversity as the means to ensure mutual flourishing. These Indigenous 'wisdom traditions' are widely recognised for their sustainable world views and sophisticated understanding of our interdependence within the Earth System.
From this perspective, MINE: What is Ours in the Wake of Extraction seeks to amplify Indigenous worldviews specifically as they pertain to land relationship and sustainability by presenting art works that render the impact of extractive industries on Indigenous communities. In this light, the artworks will also critique collectivist vs individualistic perspectives and practices of environmental stewardship.
Curated by Patsy Craig, MINE will present art works that relate to thematics surrounding resource extraction and Indigeneity by featuring a selection of artists working within these parameters from the diverse community that makes up the SFAA juxtaposed with works by Indigenous artists from the Madre de Dios region of the Peruvian Amazon- an area heavily impacted by contamination from the illegal gold mining boom of the past 20 years there. The conceptual considerations of the exhibition will reference the impact of the Gold Rush (1848-1855) in the San Francisco Bay Area drawing parallels between these two distinct geographic locations.
​
MINE aims to embrace a democratic and inclusive approach.
​
Participating Artists:
Pamela Axelson, Francis Quique Alvare, Stuart Bass, Paul Glaviano, Charlotta Hauksdottir, Percy Tayori Keddero, Luis Tayori Kendero, Marie-Luise Klotz, Liz Miller Kovacs, Mido Lee, Nakeyo Chimatani Lobon, Stefanie Loveday, Paul Sonque Mikiri, Michael Naify, Anelice Cáceres Patiachi, Lisa T Reed, Rayner Joao Mikiri Sihui, Siana Smith, Hannah Stahulak, Supermirn, Hubert Tayori Takori, Guadalupe Patiachi Tayori, Yesica Patiach Tayori, Anne Veraldi, Beth Davila Waldman, Kathryn Williamson, and Brandon Moqui Yamo.
Exhibition Presented by SFAA
Coordinated by The Midway Gallery

View: June 16 – July 18, 2022
Opening Reception: June 16, 2022, 5 – 8 pm PDT at The Midway Gallery
​