In Between Art and Science
September 1, 2023 - October 16, 2023
Paintings by Nina Via Reeves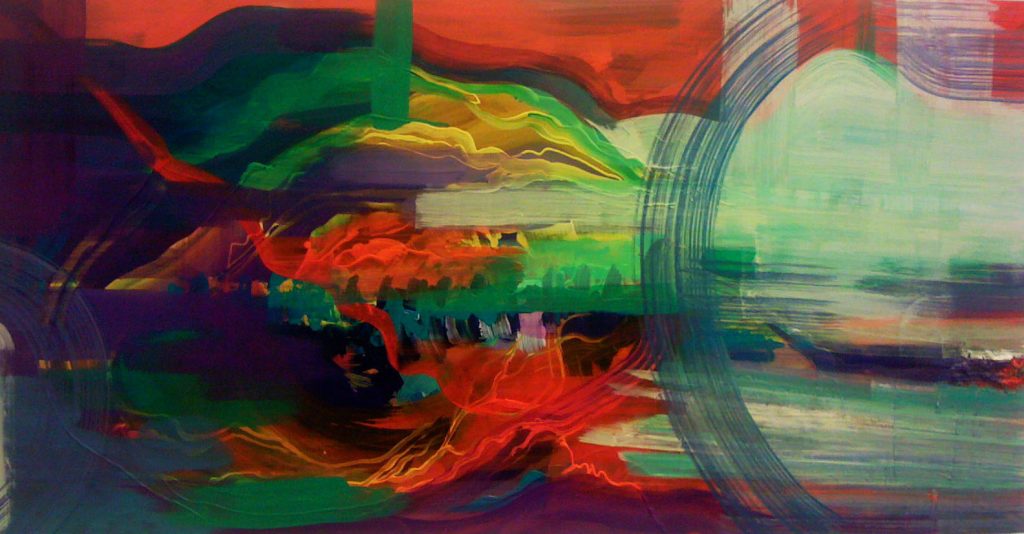 ---
"My paintings strive to merge abstraction, figurative elements and the origin of culture and influence. Each component translates in the work through layering, color, and depth, seeking a unique perspective on how I approach my art practice.

In Between Art and Science is the most recent body of work that explores figurative elements to elaborate the development of culture. I intend for the viewer to be hovered over the painting, looking into scientific structures through an abstract composition, layering, texture, and color. I direct the viewer by creating a visual language that dissects abstraction through the means of science. The visual language is articulated with different layers of strokes and colors, revealing the nature of my practice. The colors create an energy that mirrors the brushstrokes and therefore, creates a sense of depth.

For my research, I used digitalized tissue samples as the base for an abstract composition. This is the science behind the art. My paintings bring to attention the moments of interruption, often using bold, vividly colored strokes to contrast the fluid motions. This is the ideal place to focus for the viewer, since it implies the importance of a counter gesture in an abstract work."
In addition, Nina is the founder of a brand called "Kuro Neko" (Black Cat in Japanese). She hosts mindfulness workshops, artist talks, tea ceremonies, yoga, and meditation.
---
Learn more about the artist:
https://ninavia.carbonmade.com/
---
For inquiries [email protected]