blooms of jeweled seaweed
June 15, 2023 - July 16, 2023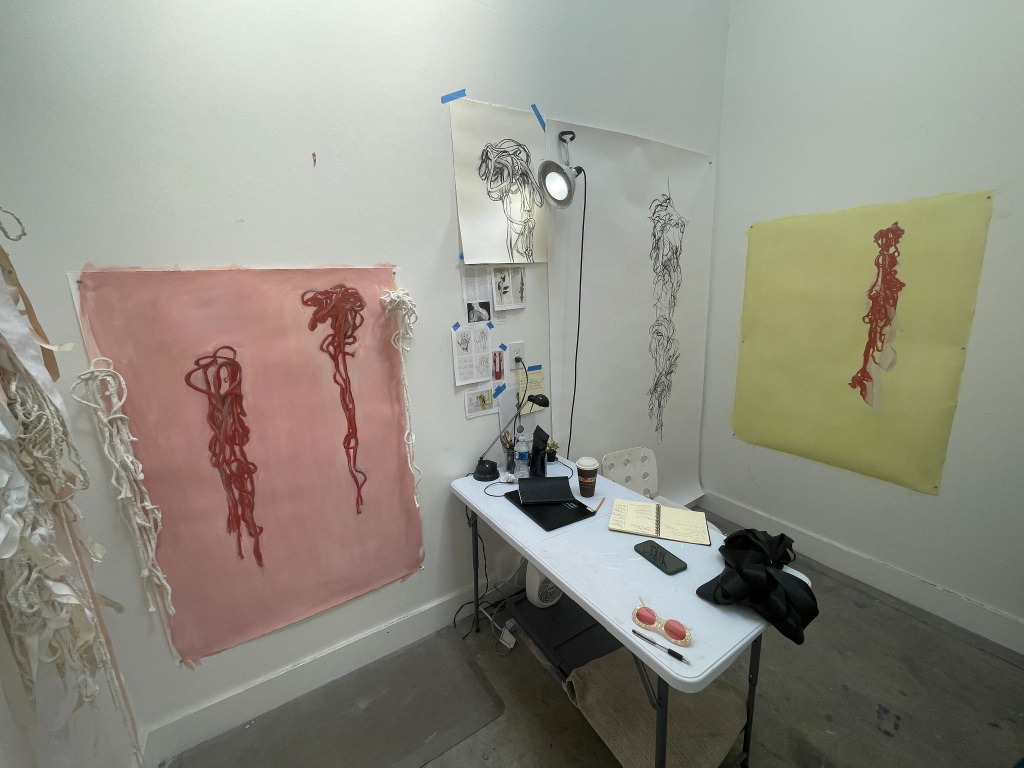 The Midway is excited to announce, blooms of jeweled seaweed an exhibition of artwork by Anne Garvey and aer.
The Midway Artist Studio Residency began in 2019 offering studios to artists free of charge for three months and a guarantee of exhibition at The Midway.  Artist, aer, applied to The Midway Artist Studio Residency with a unique proposal for workshops, which utilize community partnerships in the Bayview, as well as a chance to accentuate their focus of art as social practice.  The Midway is thrilled to be collaborating with the EcoCenter at Heron's Head Point and Greenaction for a versatile workshop, Stamps & Lamps, in which participants will take a nature walk led by the EcoCenter at Heron's Head Park, join in a educational discussion of ecology and the history of Bayview Hunters Point led by Greenaction, and then collate and experiment with printmaking, taught by aer. 
With a background in audio visual and interactive design, aer seeks to take viewers out of a role as passerby and into a role of participant. Participants of the exhibition will view aer's integration of printwork and augmented reality woven together to express messages of a dystopian landscape due to climate change. And as we participate in this exhibition, we may consider what we define to be jewels of a landscape that has been touched by industry.
Anne Garvey, artist in residence at The Midway, has historically defined her art career with oil paintings. This exhibition will showcase her journey through the isolation of a symbol; tangles. As she's spent endless hours in her studio, the tangles began to represent seaweed and have taken form as multi-media sculptures, large-scale drawings, and paintings. "The tangles represent something mysterious that lies underneath the surface," says Garvey, just as one may imagine a forest of kelp. Garvey seeks to encompass viewers rather than overwhelm. As an art teacher in Alameda County, she considers the chaos all humans can feel on the inside and how acceptance of that chaos sometimes must reign control or betterment.
-Written by Norah Crean
blooms of jeweled seaweed opens Thursday, June 15th, 2023 with an
opening reception 6:30-8:30pm.
This exhibition will be on view June 15th- July 16th at The Midway Gallery.
Follow The Midway Gallery and The Midway Artist Studio Residency:
Instagram @themidwaygallery
Facebook @The Midway Gallery and Artist Studios
Website: https://themidwaysf.com/art/
Participate in our upcoming artist-led workshops: https://themidwaysf.com/events/