FEATURED ARTIST: EVE HOYT
Eve Hoyt's mixed media pieces unify her two interests, her love for deserted items and her appreciation for neon light bending. She is especially drawn to objects she hasn't seen before and are no longer around. Eve's discoveries, from vintage items to long-forgotten toys, find a home in her Philadelphia-based studio, where she builds them into whimsical, light-up sculptures.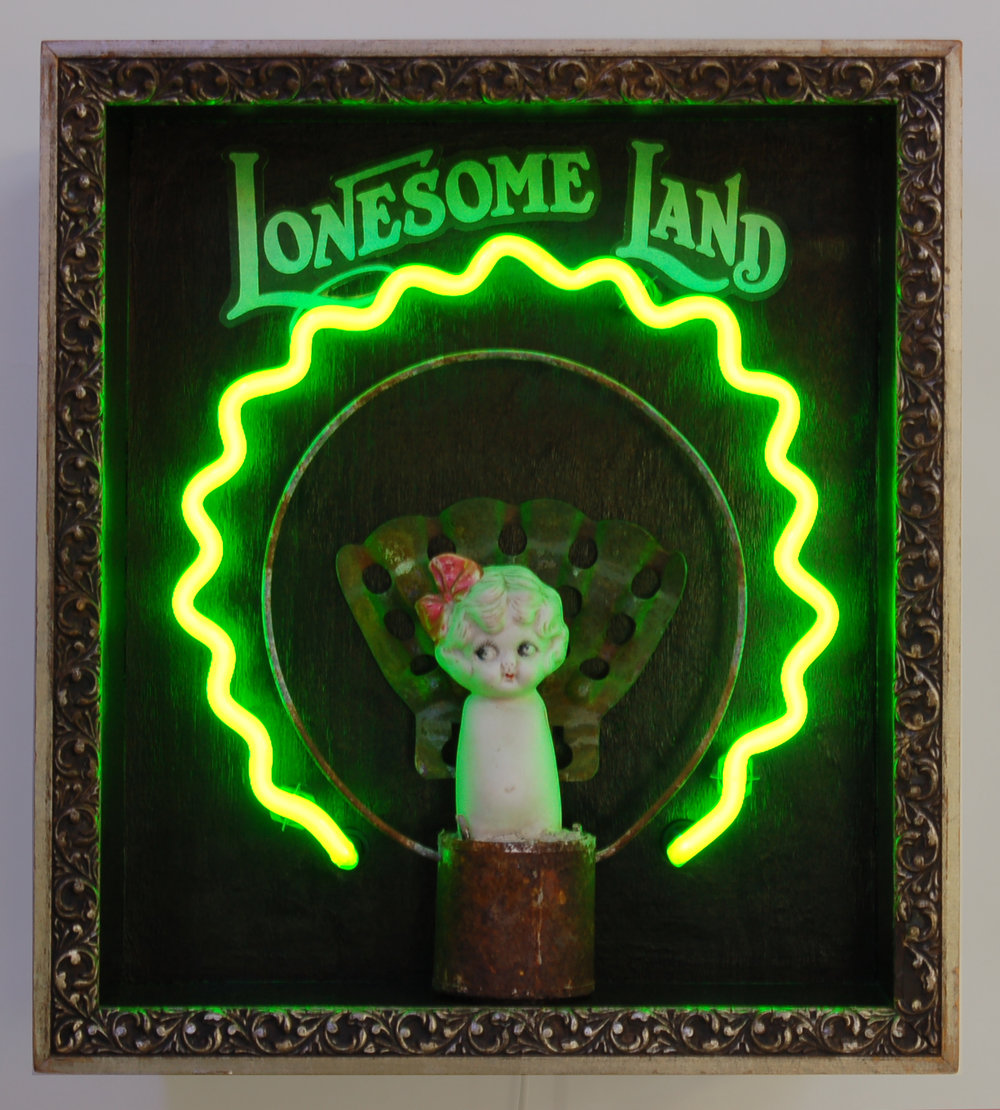 Eve's neon journey began in 1989 when she started cold-calling shops searching for someone who would teach her to bend. She was eventually connected with a female bender in her area, Haley Ryane, who took Eve on as her first student. From there, Eve went on to work with commercial shops, climbing the ladder from pumper to bender. She now runs her own, one-woman shop where she has the freedom to explore the medium's potential beyond commercial signage.
"The thing about working in sign shops, which was a drag, was that the most important thing to your employer was how many linear feet of glass you could bend in a day; how productive you were. I really wanted my own space where I could make neon in a relaxed environment, at my own pace, just playing with the glass." Eve adds.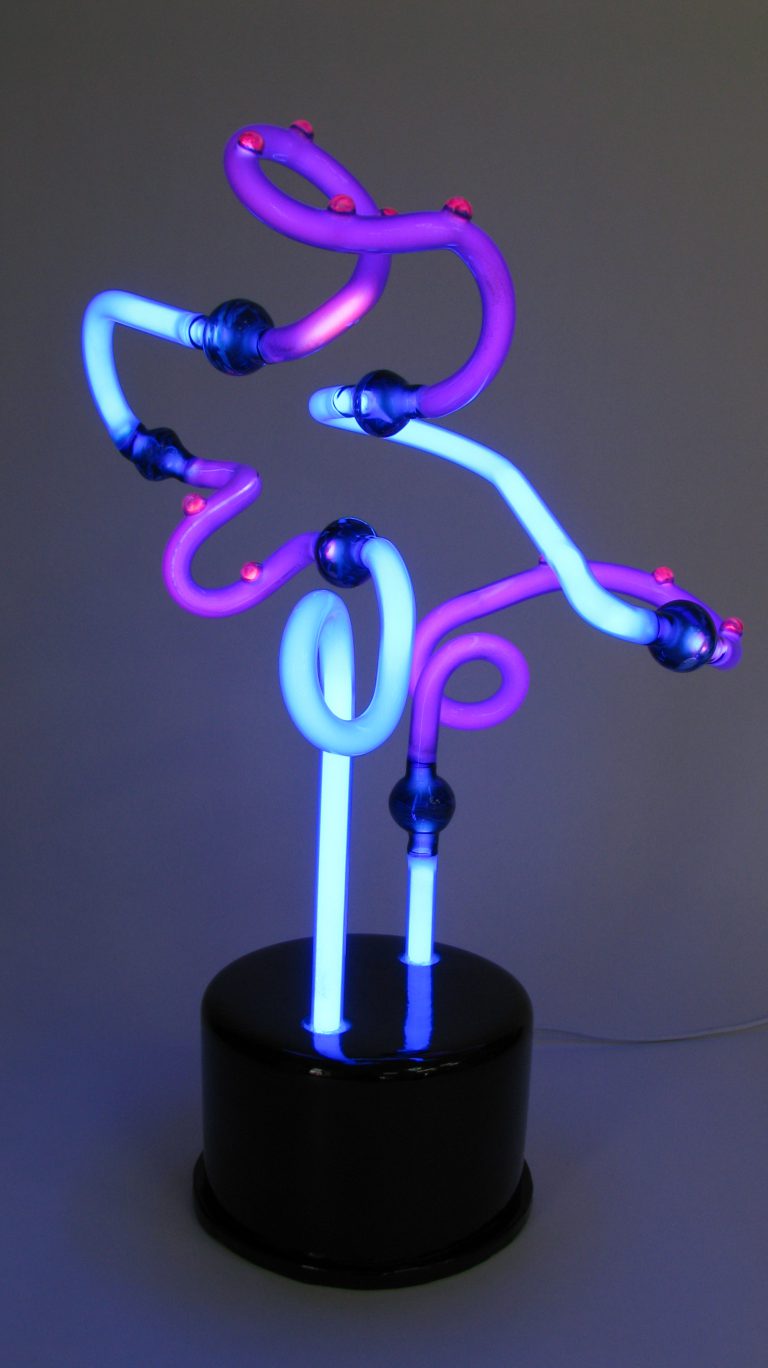 When first experimenting with the possibilities of neon glass in her fires, Eve focused primarily on the tube itself as the art piece, forming 3D free-forms that were definitely not signs. In creating these colorful shapes, Eve's intention was to present neon as a form of glass art. It was while playing with the medium that she made an unexpected discovery that would result in a signature style:
"I blow a hole into the tube then fill it in with color from a solid glass rod then blow it out to a bubble. These glowing bubbles are in a lot of my earlier pieces. I'm not sure there are any other neon artists using this technique in their tubes, mainly because I 'discovered' it when playing around with a jeweler's torch that I have set up in my neon shop."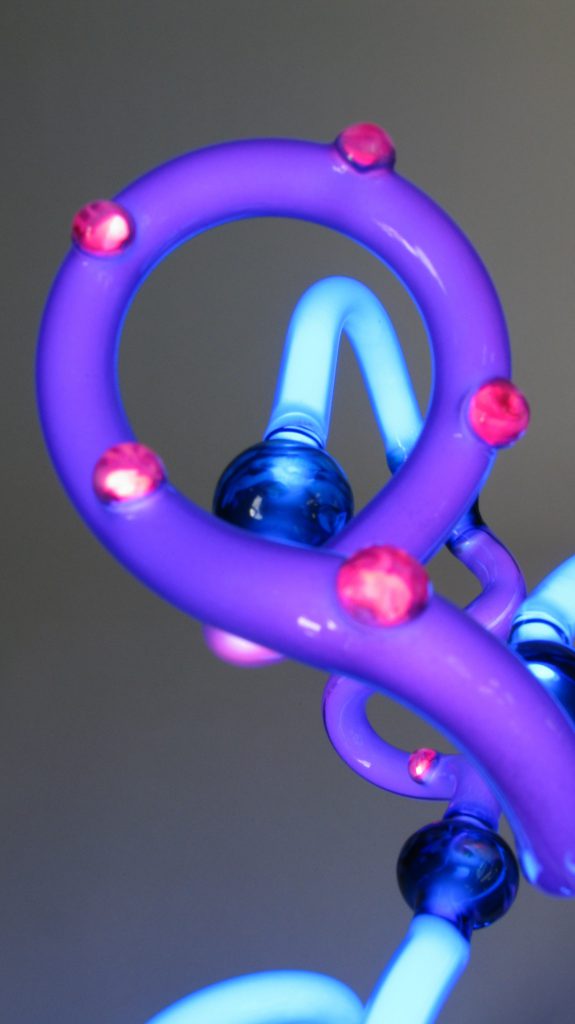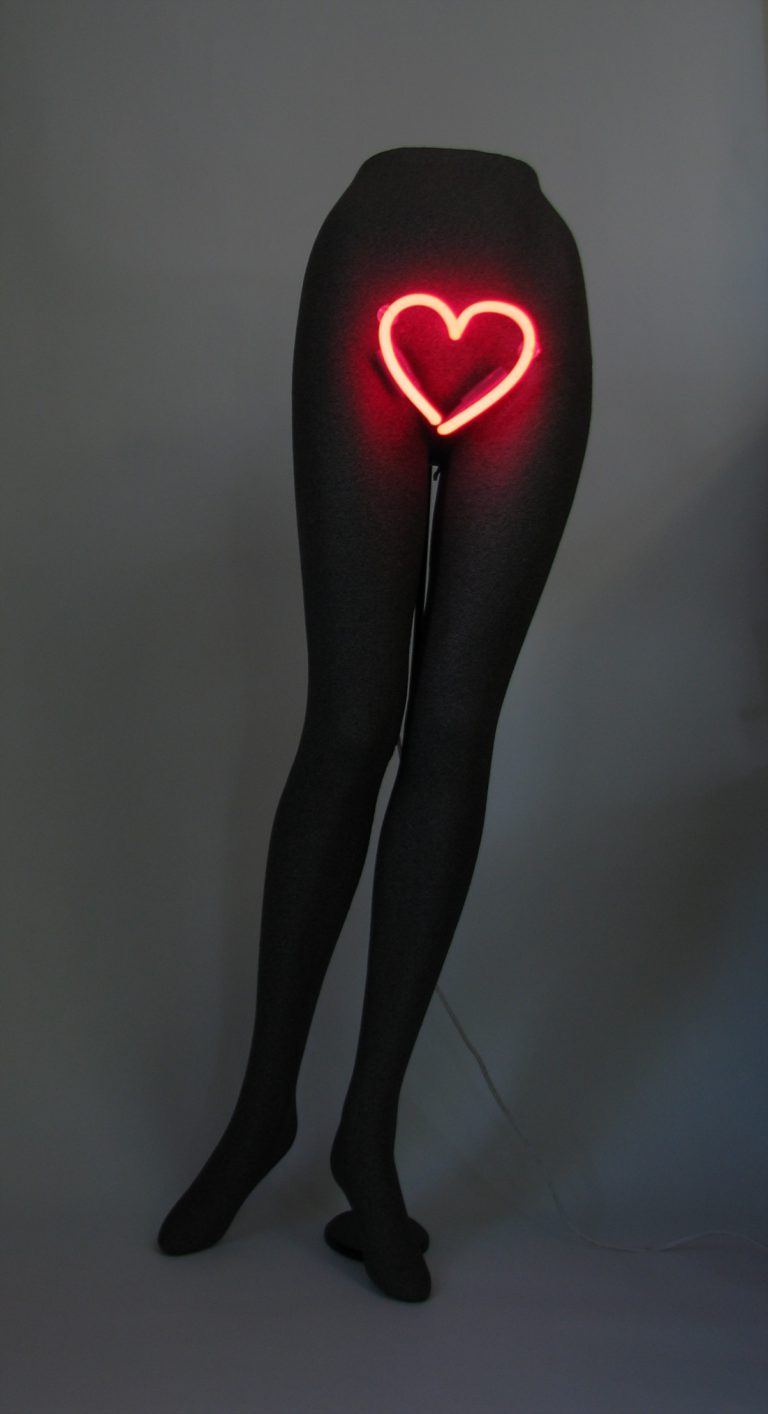 Looking to the future, Eve believes the heydey of neon signage has come and gone, but neon will remain and grow in-demand as an art form. She hopes the interest SHE BENDS: Women in Neon is generating will encourage others to pick-up the medium and help keep it alive.
"There aren't a ton of people who make neon and even less women. So, seeing all these women benders is really cool and kind of humbling. I knew there were other women benders but wow! It's really cool to see just how many of us there are, how many young women are getting into it, and all the amazing things they are doing with it."
Neon's biggest enemy are LED lights, which many benders, Eve included, have stated, "nearly killed the industry". However, in an era where items are increasingly becoming automated and mass produced, the fact that neon is always handmade, and cannot be manufactured, keeps benders hopeful that there will remain a demand for the medium.
A selection of Eve Hoyt's mixed-media, neon sculptures are currently on view at The Midway Gallery as part of SHE BENDS: Women in Neon. You can see her work, and that of 31 additional female benders during our gallery hours Wednesday to Saturday from 2pm to 7pm.
•
SHE BENDS WILL BE ON VIEW UNTIL JUNE 2, 2018
GALLERY HOURS: WEDNESDAY – SATURDAY FROM 2PM TO 7PM
#SHEBENDSSF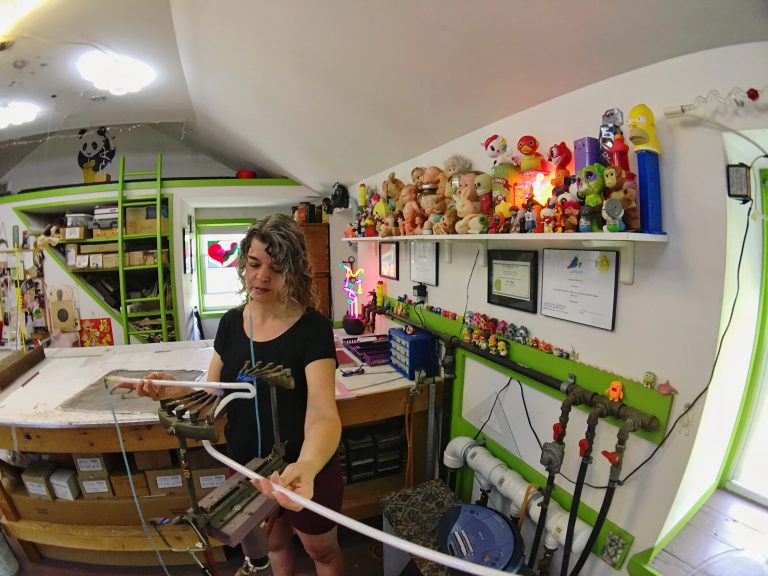 Learn more about Eve Hoyt here
Follow Eve @eveningneon
All images provided by the artist