FEATURED ARTIST: MERYL PATAKY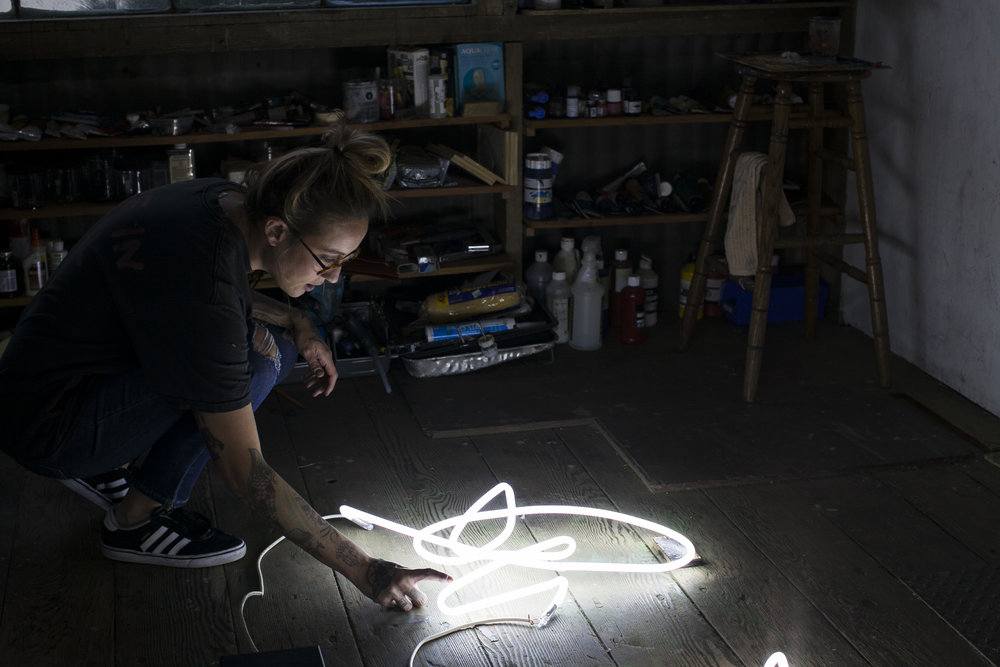 Meryl Pataky, Oakland-based sculptor, and curator of SHE BENDS: Women in Neon—the largest women-in-neon exhibition to date—is on a mission to dust the cobwebs off neon bending and properly educate the masses on the hand-made, technical, and scientific process of creating neon art.
Meryl's vision for SHE BENDS emerged after seeing promo for a women-in-neon show hosted by Lights of Soho in London. The show included a handful of women benders, of which only two personally created their work from design to production. Not one to sit on the sidelines, Meryl began making plans to curate a show of her own which spotlighted female artists working first-hand with neon to bring their concepts to life from start to finish.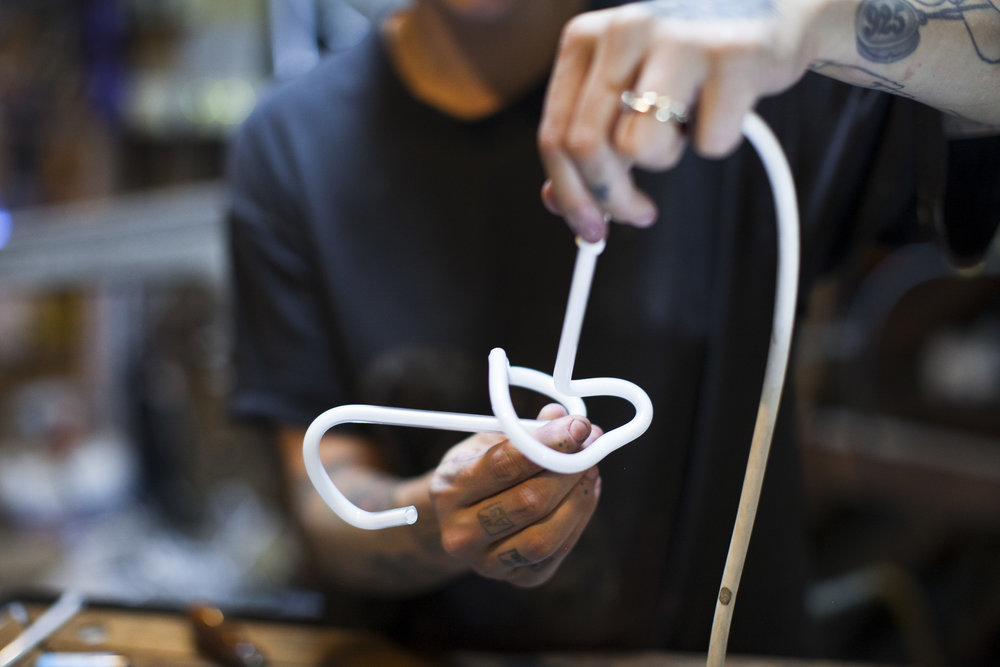 "I wanted to make it about females in a male-dominated industry making work themselves," Meryl states, "I don't want to see people who appropriate the medium because it's trendy. I want women who bend, who actually work with this medium with their own two hands aside from just designing it. There's so much more to neon that just design."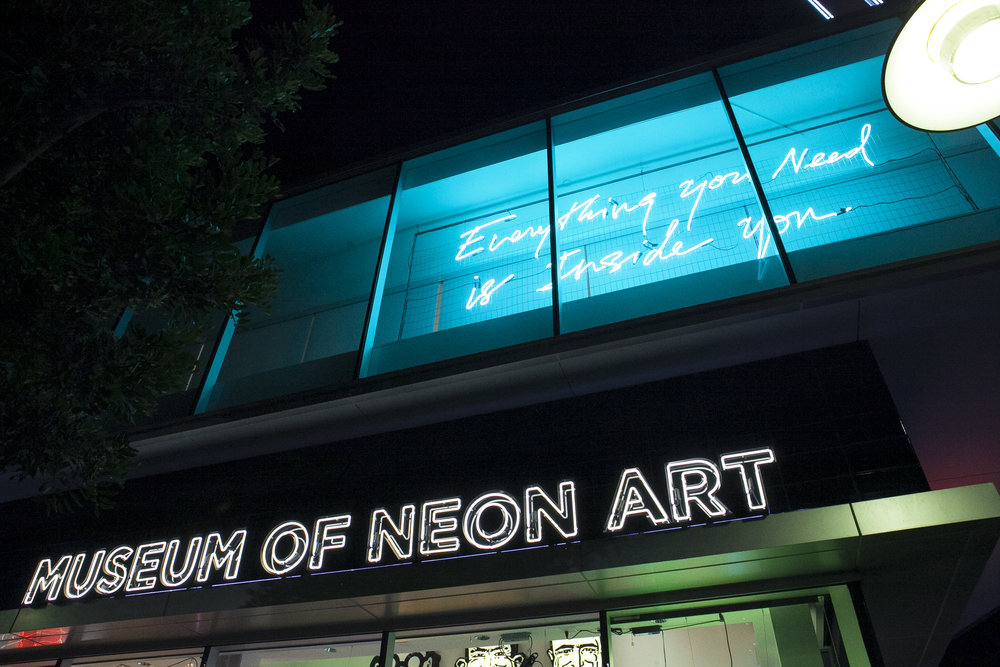 Meryl's call to arms was received with overwhelming support from female benders across the globe, including artists from as far off as Australia and Japan. With an ever-growing roster of women benders, SHE BENDS' San Francisco iteration will showcase the work of 32 artists, five more than its premiere at The Museum of Neon Art in Glendale, CA earlier this year.
SHE BENDS artists address a variety of topics through their work, from language to social constructs and current events. For her part, Meryl's multidisciplinary approach combines neon with a variety of unexpected materials, calling attention to concept and process. Her sculpture BIG FUCKING HAMMER presents a seemingly precarious stack of three cinder blocks with a neon light tube sandwiched between the bottom and middle stack. The piece unifies materials perceived as strong and heavy (cue blocks) with the fragile and light (neon).
"[BIG FUCKING HAMMER] is really human. There's a breaking point, but if you handle it and you treat it the right way [the light] is super strong. It's stronger than you think it is, and I think you can say the same about people." -Meryl Pataky
BIG FUCKING HAMMER speaks to Meryl's style, which she describes as "dystopian" and "anti-neon", in the traditional sense. Her work focuses on removing the immediate association of sign from the neon medium. Meryl does this by purposefully creating pieces that cannot be described as signs, work that requires a dedicated, hands-on approach to build entities that encourage conversations about the object itself. Meryl explains:
"Relationships with materials in your hand are cognitively beneficial and in order to really have a relationship with a material, as an artist, and know how that material speaks to your concept; you have to have had a tactile relationship with it. Any sort of deep relationship with a human being you learn about yourself through a deep interrelation with another person, and it's the same with materials."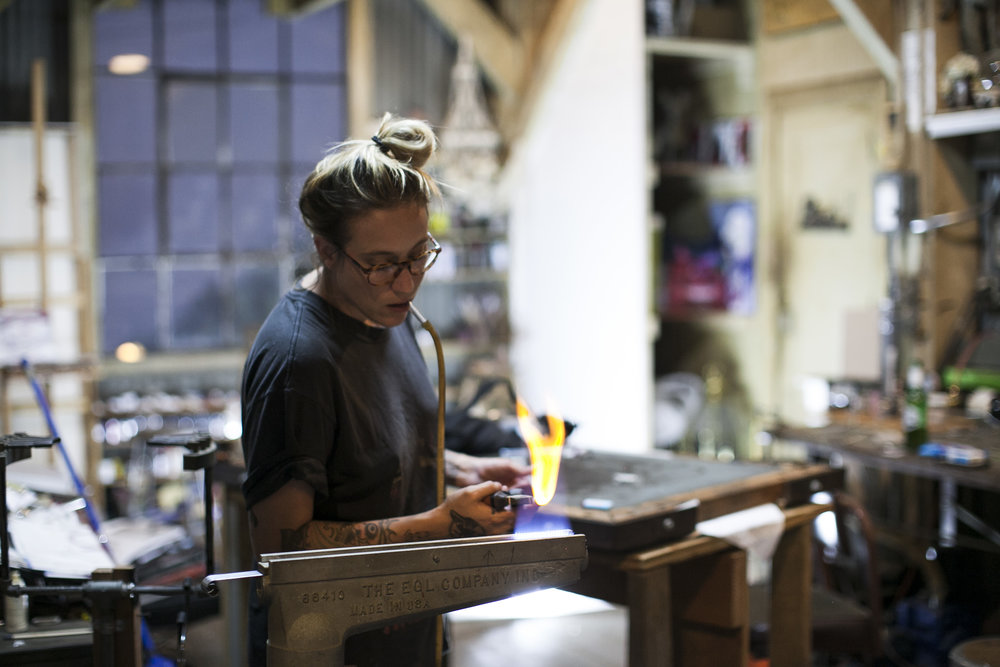 Meryl Pataky hopes SHE BENDS: Women in Neon will encourage others to pick up the medium and drive diversity into what is a primarily white, male-dominated field. In addition to channeling diversity into the industry, she also hopes to promote a greater appreciation for the medium by educating the masses on the fact that neon is all handmade by someone engaged in the rigorous process of bending, firing, and manipulating glass and noble gasses.
SHE BENDS: Women in Neon opens Saturday, April 7, 2018, at The Midway Gallery, 900 Marin St, San Francisco. Purchase tickets here
Learn more about Meryl Pataky here
Follow Meryl @merylpataky
Images provided by the artist