Featured Artist: Isis Hockenos
Working out of her warehouse studio space in SOMA, Isis Hockenos creates vividly colored, abstract figure paintings. Her stunning compositions spotlight moments of everyday life and elevate them to marvelous occasions. From instances of leisure—a woman getting her hair cut—to laborers dutifully engaged in their work—plucking chickens or milking cows—Isis' brilliant palette and use of repetition breathe new life into the overlooked and forgotten.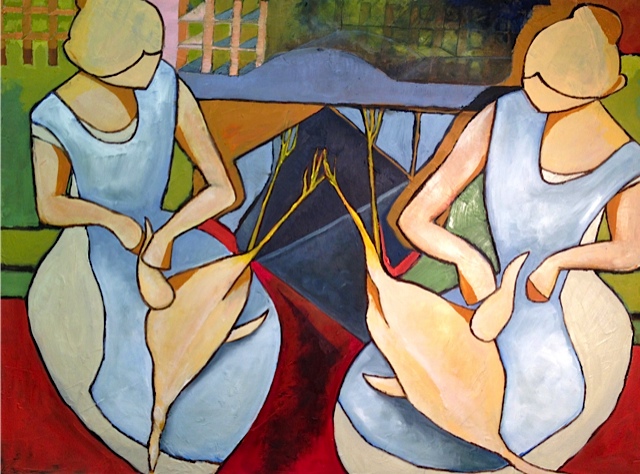 Until recently, Isis worked at the Fatted Calf charcuterie and butcher shop where her experiences became the catalyst of her ongoing series: The Labor of Her Body // The Work of Her Hands. Over a period of five years, she climbed the ranks and went from manning the Fatted Calf's farmer's market stall to managing the business' Hayes Valley location.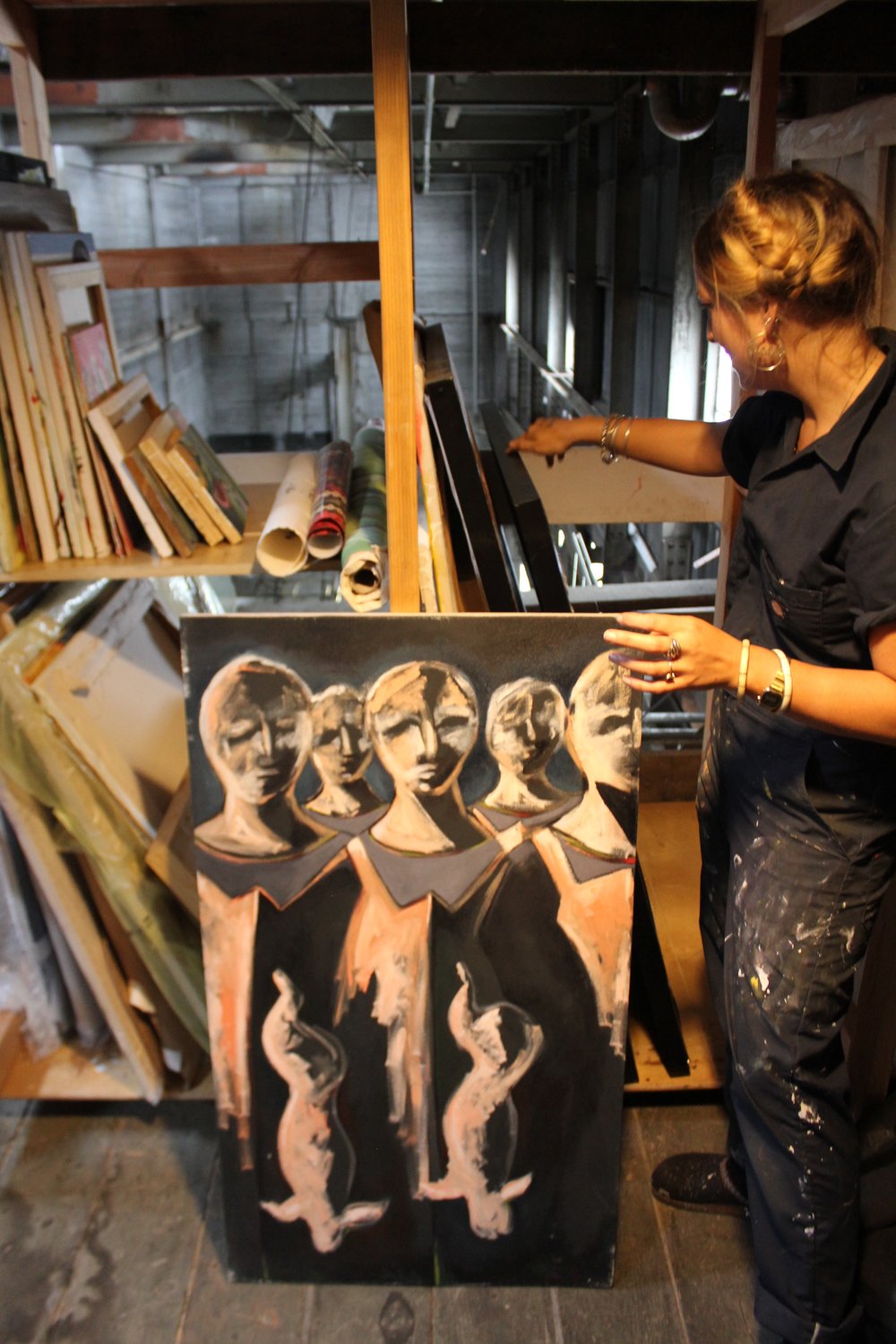 The Labor of Her Body // The Work of Her Hands began as a literal, visual interpretation of Isis' personal experiences working in the meat industry. This part of her life manifested in images of women breaking down meat and depictions of people and animals in agricultural settings constantly emerging in the series. Repetition of forms in her compositions mirrored the repetitive nature of work-life and tasks. However, the series took a sharp feminist turn when Isis moved into a management position at the butcher shop: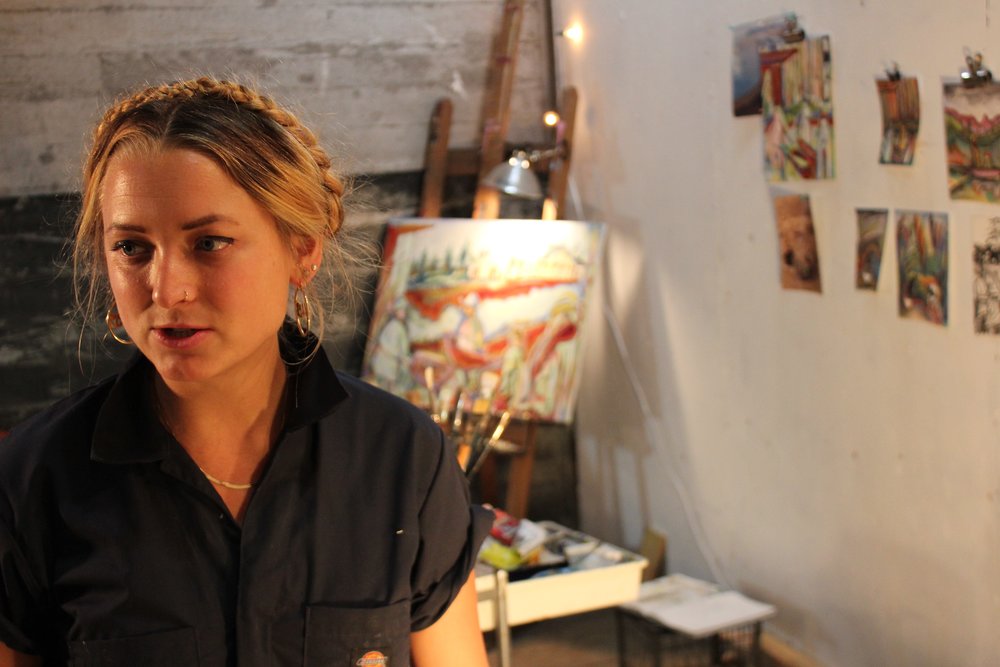 "I was thinking a lot about part of why I think women struggle in the workplace. Historically we're told, 'to do your job well you have to do it like a man would,' and that is so untrue and so inefficient. That's not how we operate. [. . .] You can do any job, but you can't try to do it like a man because that's not necessarily the most efficient way to do it. And that doesn't work for everybody. I think that the system has been built around [doing your job like a man would] and that's why it's very hard to overcome those barriers. But if we can change how we operate and change the way that businesses are run to reflect a more typically feminine sensibility, then we can be so much more successful at our jobs."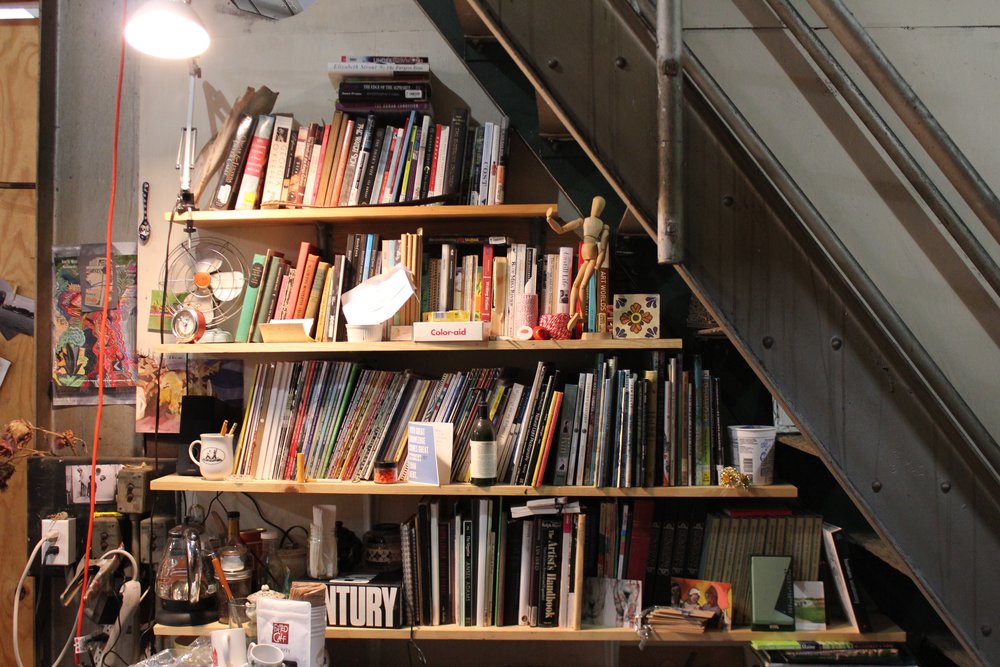 Isis' paintings emerge from subconscious reactions to events in her personal life. These introspective visual dialogues then manifest beyond her and culminate in powerful reflections on societal expectations. Isis has expanded her ongoing series, The Labor of Her Body // The Work of Her Hands, to delve further into roles, relationship expectations, and the Western ideals imposed on women:
"My partner and I have been together for nine years, and people are like, 'When are you getting married? You guys are so great! You're so cute. You're the best couple, you just love each other so much!' And I'm like, 'Yes, that's true but, why do you feel that you have to tell me that?' I was feeling like all our friends were getting married and having babies. All of a sudden I was getting really panicky about these demands and thought what if I don't want that? It really felt kind of like a heteronormative expectation. That's not how I operate. Just because I happen to be in love with somebody, I'm pigeonholed into this check list. [. . .] And it's not that those aren't things that I want. I'm not anti-marriage and I do think that I want to have children, but I feel like I was being ground into the mold despite how I felt. [. . .] There's also this kind of unspoken work that women do, in my experience—just by existing, you know? Like, you're taking care of things because you exist as a woman. That's how I often feel."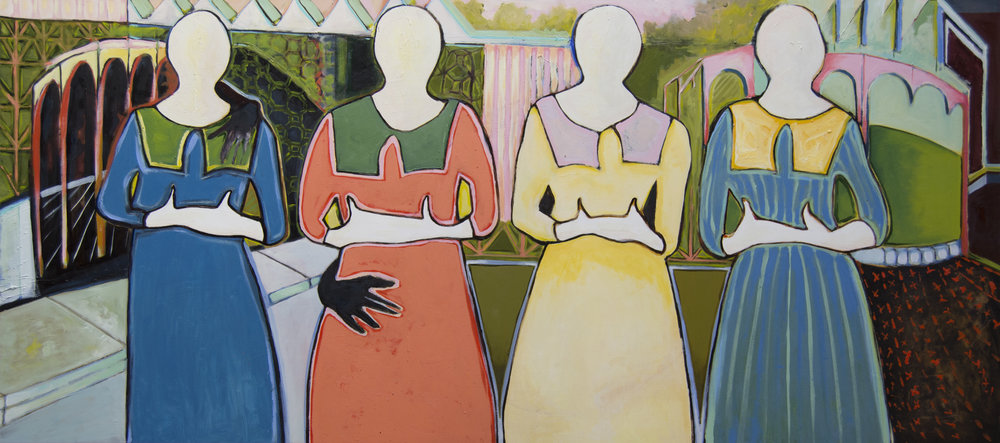 Recently Isis has thrown herself into painting full-time, while picking up the occasional gig. This new chapter of her life is once again reflected in her art. Although she is still unsure of her projects' current target, Isis has noticed a departure from her cannon of simplified shapes and forms to a hardened emphasis on the materiality of the medium, the frenetic energy of colors, and the power of perspectival manipulation.
Prior to this period, Isis' work was intentionally flat with her compositions prioritizing shape and form over depth. The figures and objects within a piece were front and center, and the sections between these entities provided spaces to build environments. Separate worlds existed in areas like the crook of a figure's arm. Multiple vanishing points dictated each subject, building, animal, and even limb.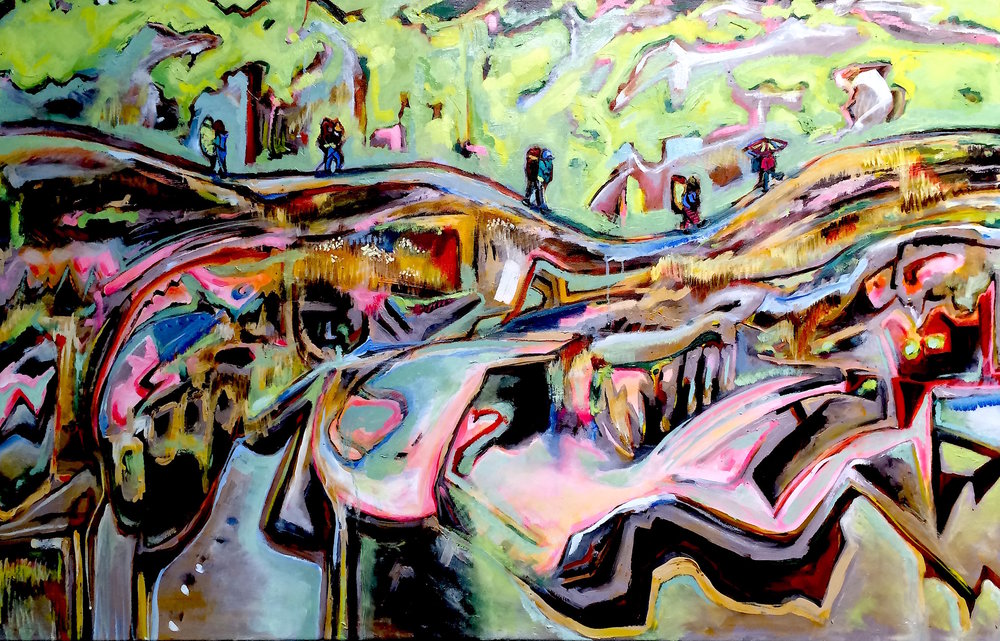 Isis now finds herself creating environments composed of a frenzy of colors that overrun her pieces. Figures remain a part of all her paintings, but her current style features characters eclipsed by vast, untamed surroundings. As she puts it, "the figures are just an accessory to the environment."
In addition to the transition in her style, Isis has also noticed changes in her process. Due to her flexible schedule, she has begun working on multiple pieces simultaneously. This approach allows for various compositions to converse with one another, and each study and painting influences decisions on its neighbors. Isis finds herself mixing colors for one piece, and then adding them to others she hadn't initially considered.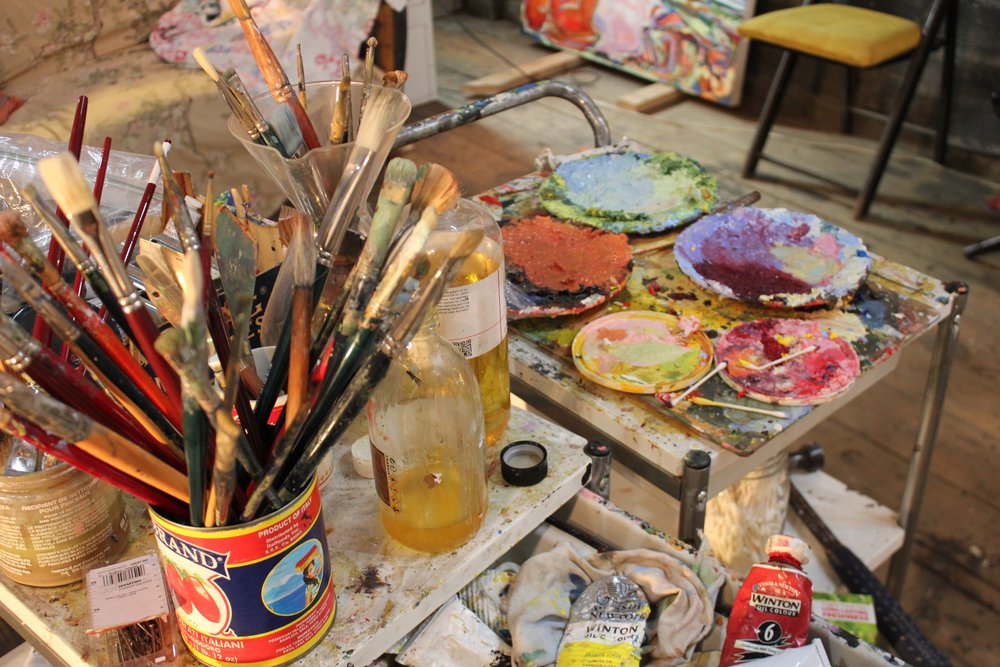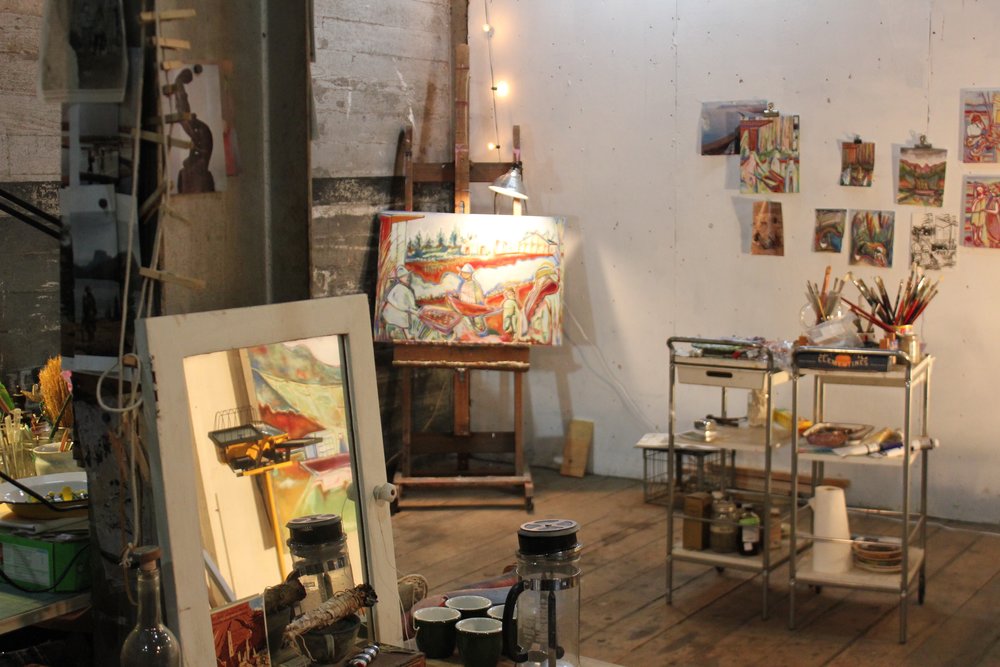 "For me the best part in art is the element of surprise. Because if I knew what [the piece] would end up being like, it wouldn't be worth doing," Isis explains, "If I have too much of a plan, I'm always disappointed. If I go in and just surprise myself the whole time and [the work] means something that I didn't even set out to accomplish, I can marvel at the thing that I did. Then I think that it's been successful"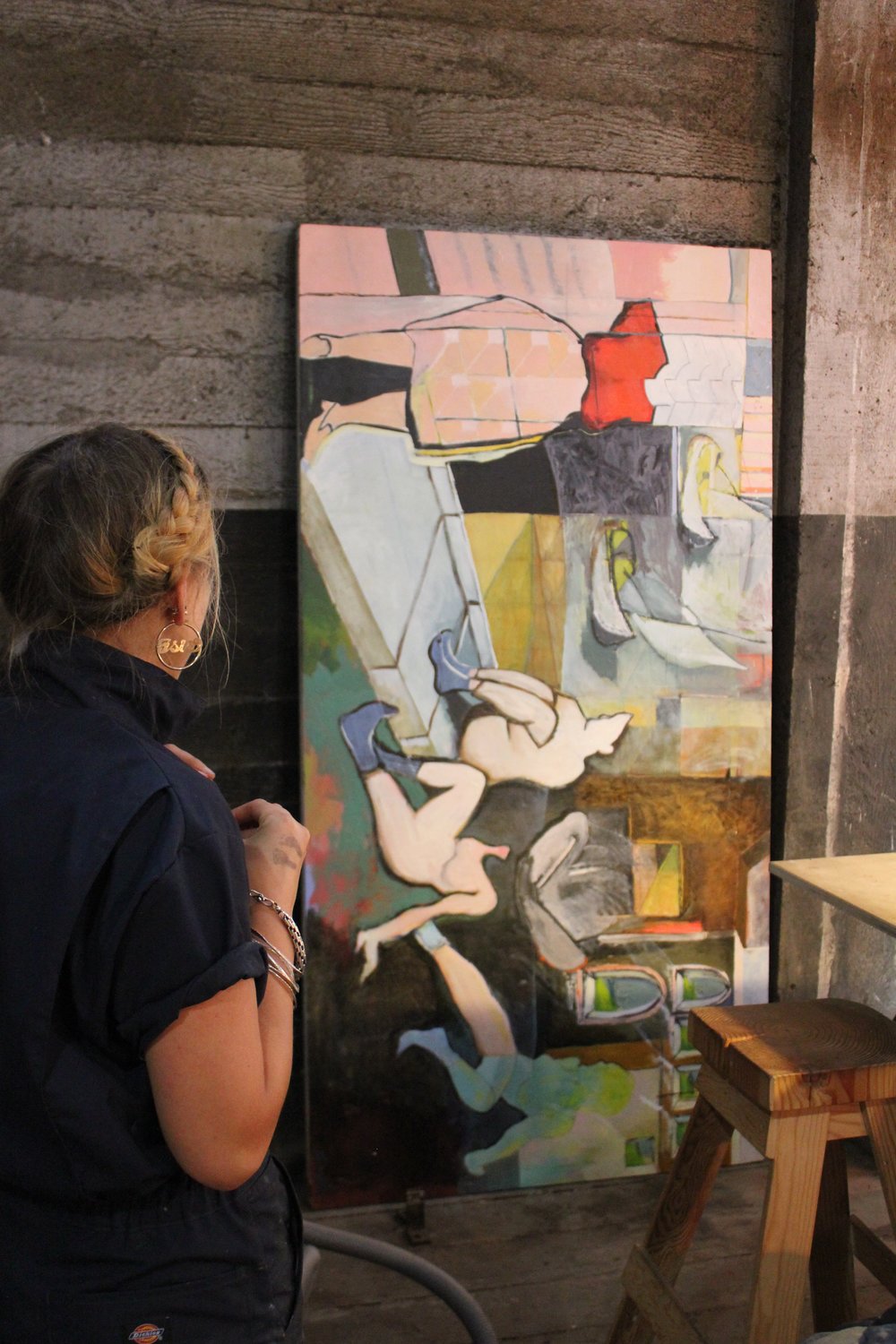 * * * *
Isis Hockenos is one of The Midway Gallery's talented resident artists. She will be participating in Open Studios Saturday, Oct. 22, and Sunday, Oct. 23, 2016 from 11am to 6pm with an opening reception on Friday, Oct. 21, from 6pm to 9pm.
As part of the gallery's residency, Isis will be curating a show in March 2017. You can learn more about her here and follow her @isistatianahockenos.
Written by Vanessa Wilson
Photographed by Jacob Abern