Featured Artist: Christine Aria
At Christine Aria's Hayes Valley studio, a set of bay windows flood the room with natural light that illuminates walls covered in various paintings and works-in-progress. Art magazines spill across the coffee table, and collections of portraits are spread over the couch and desk. Looking around, it's clear she operates by working on multiple projects simultaneously—her mind a well overflowing with creative impulses.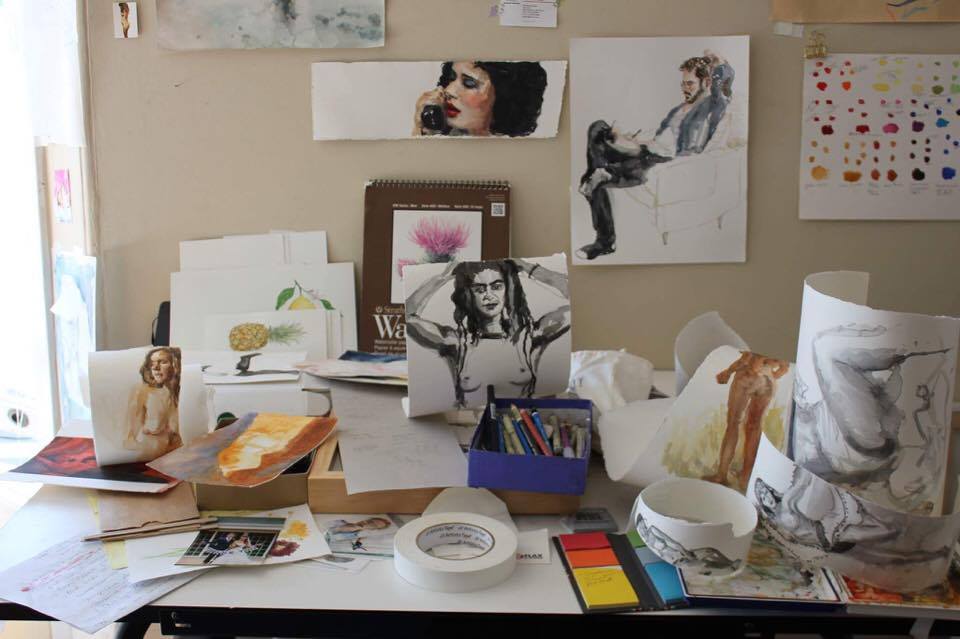 Christine creates figurative watercolor pieces so delicately painted that they threaten to run off the paper. Her subject matter largely focuses on the human form—capturing the likeness of average joes photographed on the street, celebrities as characters they've portrayed, and, oftentimes, herself. Recently, she participated in Spoke Art's exhibition, "Bad Dads," a group show commemorating the films of Wes Anderson.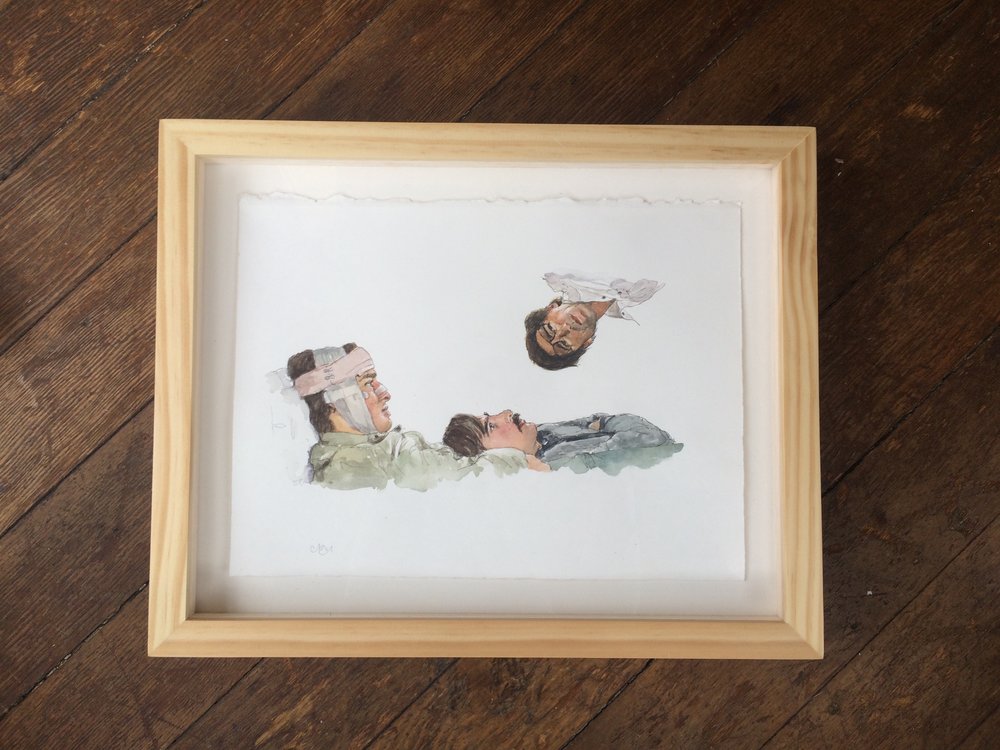 Originally, Christine worked with oil paints and picked up watercolor while on a residency in New York. The transition in medium was largely dictated by its affordability and hassle-free transport—pieces dried quickly and could be mailed easily to her college in the Midwest.
What began as a temporary project during her residency soon became her full-time medium of choice. Christine fell in love with the fluidity and "fairly unforgiving" qualities of watercolor. Since then, she has been pushing the paint by experimenting with quick, energetic application and challenging herself by eliminating preliminary sketches and jumping straight to applying pigment to paper.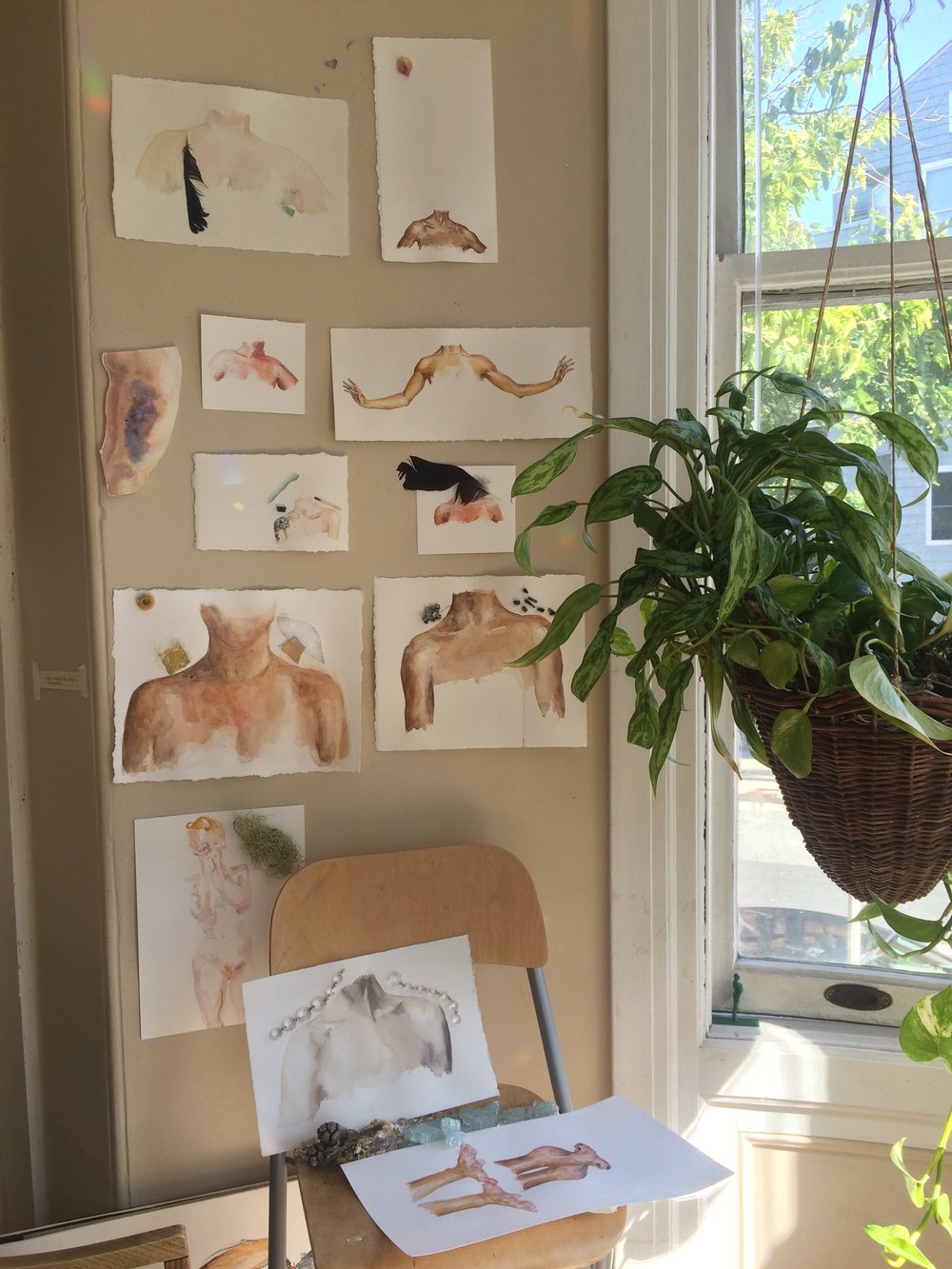 At the moment, Christine is working on a mixed-media series, Transfix, Transfigure, in which she incorporates found-objects into soft renderings of torsos. The "unfinished" body parts seemingly disappear into the negative space of their painted surfaces while discarded items float in the ether around them. Some of the street-treasures seen in the works include: broken glass, matches, moss, and feathers. On these pieces, Christine comments:
"Over the past several months I've been needing to escape from simply creating images from watercolors, and I've been making these mixed media pieces. Initially I saw [the found objects] as burdens that we carry that can become beautiful as we grow. They transform us as we transform them. I'm still kind of thinking through that and playing with it."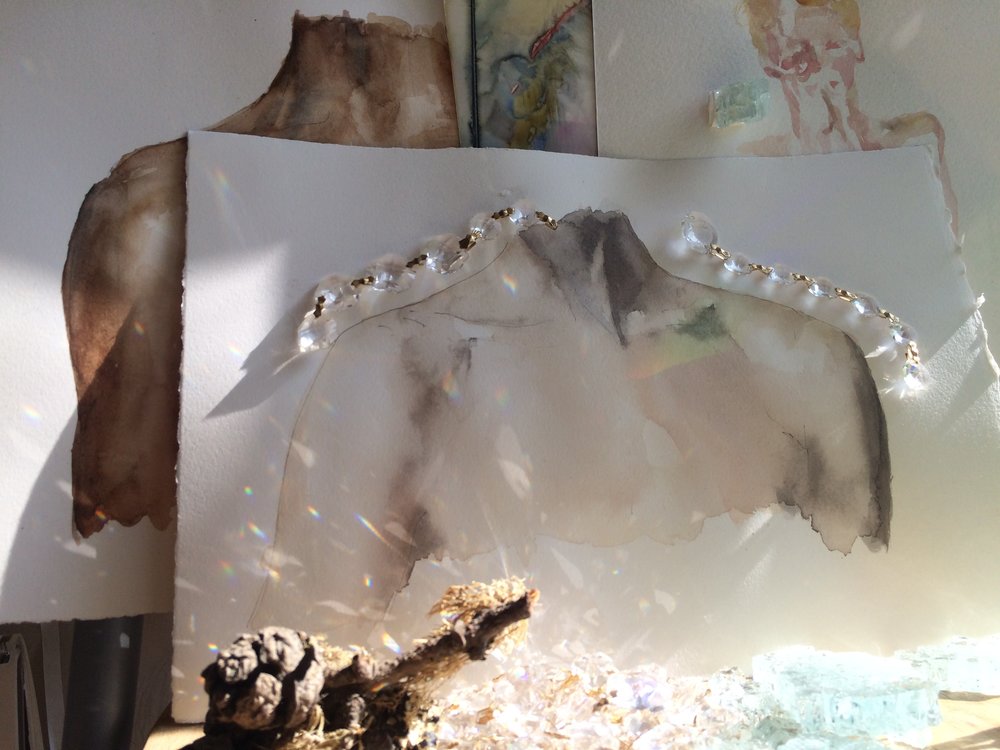 Always looking for ways to push herself and her art, Christine has also been working with changing the way viewers experience her compositions. In toying with perception, she has begun experimenting with the effect of layering images by using transparent paper and vellum in her work. In her Women in Rolls series she paints women on rolled paper scraps, disorienting viewers.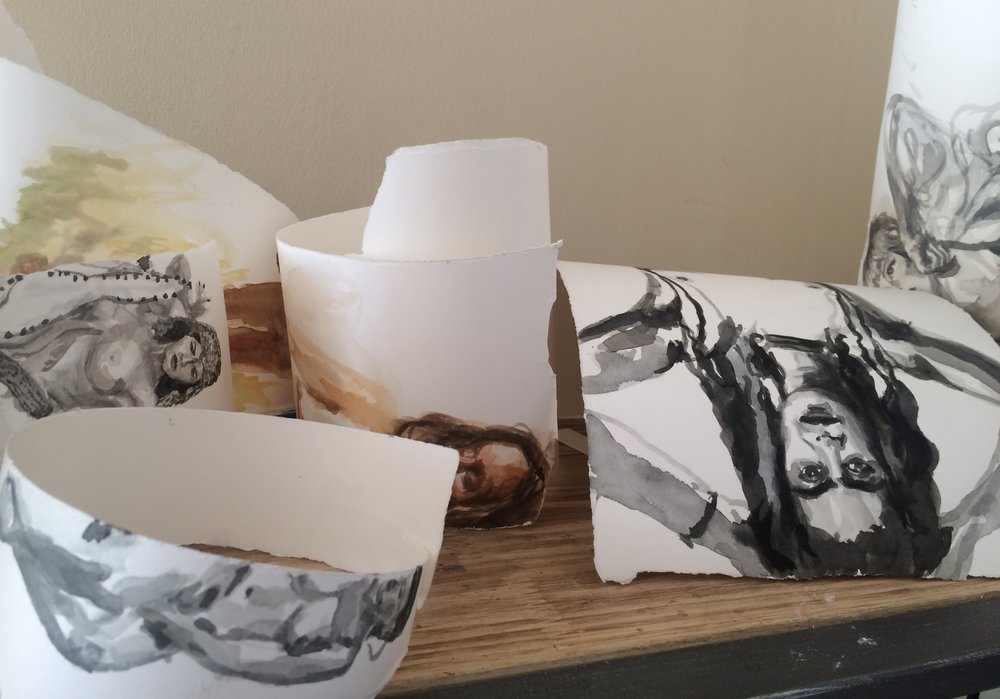 The unwieldy properties of Women in Rolls force the audience to either walk around, bend under, and stretch over the pieces to get the full picture or to physically force the image together by lining up the edges of each curl.
"I've been in a mode for the past year or two where I do not want to be able to predict what my work is going to look like. [. . .] I think I've just been bored with controlled process work lately, and I have been meaning to get a little bit wilder and a little more of a combination of techniques in my paintings."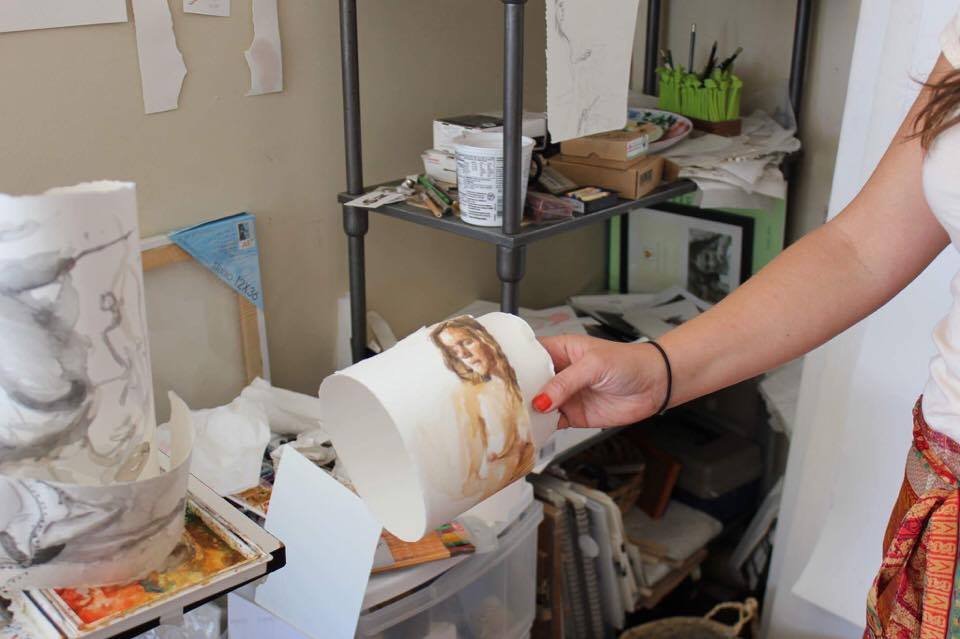 In keeping with her desire to constantly shake up her art-making, Christine has been painting on 12 oz. coffee cups as part of the show #CautionMayBeHot, organized by Courtney Cerruti, Alicia Dornadic, and Michael McConnell. Much like in her Transfix, Transfigure series, Christine is transforming the ordinary into works of art in #CautionMayBeHot. She'll have three cups in the show which will be on display until November 27, 2016, at two different locations: Long Weekend Store at 5636 Shattuck Ave in Oakland and at Faye's Video 3614 18th St. in San Francisco.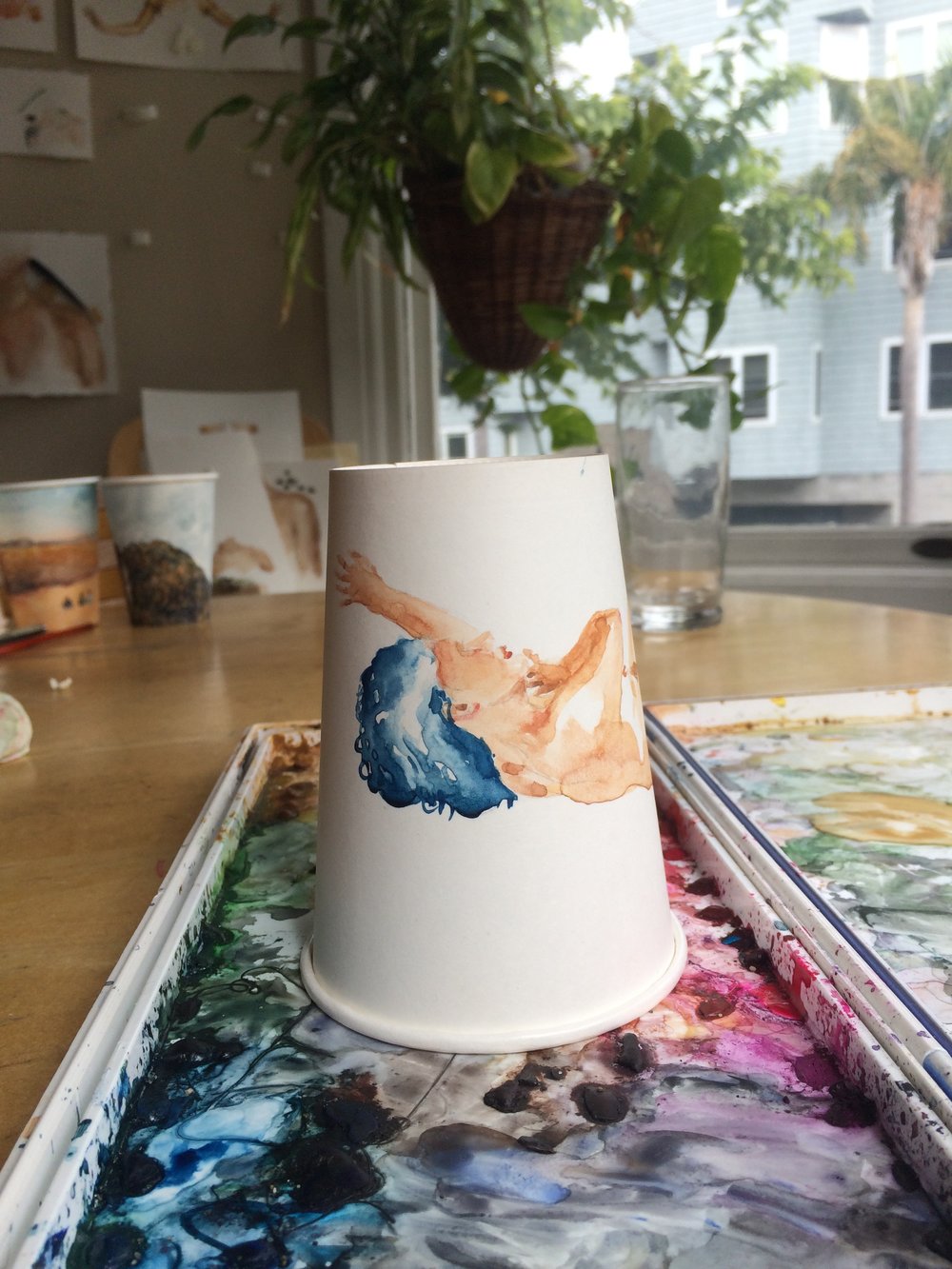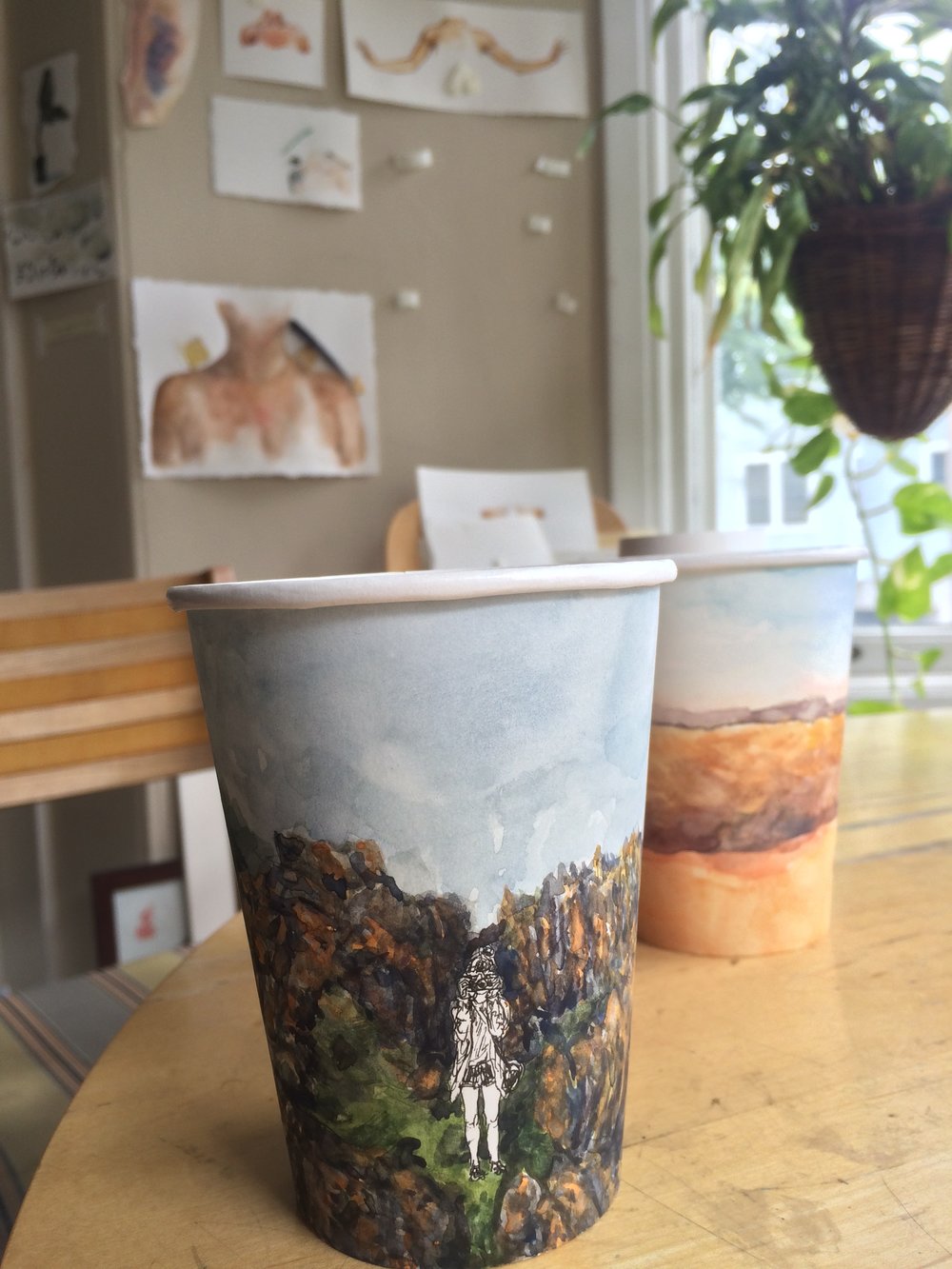 * * * *
Christine Aria Hostetler is one of The Midway Gallery's talented resident artists. Unfortunately (for us), she will be spending 2017 in Tulsa in pursuit of a new art venture with her long-term partner. With her temporary relocation quickly approaching, Christine is opening up her creative space for private studio visits and looking for art lovers to take some of her work into their homes or offices. To schedule a viewing please contact her directly here.
To learn more about Christine Hostetler, please click here
You can follow her @christinearia
Written by Vanessa Wilson
Images courtesy the artist unless otherwise stated