Featured Artist: Mark Garrett
Working out of his San Francisco studio on the outer edges of the city's Mission district, Mark Garrett transforms neglected maps picked up at flea markets into intricately cut, mixed-media pieces that read like geographic oil-spills.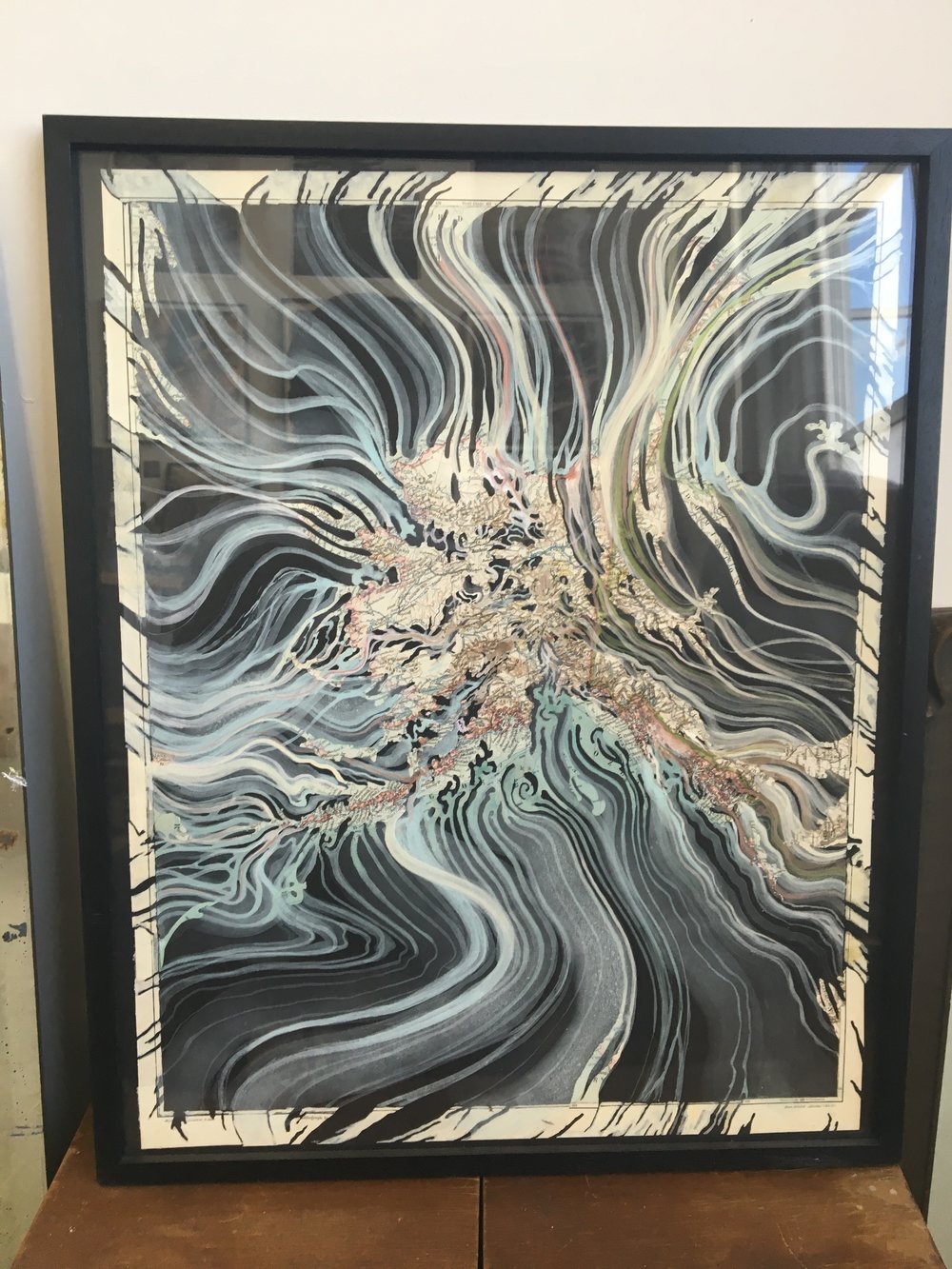 Drawing inspiration from artists like Hans Christian Andersen, Mark folds and cuts in an automatic fashion, allowing his subconscious to dictate where the scissors runs their path. "Scissors became an extension of my pencil," he says.
Mark's intriguing deconstructed maps draw viewers in with an air of familiarity while simultaneously displacing them. The nature of the medium stirs an innate need to orient oneself by searching for clues in what remains visible: a body of water here, a cluster of mountain ranges there, and on occasion, a partial text label still visible.
"The thing I love about working abstractly is that you're really forcing people to sort of tap into stuff that they think they're seeing, but they're not really sure they're seeing," Mark adds.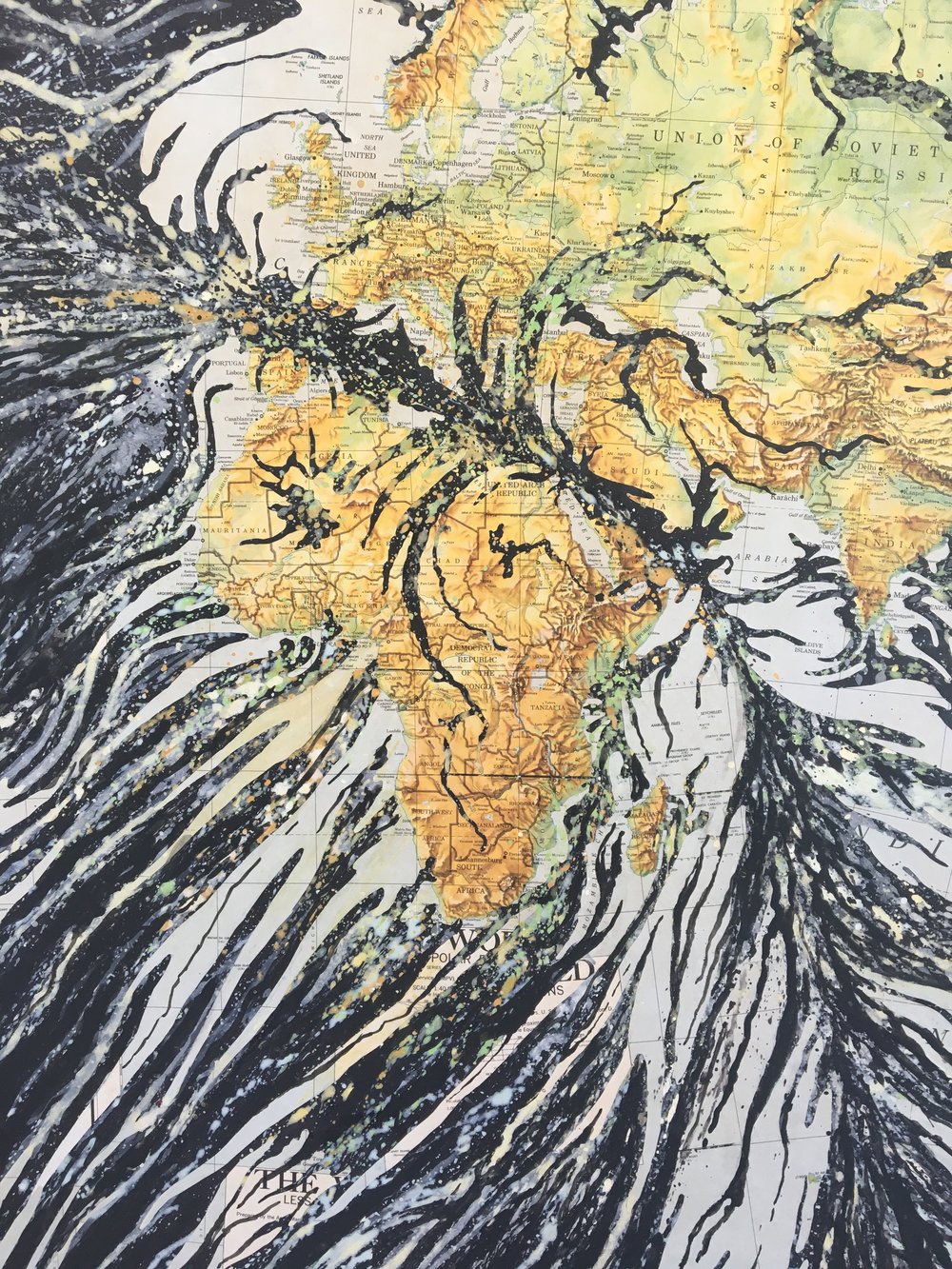 In the five to six years that Mark has worked with maps, his compositions have gradually evolved into projects that suspend his map cut-outs between the two and three dimensional. Most recently, Mark has been using 3D geographical survey maps and a homemade pulp to create casts of the Earth's surface that are then painted and directly applied to walls. He then stretches the edges of these molds out into hand-drawn striations unfurling across the wall in an organic fashion. The finished pieces create an intriguing environment in which 3D terrains appear to melt into languid mountain ranges as the viewer's mind creates something visually familiar out of these non-figurative elements.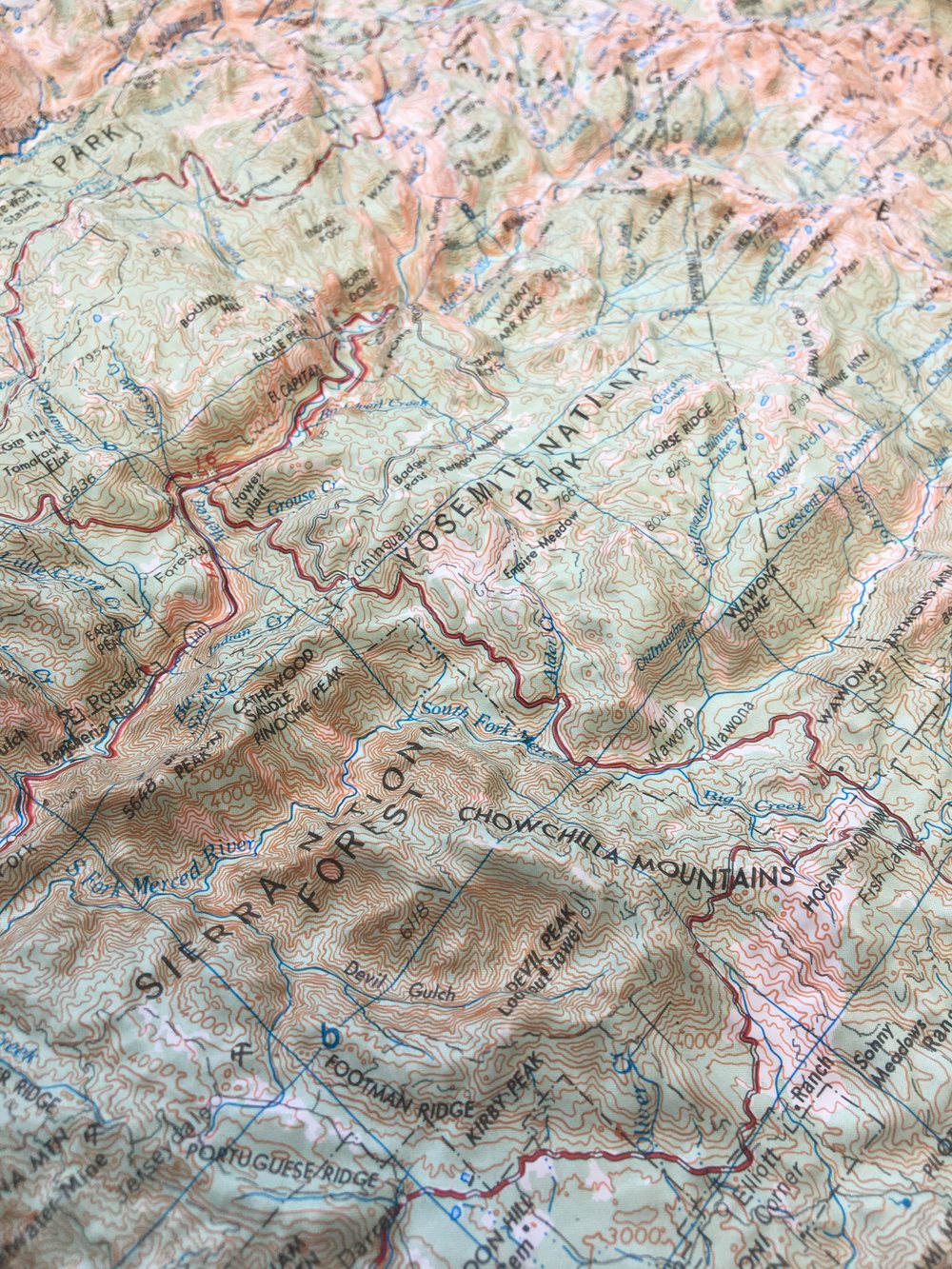 For Mark, his surreal map compositions are rooted in memories of reoccurring flight dreams from his early childhood:
"I remember having a lot of dreams as a kid where I was flying above some sort of earthy or planetary surface. It was all very vivid. [. . .] It was that one time in my life where I felt like I had some sense of an overview of things, and I didn't feel like it was just me always looking out. It was like, suddenly I had a view overlooking the world, and it opened me up to the possibility that maybe I had that potential to see things from a wider perspective in general instead of always focusing on what was directly in front of me at any given time. I think it speaks a lot to where I think these [compositions] could go, creating a kinda dreamscape even though they're really hard, high-contrast things on the wall. I wanna create this sort of dreamy quality as they meander and burn off into the edges."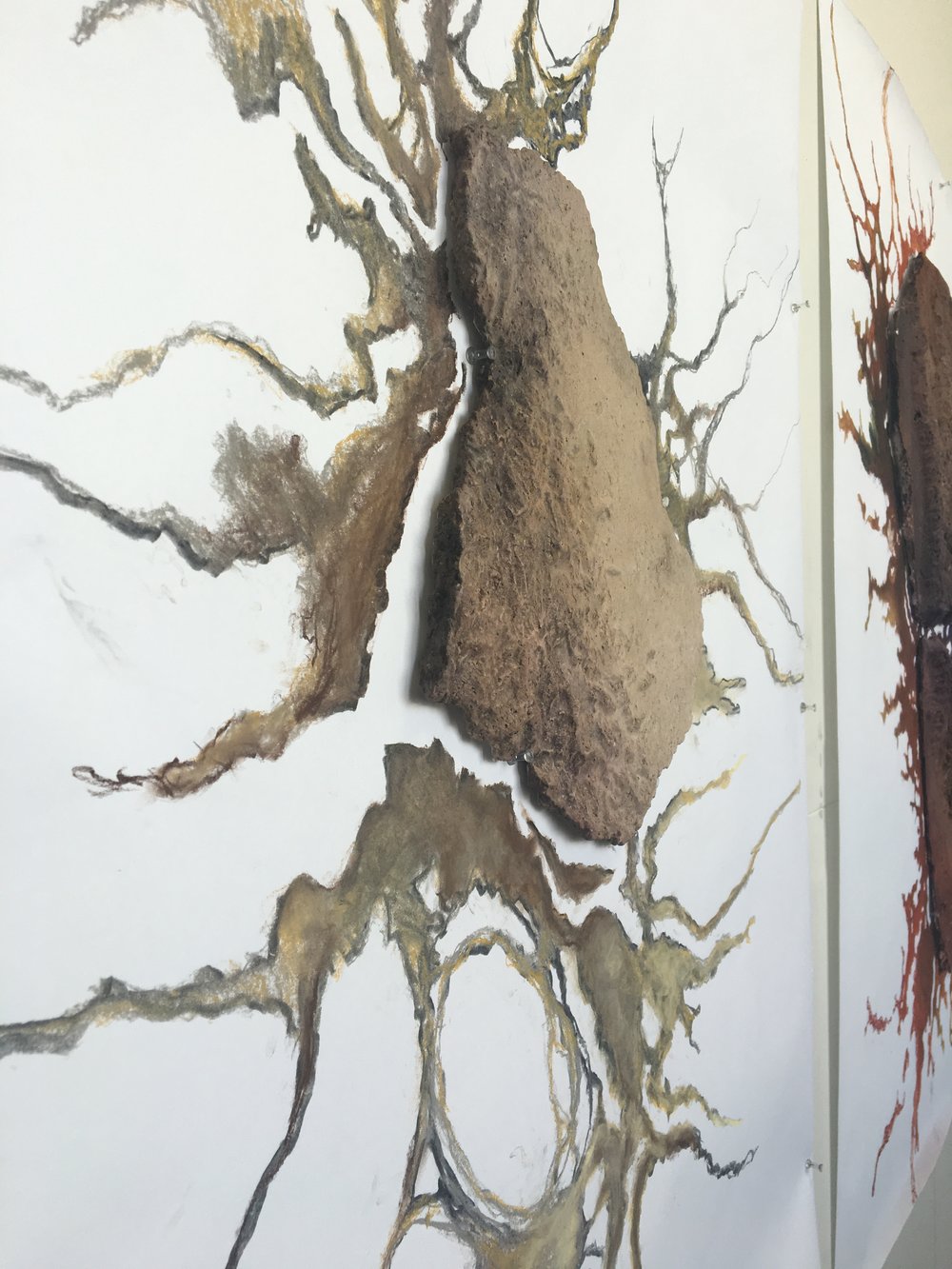 Mark's biggest inspiration at the moment comes from Oliver Sacks' book, Gratitude, a collection of essays in which the author explores his feelings about life and accepts the inevitability of his eventual death. Mark reads aloud a quote from Gratitude that significantly moved him:
"Over the last few days, I have been able to see my life as from a great altitude, as a sort of landscape, and with a deepening sense of the connection of all its parts. This does not mean I am finished with life. On the contrary, I feel intensely alive, and I want and hope in the time that remains to deepen my friendships, to say farewell to those I love, to write more, to travel if I have the strength, to achieve new levels of understanding and insight."
He then explains what he sees in Sacks' quote: a mirror of his own boyhood dreams. Here was a man (Sacks) who, at the end of his life, had a perspective of himself as if from a great altitude, whereas Mark first encountered this vision in his youth. The quote itself enabled Mark to acknowledge his dreams from a new perspective and not simply as the wild hallucinations of a child.
Mark Garret's work will be featured in The Midway Gallery's upcoming show, Terrain: navigating landscapes. In addition to his mesmerizing map compositions and explosive "spuma" series, Mark will be directly applying his 3D topographic casts to the gallery's walls to create an immersive wall mural.
Terrain will be on view from September 10 to October 22, 2016 with an opening reception on Saturday, September 10, from 6pm to 9pm. RSVP to the opening reception here.
To learn more about Mark Garret visit: http://www.markmgarrett.com/
Follow him on IG here
Written by Vanessa Wilson
All images photographed by Vanessa Wilson unless otherwise stated.