Featured Artist: James Tucker
We met James Tucker last winter when he exhibited his topographic print series at our first intern-curated show, Contexture. This San Francisco based artist won us over with the delicate compositions he produced using heavy, vintage industrial presses out of his printing studio and design shop, The Aesthetic Union. The series exhibited in Contexture featured soft compositions created by layering expressive ink washes onto a soothing color gradient then imprinted with the topography of each location, presenting a unique glimpse of California's geography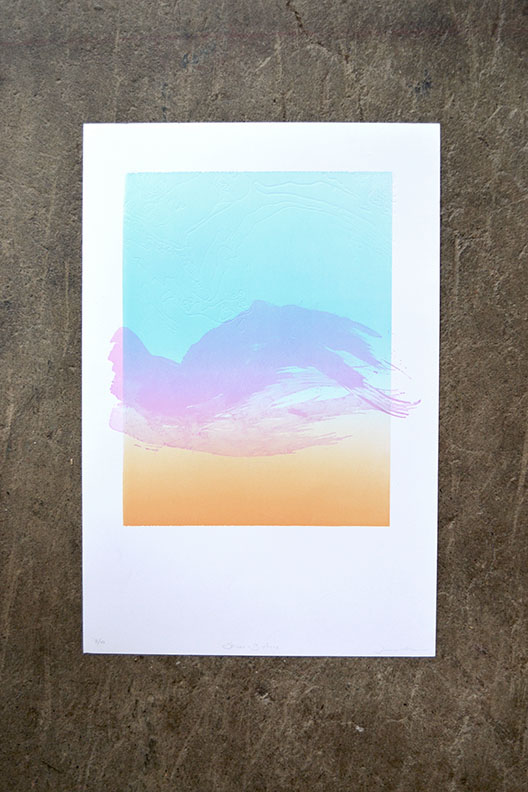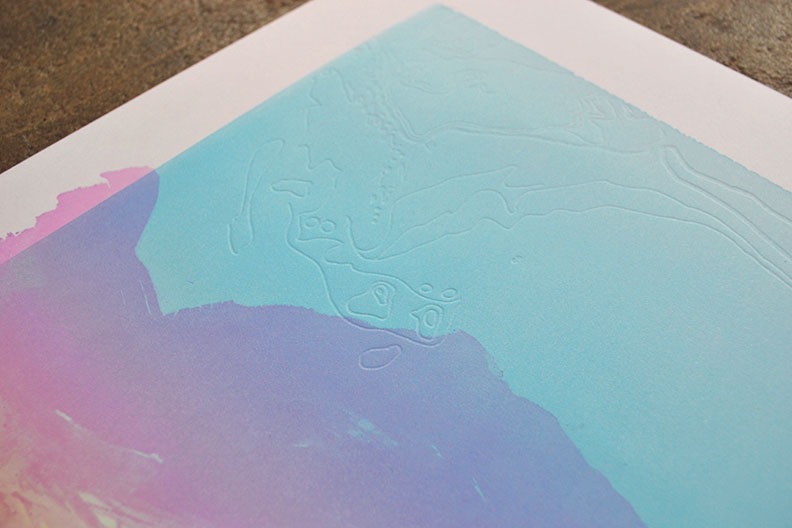 The collection retained identifiable markers which provided viewers with a sense of place, or an air of familiarity. Since then, James' compositions have evolved, straining the boundaries of his medium in an exploration of the printing press' limitations and of the possibility within those restrictions. The transition has led him down a road of abstraction and has moved him away from works with recognizable components —like land, sea, sky, etc.— toward the beautifully ambiguous. James elaborates:
"What I was doing before was looking at different landscapes and trying to replicate those landscapes—not in kind of a picture sense, but with an abstract, kinda feeling sense within the landscape. That was explored in the topographic series which I showed last time. This series is exploring the landscapes of the press. So, it's focusing more on the process but also includes some landscape scenery and feeling."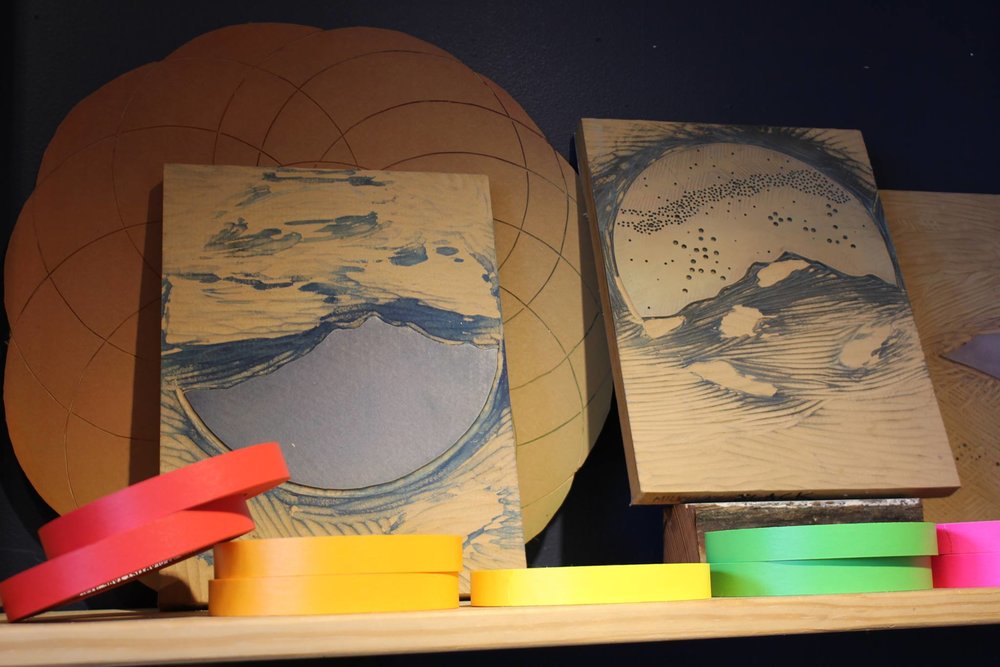 For Terrain James is presenting a series he refers to as "process landscapes," in which the act of creation is the focus of his large, collaged compositions. For these pieces James uses his 1952 Heidelberg Windmill to venture into solidly abstract territory and touch upon the conceptual.
The new direction requires some experimentation as James hones in on methods that will allow the printing press' distinct mechanical "hand" to shine. He shows me his first attempt at a process print. It's a large 16" by 26" piece composed of several monoprints carefully lain side-by-side like tiles. The composition uses a close-up, photographic shot of the ocean printed over and over again using black ink. In printmaking terms, each tile is an edition; but, collaged as a whole they create a single, unique piece. James explains that collaging these monoprints developed while he was searching for a way to make one-of-a-kind prints using a machine (the 1952 Heidelberg Windmill) intended for mass-production.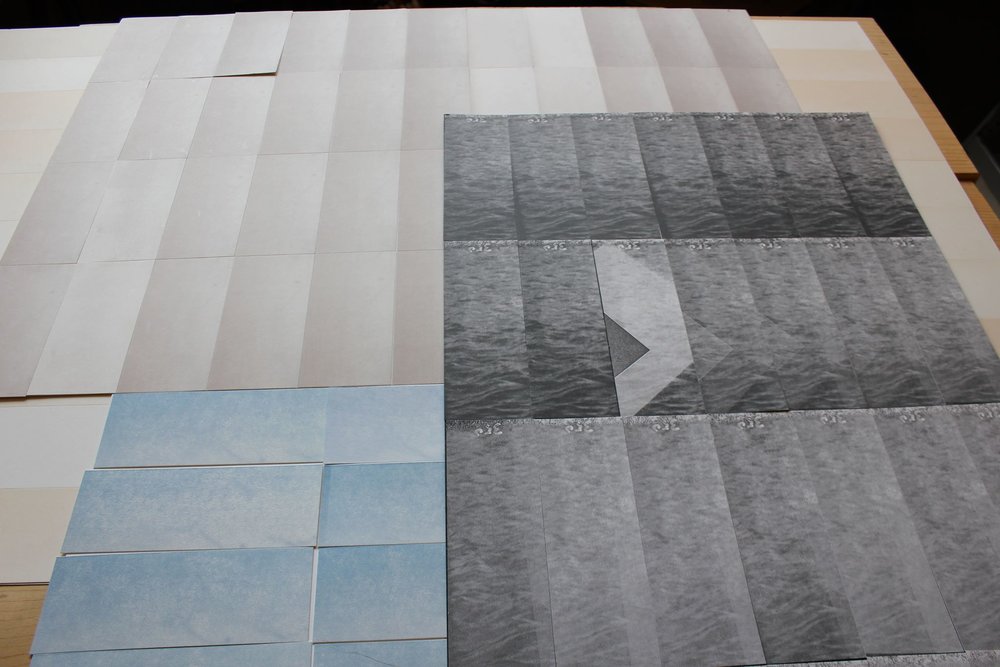 In this first process landscape the rippling waves are easily discernible and endow the image with a sense of place, or at the very least, giving it an identifiable form. Although the piece itself is beautiful and visually engaging, James rejects it as a successful process landscape. The work is too pictorial, and the figurative elements distract from the concept he is attempting to underscore. With his next process series he removes literal visual references in order to spotlight the eccentricities of the printing press. James elaborates:
"After [the first process print] I decided not to go with using a letter press plate that you can see an image in. I just want to explore color and process, but also have it reference an environment or a landscape. So, I searched, and this is actually a photograph of a sky. It is of a location, but it's abstract enough that you can't see it. So, the viewer doesn't focus on one print in particular. The viewer kinda sees the piece as one whole and [isn't] looking at separate little pieces that make up a whole."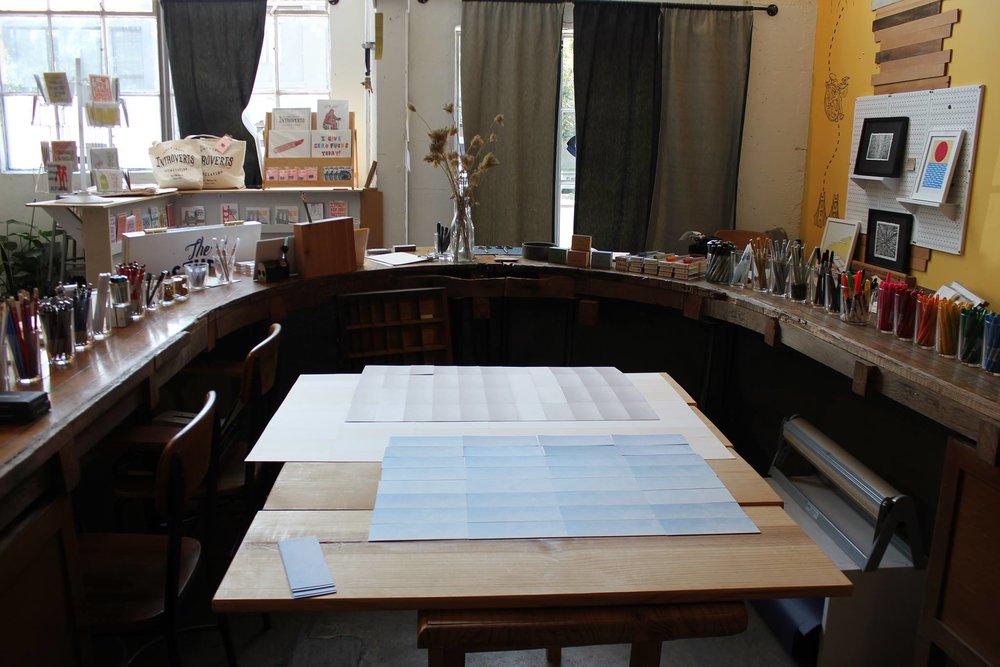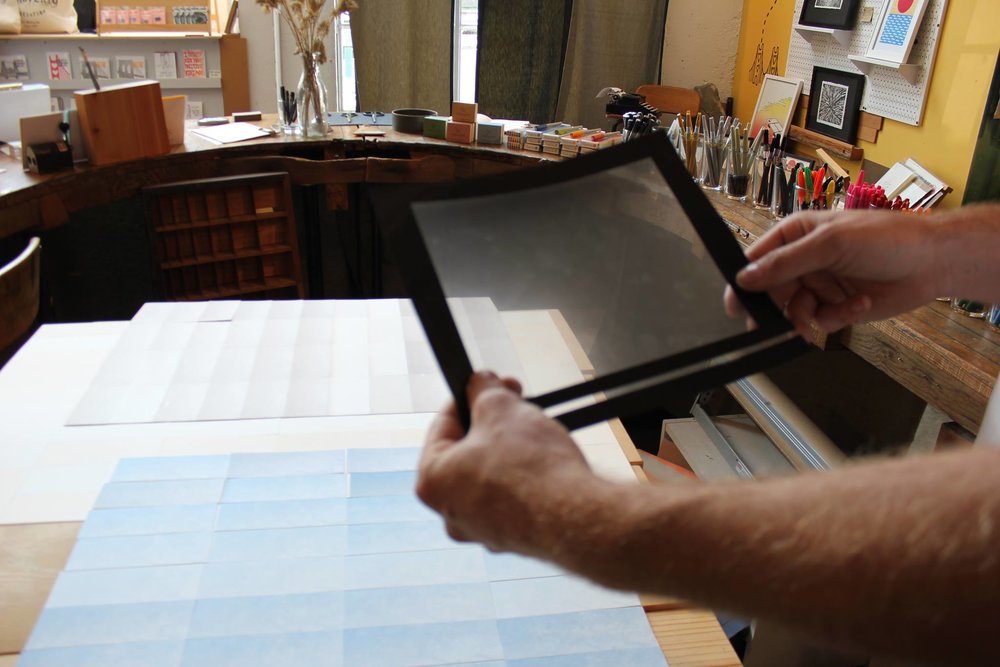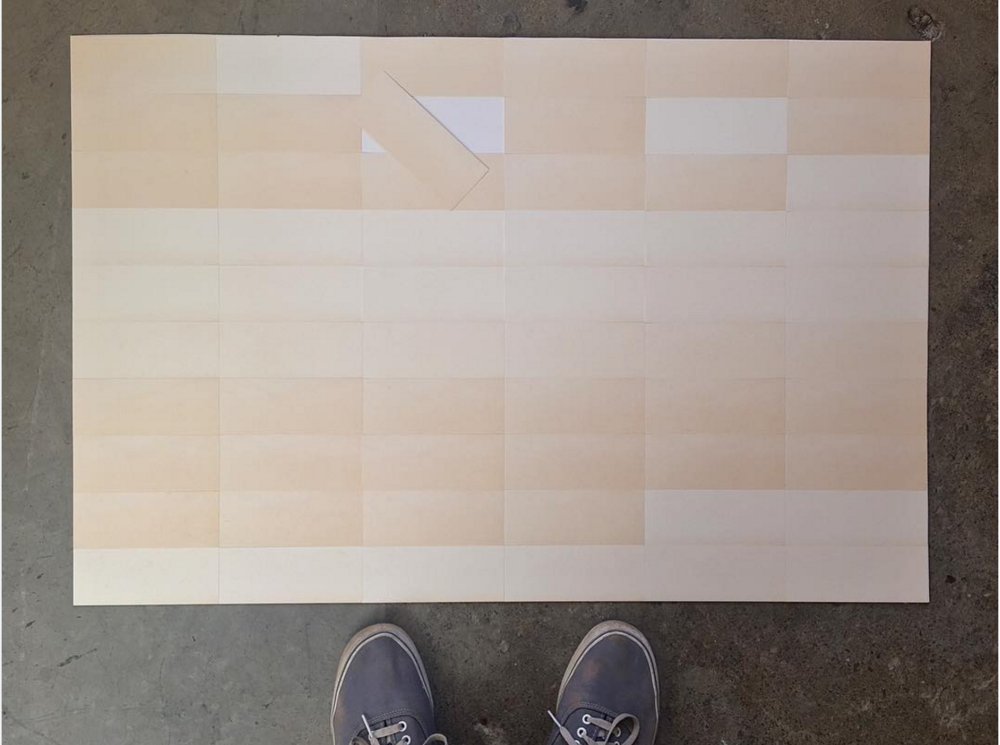 "What carried over from the first one was [that] I still want to explore the process of production, of what these machines were made to do. And we're still using them as production, but we're letting the ink run out. We're letting these weird things happen on the press that usually I would just throw away, but here I wanted to highlight them, and I wanted to show people what the press does, and how the dialogue between me and the press happens. So you can see these are all in order. I print them all, and then I adhere them onto the bigger page in order, so you can see the print process happen," James says.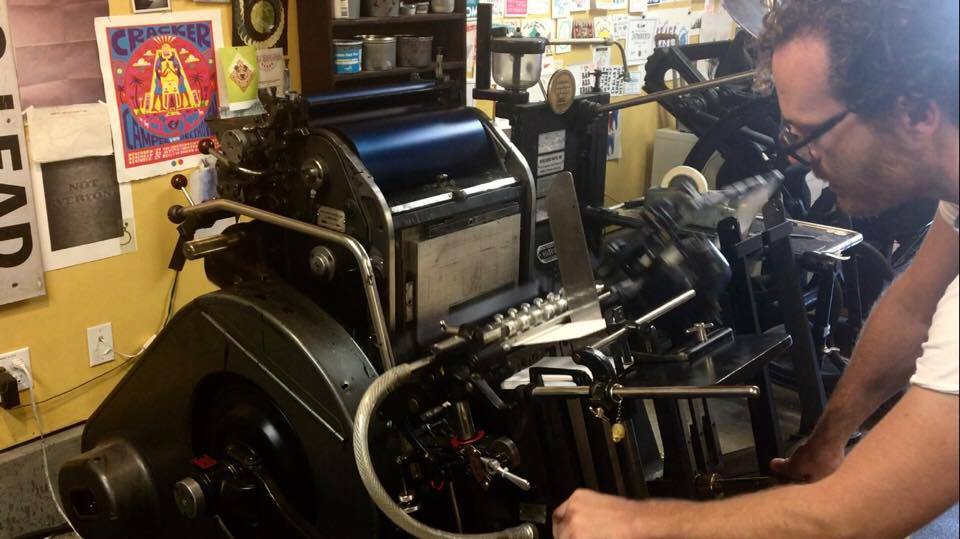 James' new, reductive direction in his "process landscapes" is heavily reminiscent of the Process Art movement of the 60s and 70s which has been expressed in several mediums but has yet to be seen in printmaking. In employing monoprints and allowing mishaps like the ink running low, misprints, and other "defects" to remain a part of the final form, James effectively exposes what happens behind the closed doors of a printmaking shop when creating a piece of fine art.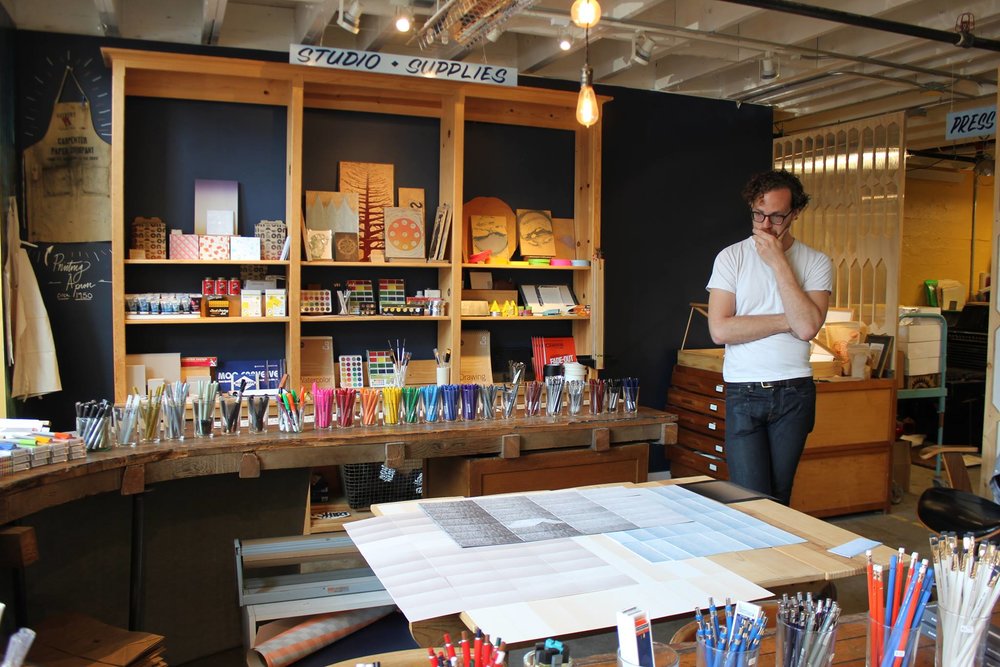 Additionally, James' seemingly simple landscapes challenge larger concepts: What is a print? When is printmaking fine art? What determines the value of art, worthy of investment and collection? The list goes on, and they're questions that have been posed in the history of art within other mediums—notably sculpture and painting—that James now singlehandedly pioneers within the subculture of printmaking.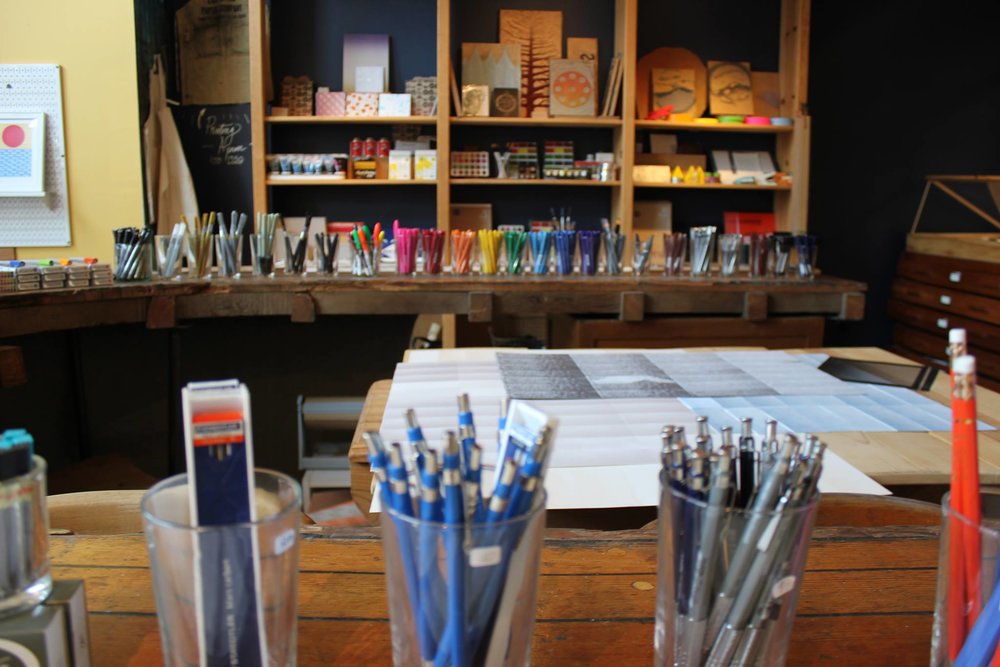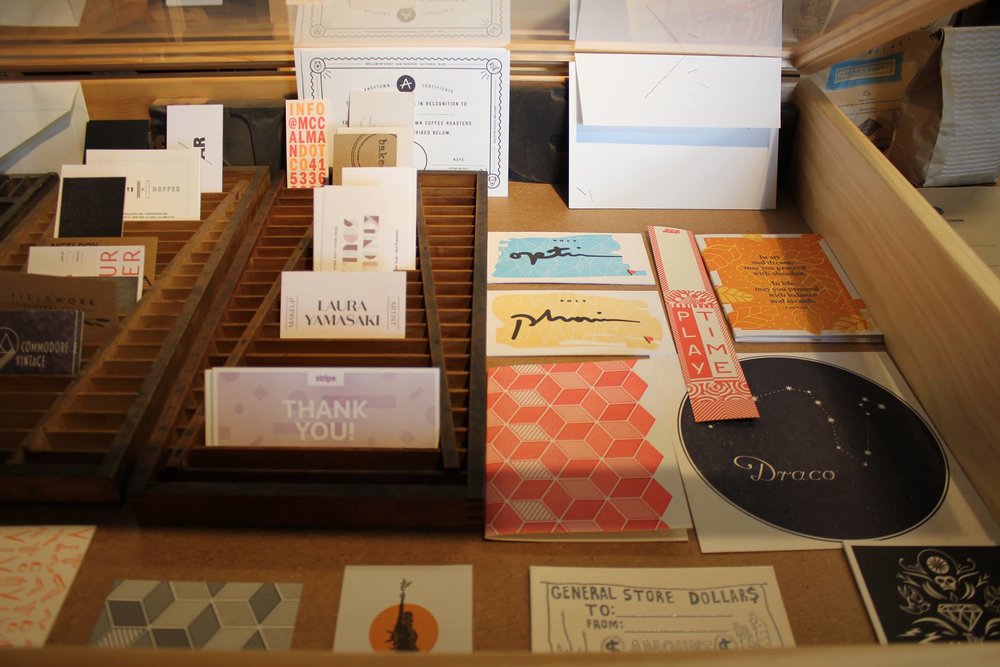 James Tucker's work will be featured in The Midway Gallery's upcoming fall show, Terrain: navigating landscapes. In addition to his "process landscapes," James will be installing a massive 15′ x 20′ letterpress wall collage that "will engulf the viewer [in] an overwhelming sense of the color landscapes" he's been working on. The mural will be printed using his trusty 1952 Heidelberg Windmill and will be adhered directly to the gallery wall.
Terrain will be on view from September 10 to October 22, 2016 with an opening reception on Saturday, September 10, from 6pm to 9pm. RSVP to the opening reception here.
To learn more about James Tucker please visit: http://www.theaestheticunion.com/
Follow him on IG here
Read our first Q & A with James Tucker here
Written by Vanessa Wilson
All images photographed by Vanessa Wilson unless otherwise stated.