Featured Artist: Greg Ridge
"My approach is not really to be erotic in any way, it's more about studying the human figure and expressing it. [. . .] I'm looking at the grand age of dramatic, figurative art and I want to explore that on my own in a modern sense."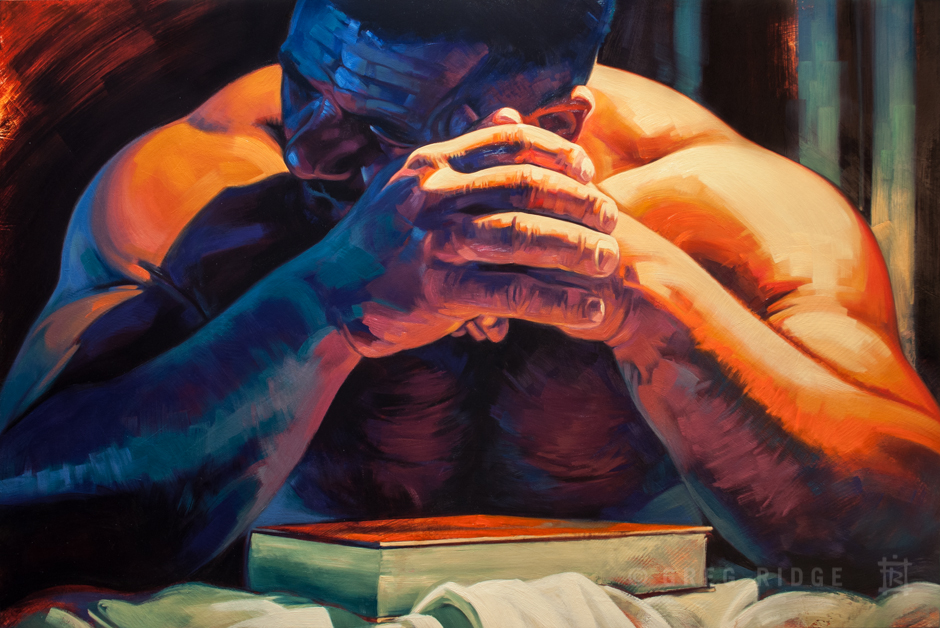 Figurative artist Greg Ridge works out of his home-studio in Brushprarie, WA, a small town about 20 miles north of Portland, OR. He creates large-scale portraits of nude men in powerful poses. These muscular, dramatically lit individuals are inspired by classic Greek and Roman art, and the traditional era of art history.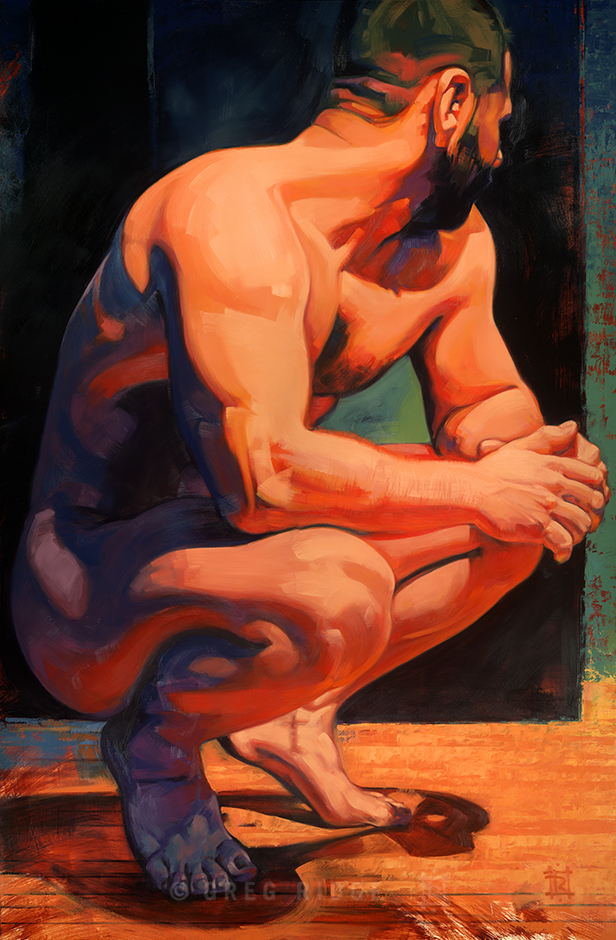 The Wrestler
Although Greg studied fine art in his 20s, he pursued a career as a graphic designer for several years. Painting gradually drifted out of his life for two decades, until 2010 when, at the persistence of his husband, he began creating enormous landscapes. Working on large canvases pushed Greg to release his brushwork, causing his compositions to become more loose and expressive.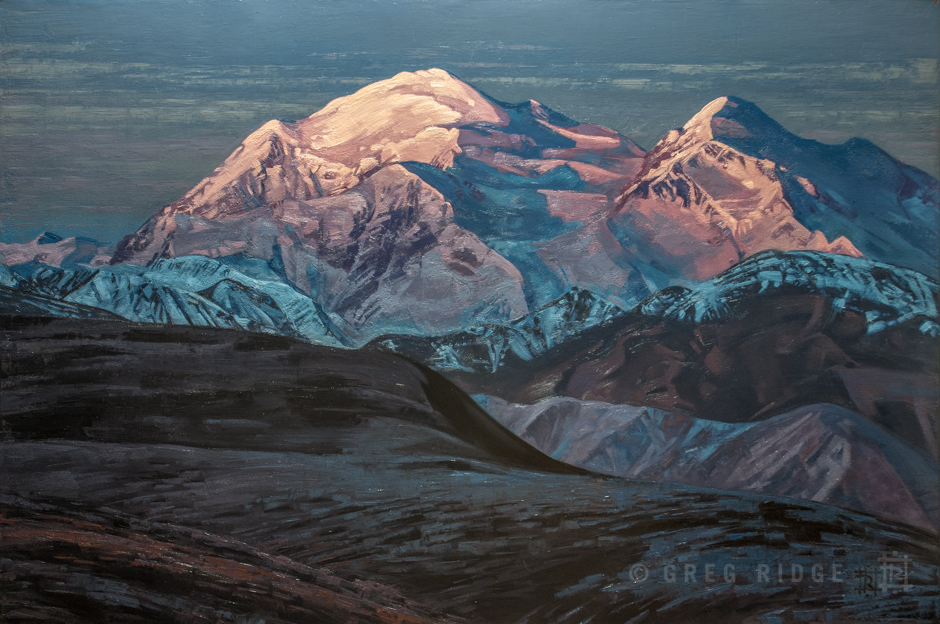 Mt Denali Sunrise
In 2012, Greg suffered a stroke. He has since made a near full recovery with some memory and vision impairment. The incident dramatically influenced his work and was the catalyst for his current figurative pieces.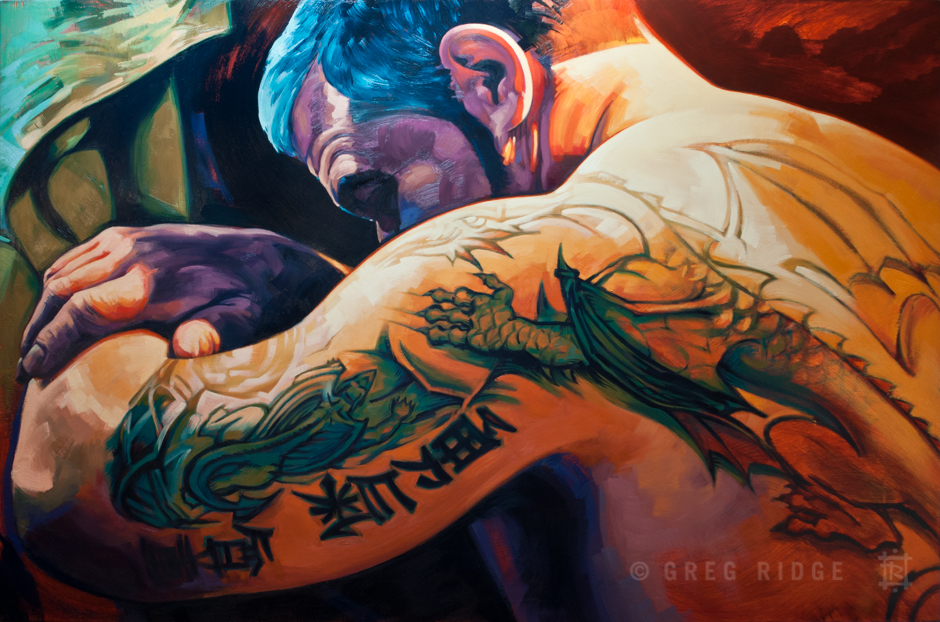 The Machinist
"My real love has always been figurative work, but a natural way to start painting again was to do landscapes. There's a quote by Brad Holland, a famous illustrator whose work I consider art for sure, [. . .] the quote is something like, 'Express yourself because it's later than you think.'  That's always struck me, and when I had the stroke it made that quote so much more important. When is it that you're going to finally become an artist? What are you waiting for? You're running out of time sir! Get busy! Life is short."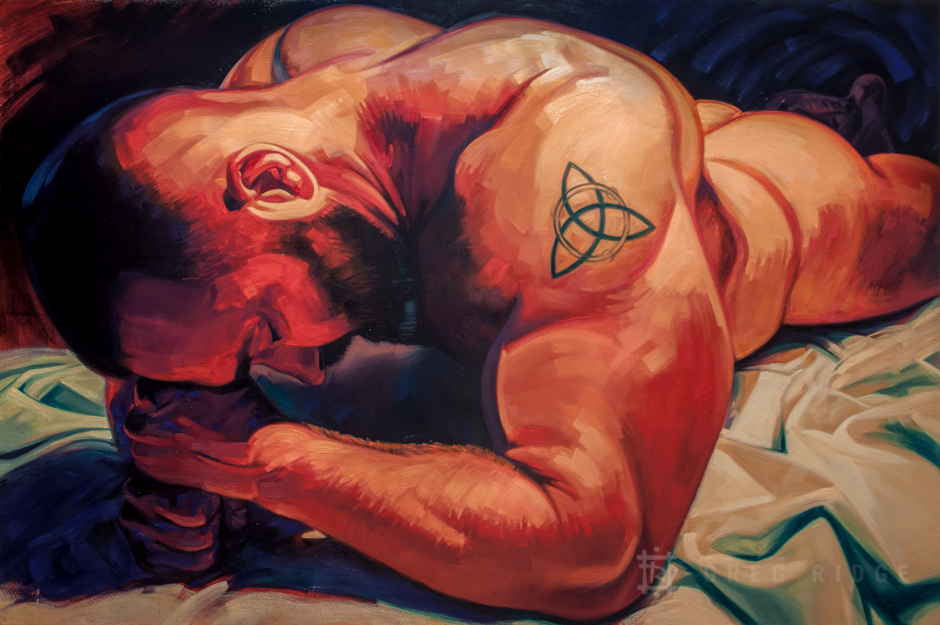 The Incandescent Mannerist
These pieces are all done on wood panels built by Greg himself and are hung unframed. The transition from canvas to wood was a tactical decision made to better accommodate Greg's tendency to beat on the surface while painting.
Greg's nudes are meditations on the male form with his sitters often appearing reflective or lost in thought. As he puts it, "they're not facial portraits, they're more like physicality portraits."
---
Greg Ridge's Meditation of Aesculapius is currently on display at The Midway Gallery as part of the group exhibition This Swarthy Face. The show explores man's various states of beauty and masculinity as portrayed by a selection of gay, contemporary portraiture artists. On view until August 27, 2016.
Photograph of artist Greg Ridge by Rey Rey © Rey Rey's Photography
To learn more about Greg Ridge, click here
To follow him on Instagram, click here
Written by Vanessa Wilson
All images provided by the artist unless otherwise stated.