Opening Night: LIVEWIRE & This Swarthy Face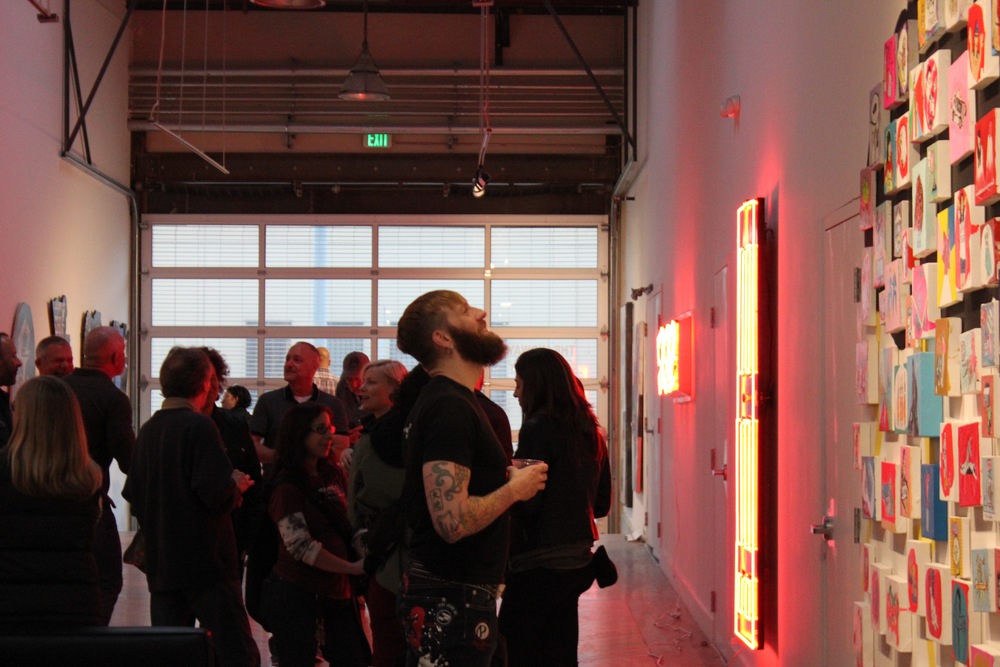 Friday night (July 15) The Midway Gallery hosted an eclectic mix of art lovers present to witness the culmination of two distinctly fantastic shows: LIVEWIRE and This Swarthy Face. Neighbors within the The Midway Complex, the two exhibitions presented the hard work of three curators and 12 artists.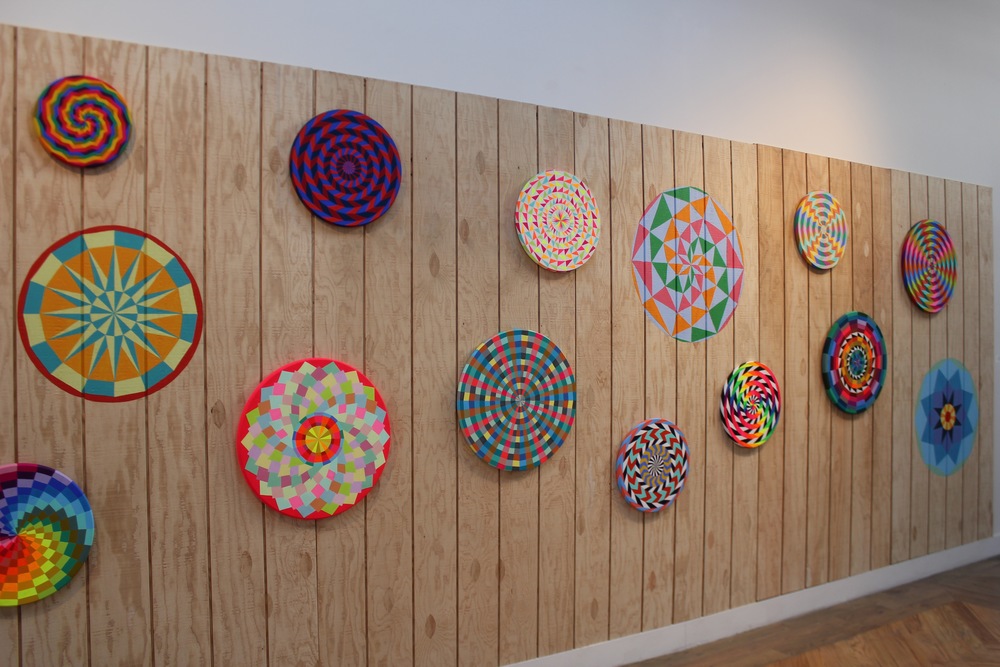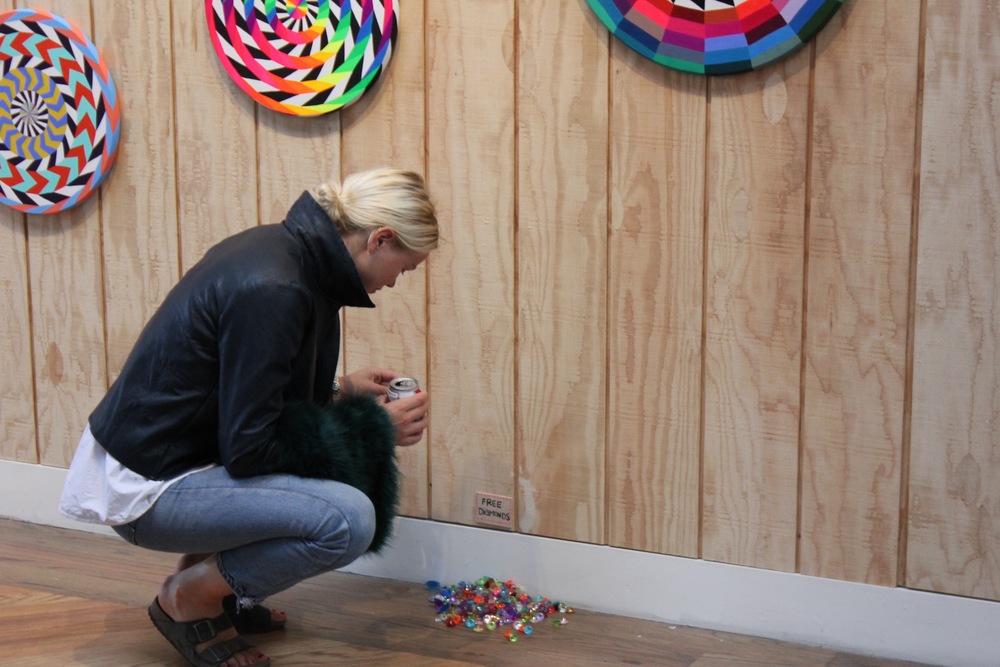 The electrifying LIVEWIRE, co-curated by Midway Gallery art director, Kelsey Marie Issel, and artist and curator, Carly Ivan Garcia, greeted guests with the vivid, op-art creations by Kristin Farr. Both painted and hung on large wood-panels reminiscent of barn doors, Farr's geometric, mandala-like compositions exuded good vibes and seemed to vibrate with energy. Psychedelic, funky, and fun, her intricate designs wowed visitors and enticed them take a closer look. To continue spreading good cheer, Farr added a pile of colorful "diamonds" to her installation with a hand-written "Free Diamonds" sign casually hung above them. It wasn't long before attendees took note and happily selected their gems of choice.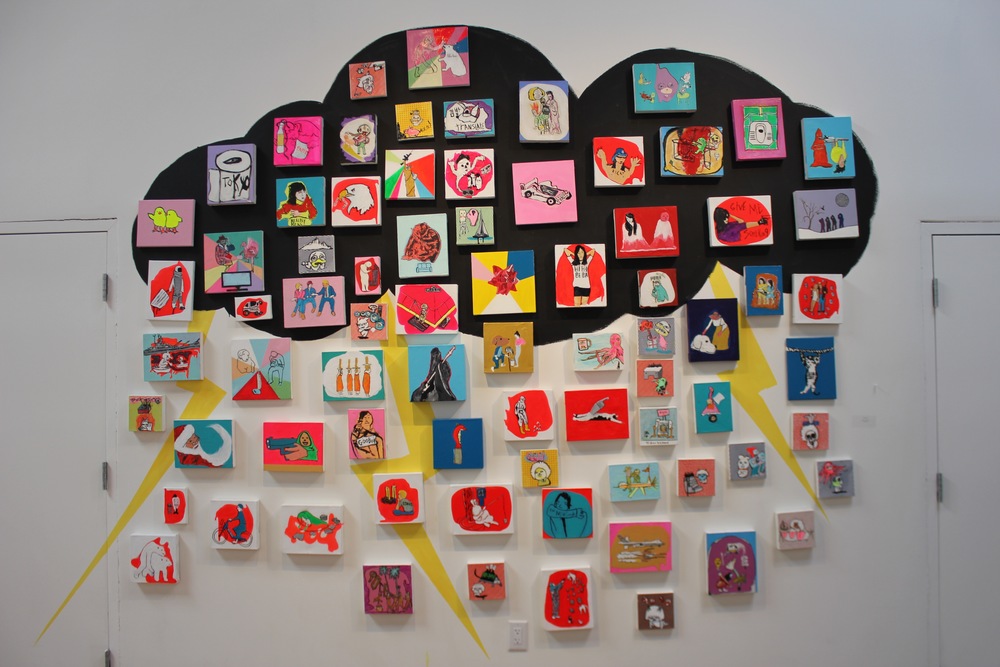 Across from Farr's fluorescent discs, visitors scanned one of several black storm cloud murals all of which housed small-scale paintings by Brian Leo. With lightening bolts shooting out of them, each cloud was overrun by clusters of vibrantly colored images immersed in socio-political commentary. Viewers were spotted pointing and musing over Leo's compositions, attempting to decipher the significance of swaddled babies, canoodling polar bears, mutated chicks, and much more.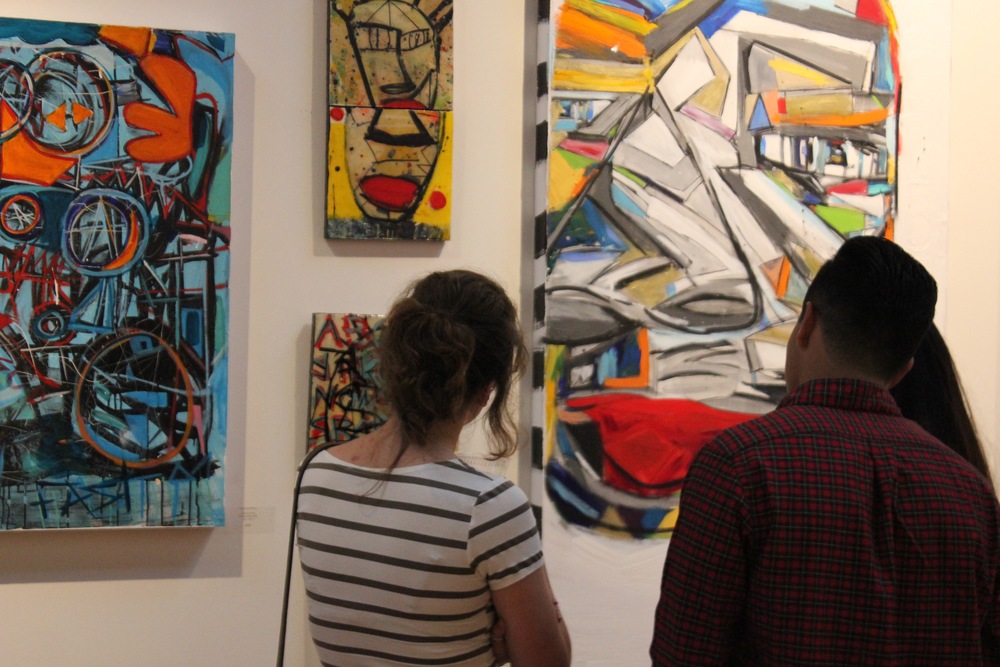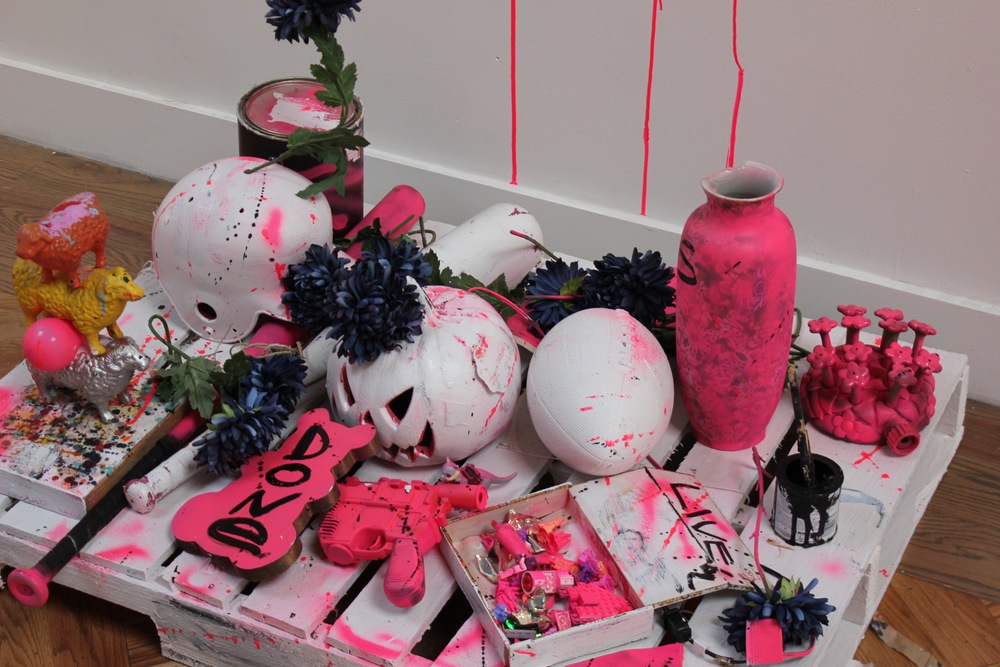 Further down, Carly Ivan Garcia's work energized the space with dynamic brushwork and a myriad of his "neo-modern abstract" art. In addition to his aggressively fragmented paintings, Garcia unveiled a sculpture. The stockpile of found-objects was carefully arranged on the floor. Visitors curiously squatted to explore Garcia's shrine-like installation, discovering a baseball bat, rams, helmet, and a jack-o-lantern among the seemingly random objects.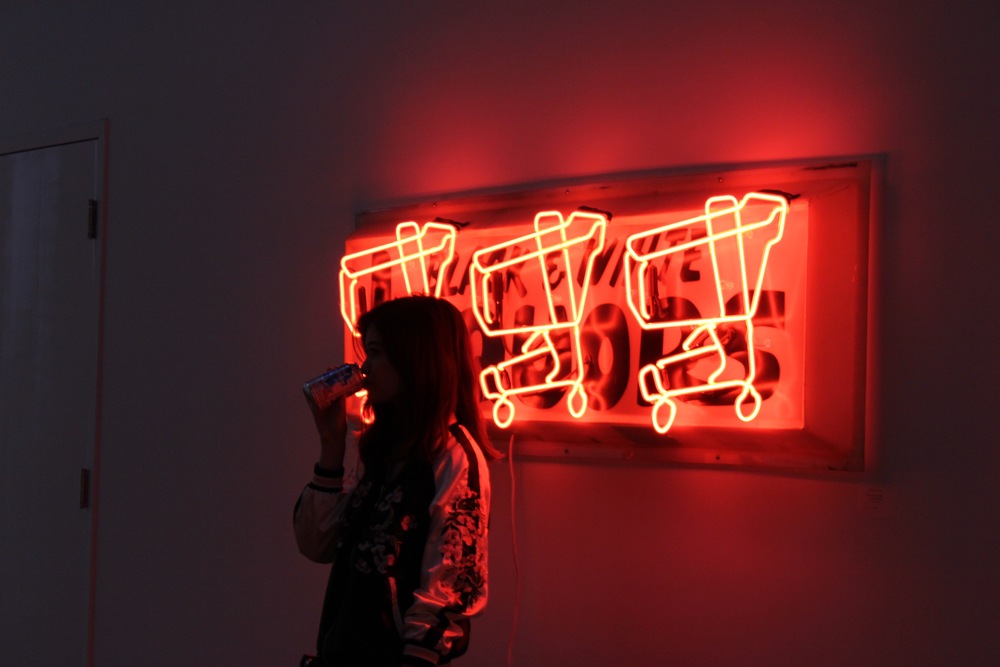 Shawna Peterson's thought-provoking light-art became the impromptu backdrop of several photos. The red neon created a moody glow across the gallery's wall, drawing people into a soothing ambience where photos were taken and art was reflected on. Peterson's skillfully constructed signs presented reception-goers with a modern twist on a nostalgic, commercial form.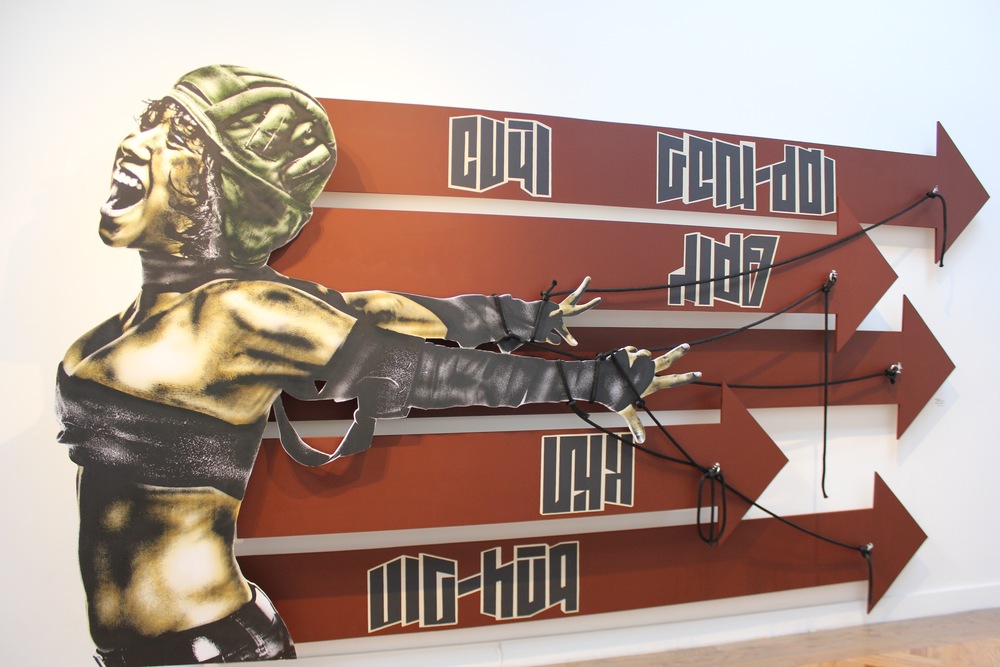 When street artist D Young V mentioned that he wanted his art to be more three-dimensional, we weren't necessarily expecting a sculpture. At the center of the gallery, D Young V and Eddie Colla's huge installation, Extrication, seamlessly married one of Colla's expressively defiant figures with D Young V's stylized text. Set against a burnt-sienna background composed of five horizontal bands, a screaming woman appears to be breaking free from bondage. Visitors buzzed around the piece, tentatively touching the ropes restraining the woman's arms, and speculating over the language of the text.
---

Next door, in The Midway's Gods & Monsters Gallery, This Swarthy Face was in full swing with live jazz music. Curated by Travis Ridlehuber, one of the gallery's artist-in-residents, This Swarthy Face presented the works of six gay artists all working in contemporary portraiture.
Celebrating masculinity, each artist in this show clearly captured the beauty of the male form in his own, distinct style.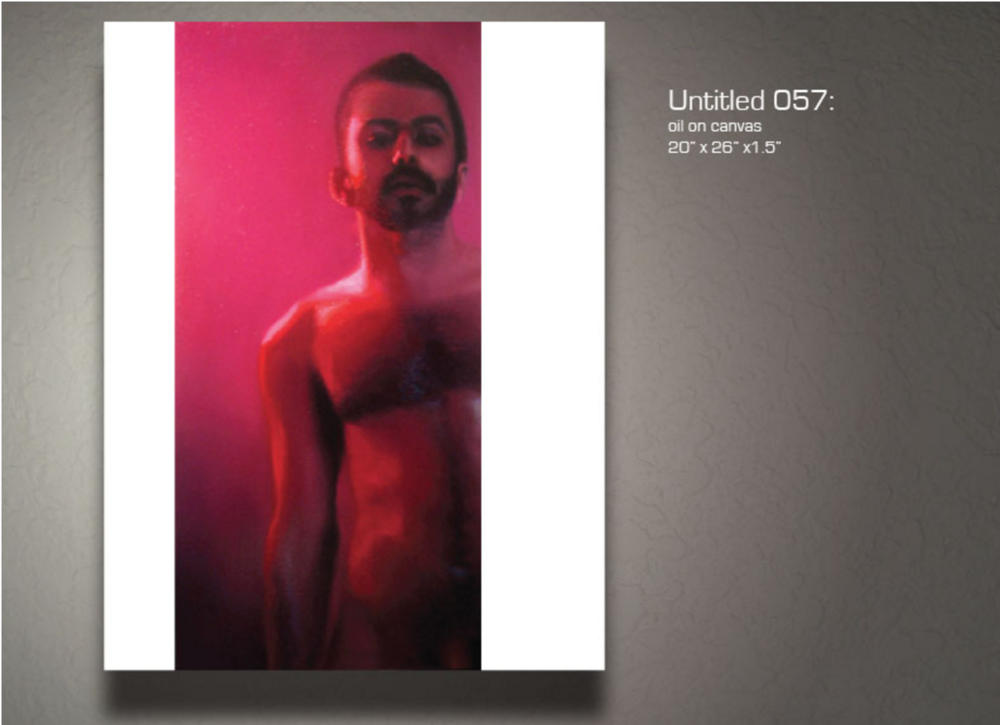 Exploring dramatic lighting and photorealism, Karl Fjelstrom set the scene with a collection of pieces featuring hot men cast in seductive purple and red hues. Fjelstrom's delicately blurred compositions created the affect of a distant memory, evoking a feeling of grasping for details we know but fail to fully access.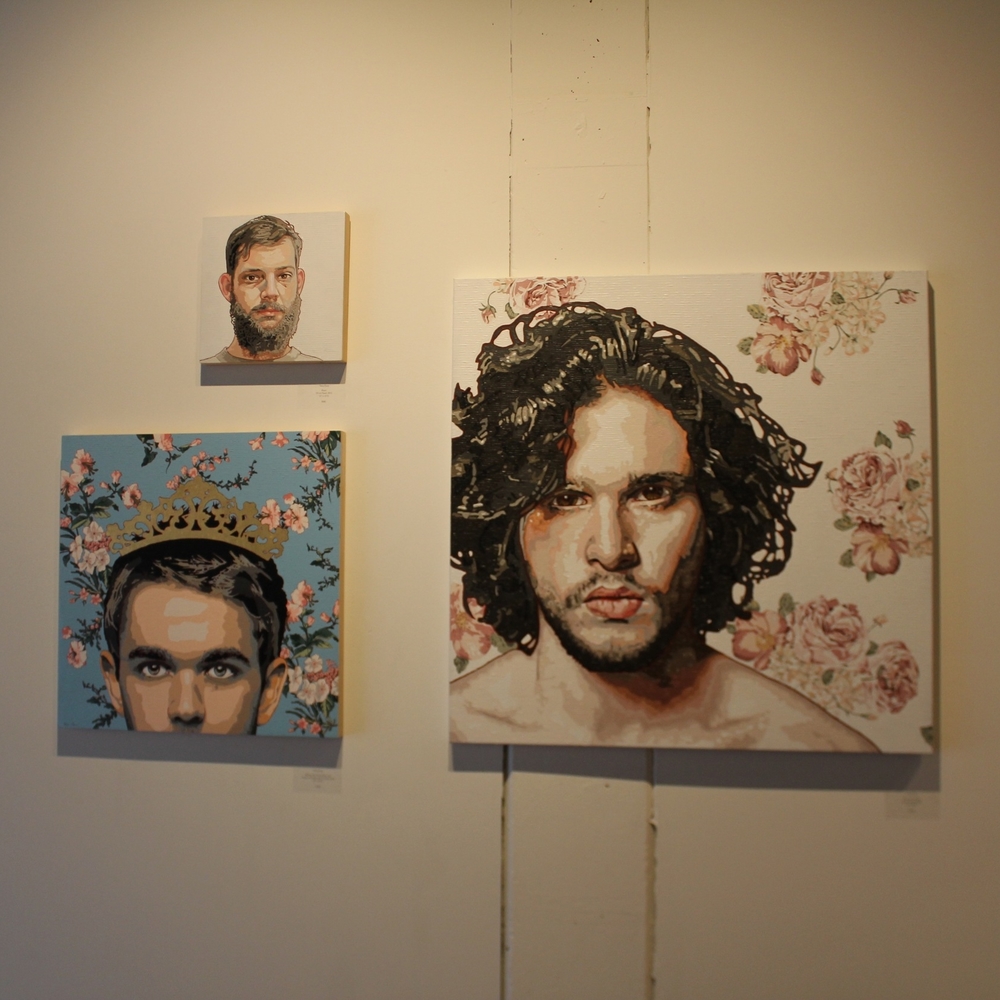 Across these moody works, Terry Furry's graphic-realist portraits coaxed visitors further in with the familiar face of Jon Snow, unexpectedly set against a background of roses. It was clear who the GOT fans were as many gleefully posed with the image.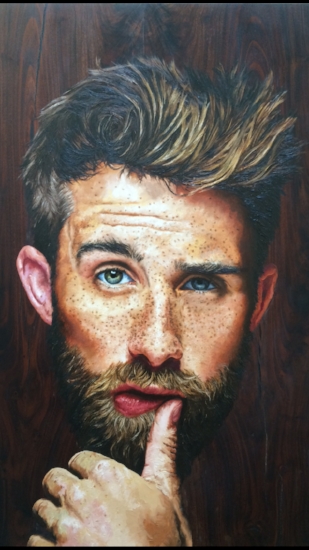 Beside Furry's pieces, Travis Ridlehuber's hyperrealistic compositions of brawny, bearded men stopped viewers in their tracks. Skillfully painted on hand-selected wood panels, Ridlehuber's paintings were nothing short of amazing.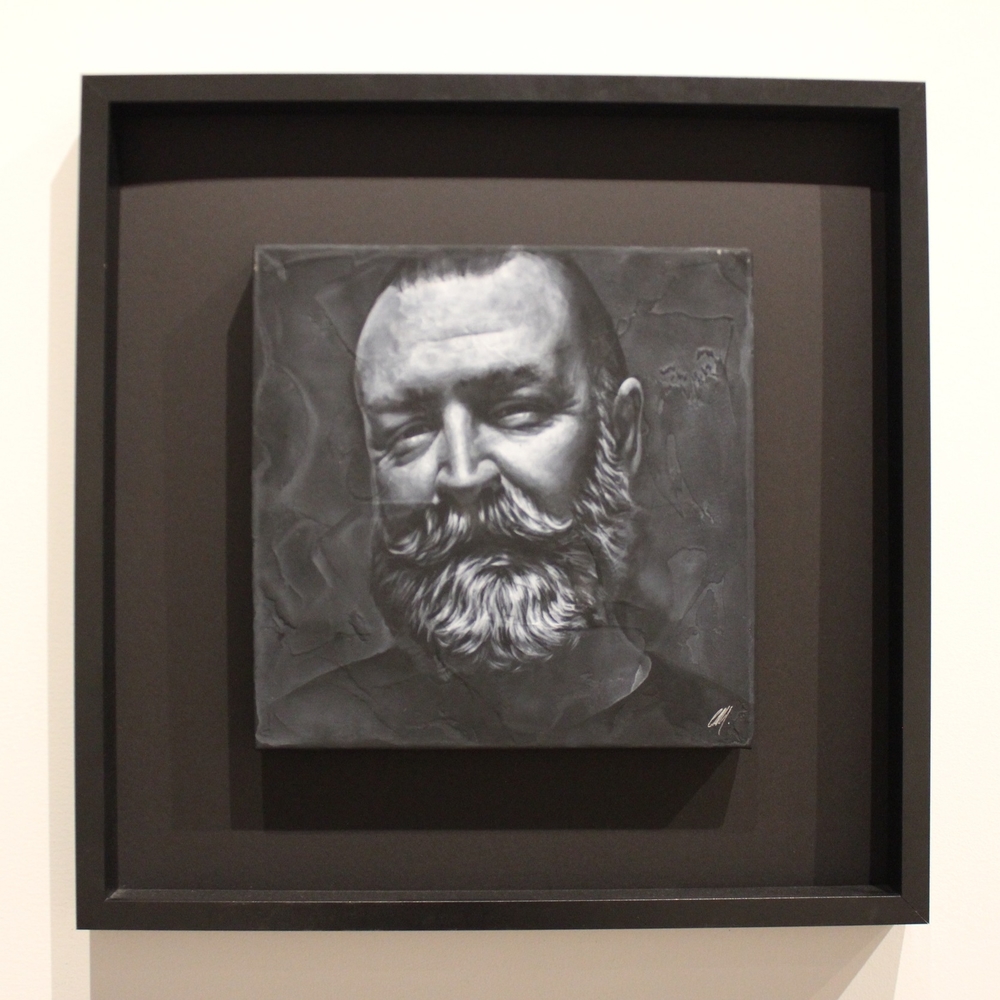 Chris Lopez's black and white charcoal drawings portrayed the intensity of his male sitters, their essence captured in each furrowed-brow and deep gaze.
Viewers sipped their drinks while admiring Matthew Conway III's unbelievable pencil on paper drawings of male nudes.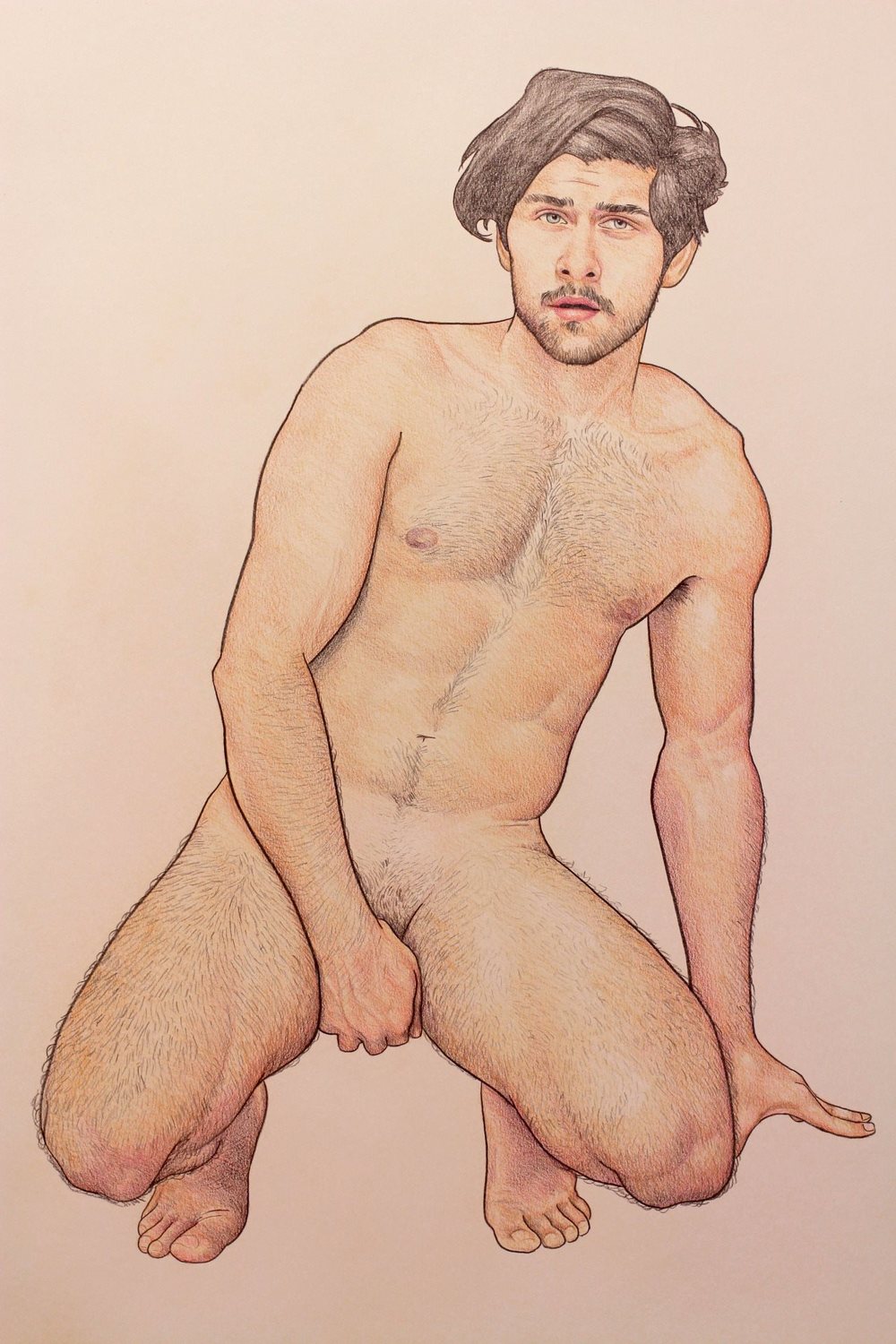 At the far end of the gallery and dramatically lit Greg Ridge's Meditation of Aesculapius loomed over the room. With bulging muscles, large hands, and expressive lighting, this figurative painting was indicative of Ridge's style.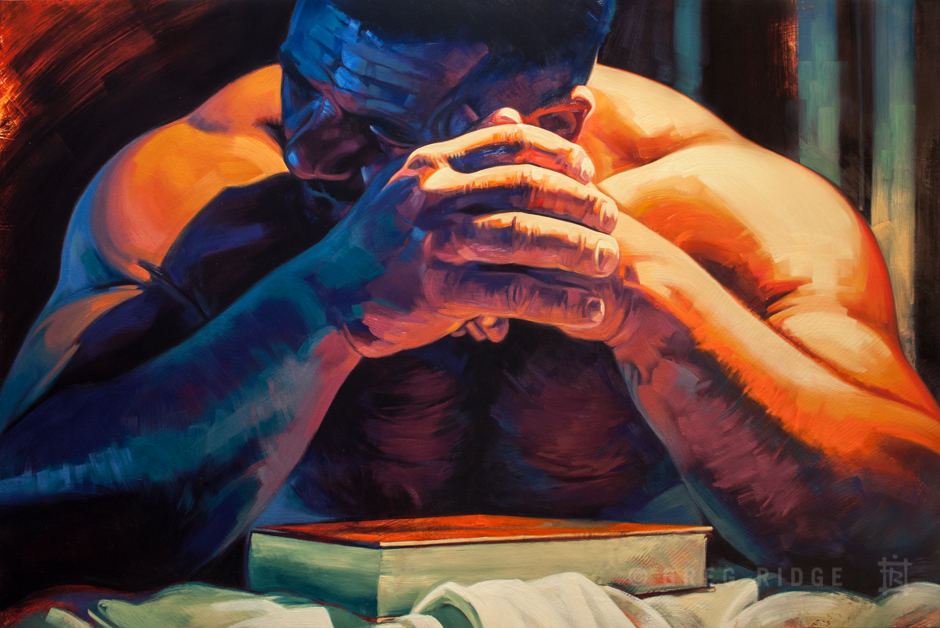 Both LIVEWIRE and This Swarthy Face will be on view until August 27, 2016. The Midway Gallery is located at 900 Marin St, San Francisco, 94124. Gallery hours are Wednesday thru Saturday from 12pm to 6pm.
Written by Vanessa Wilson
Photos by Jacob Abern unless otherwise stated