Featured Artist: D Young V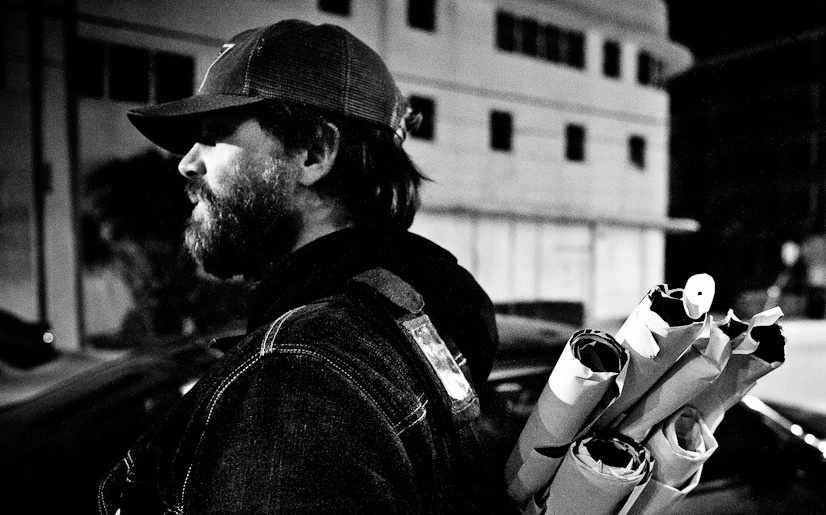 In the thirteen plus years street artist and muralist, D Young V, has lived in San Francisco, his striking images of war, weaponry, and revolution has very much become a part of the city's urban environment.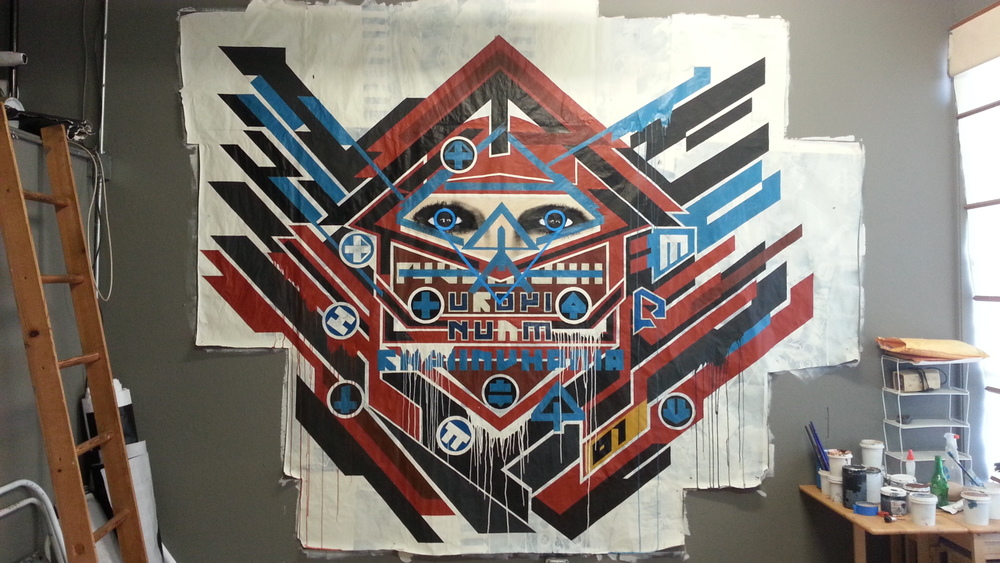 D Young V's interest in dramatic social change inspires the universe his characters inhabit: a dystopia filled with the need to battle for survival. Life isn't easy in the post-apocalyptic world he imagines. His images of conflict starkly oppose the reality he attributes to American society, a western world overwhelmed by a sense of entitlement among the young and a unfamiliarity with true struggle. D Young V feels that this ignorance of strife has "devalued" the important things of life.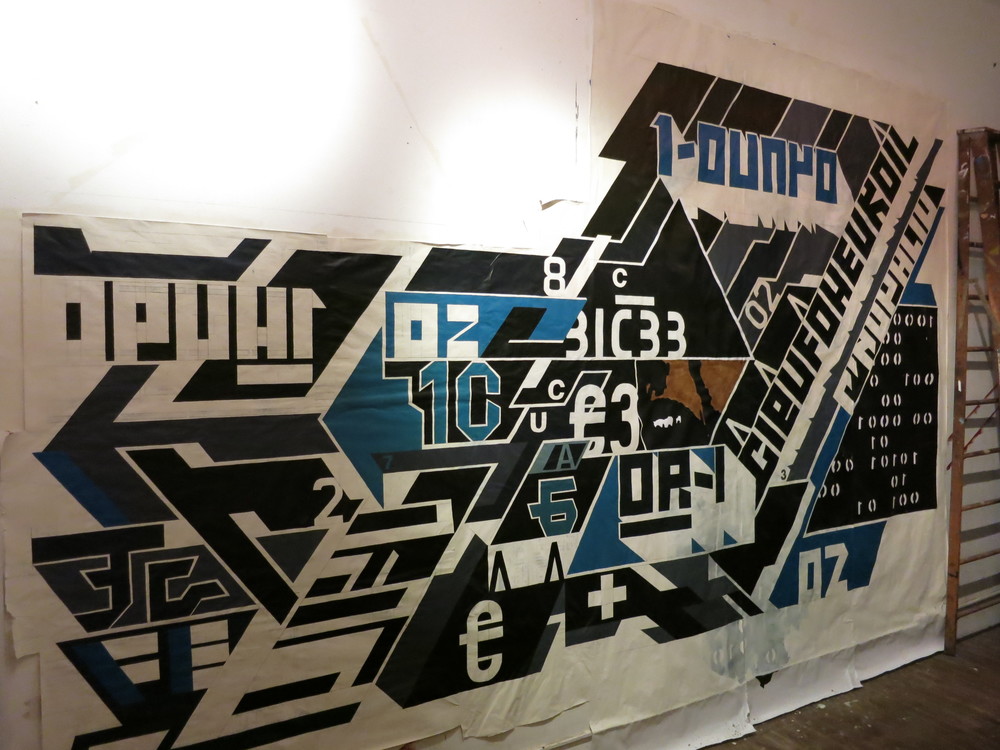 Although he himself admits to never having been in a war or forced to fight for his life, something about the concept speaks to him. When asked what he hopes to achieve with his work, D Young V is unsure. Like many artists, he describes this innate need to create. He wants to be remembered through his work and, if his imagery has any intentional purpose, he suggests a desire to impart some kind of awareness among the masses. But at the heart of it is the impulse to release these dystopian fantasies from his mind.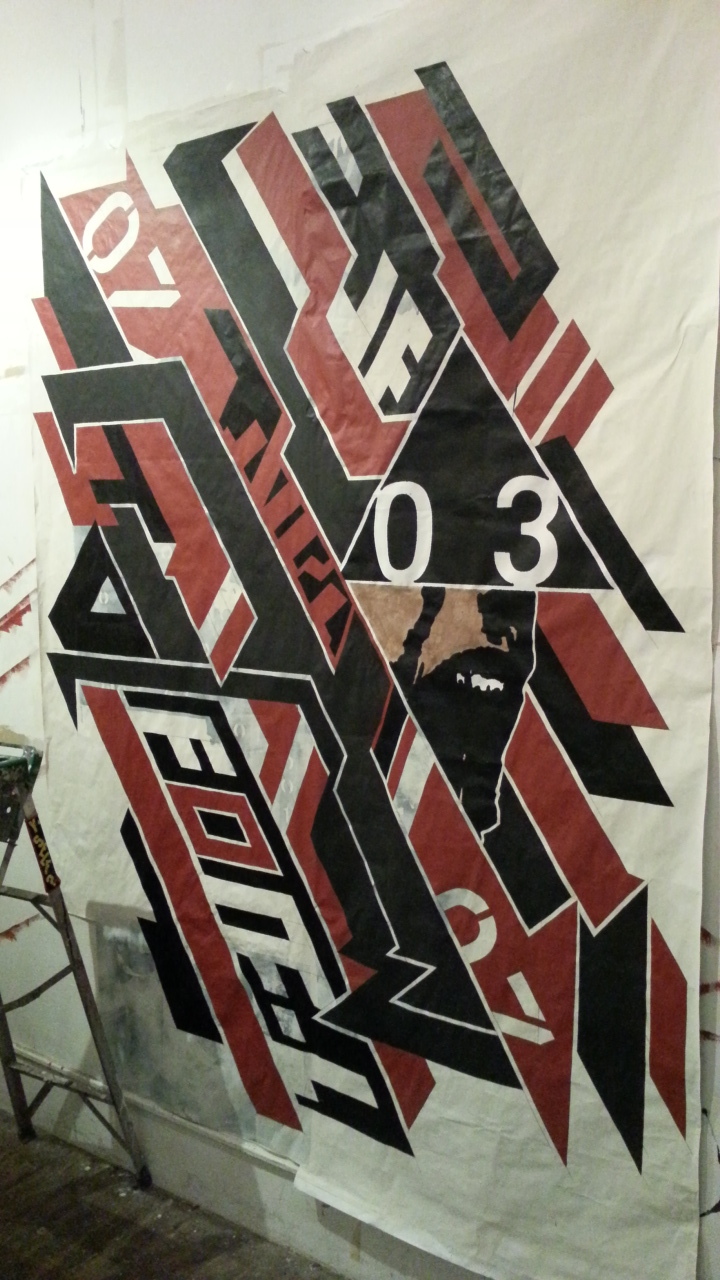 Lately D Young V's pieces have taken an abstract turn, with fonts and symbols overrunning his compositions. It's hard to look at these images without attempting to decipher what could possibly be a foreign language or code. Using a largely muted palette offset by bold blue or red accents, these stylized letters actually have no translatable meaning. D Young V reveals that his linguistic shapes and their colors are intended to portray a mood –
"the feeling and tension of the world I am creating through my art," he says.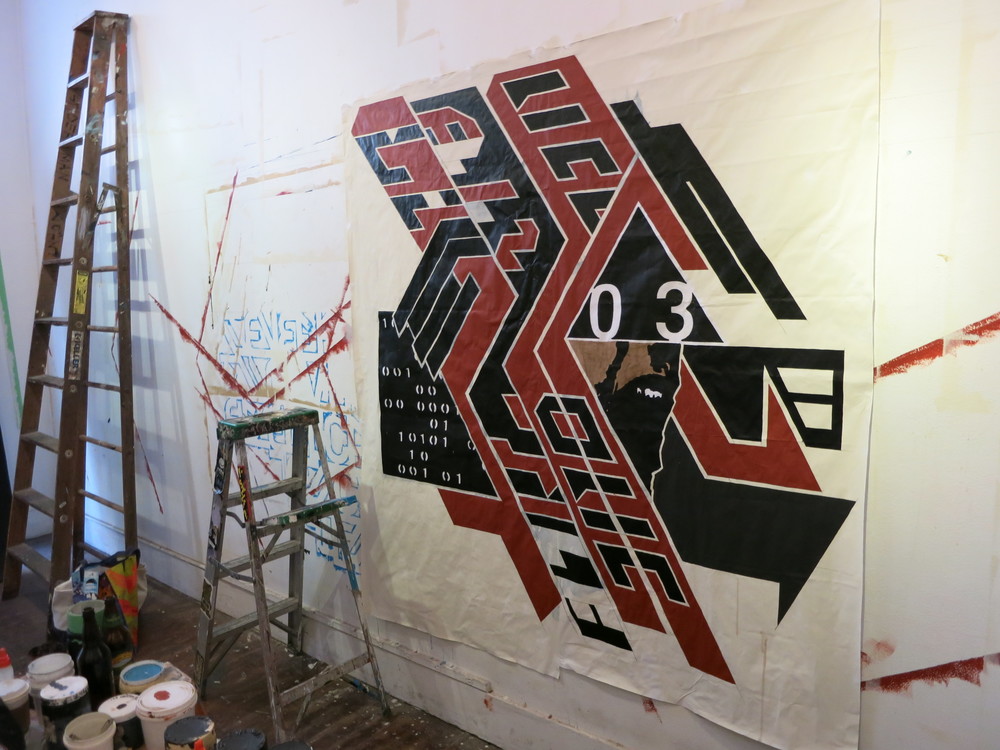 "I've always had an affinity for text and fonts. It's the different forms and styles of the letter and symbol that attract me. I'll view variations of text from different time periods and cultures and admire them for their beauty or portrayal of emotion or circumstance. I am often ignorant of the literal translation of the text; but can attempt to understand it's meaning and place through its font, shape and color. Cultures often change their use of fonts to best represent different social, political, cultural and technological changes. This is very obvious throughout the twentieth century and today," D Young V explains.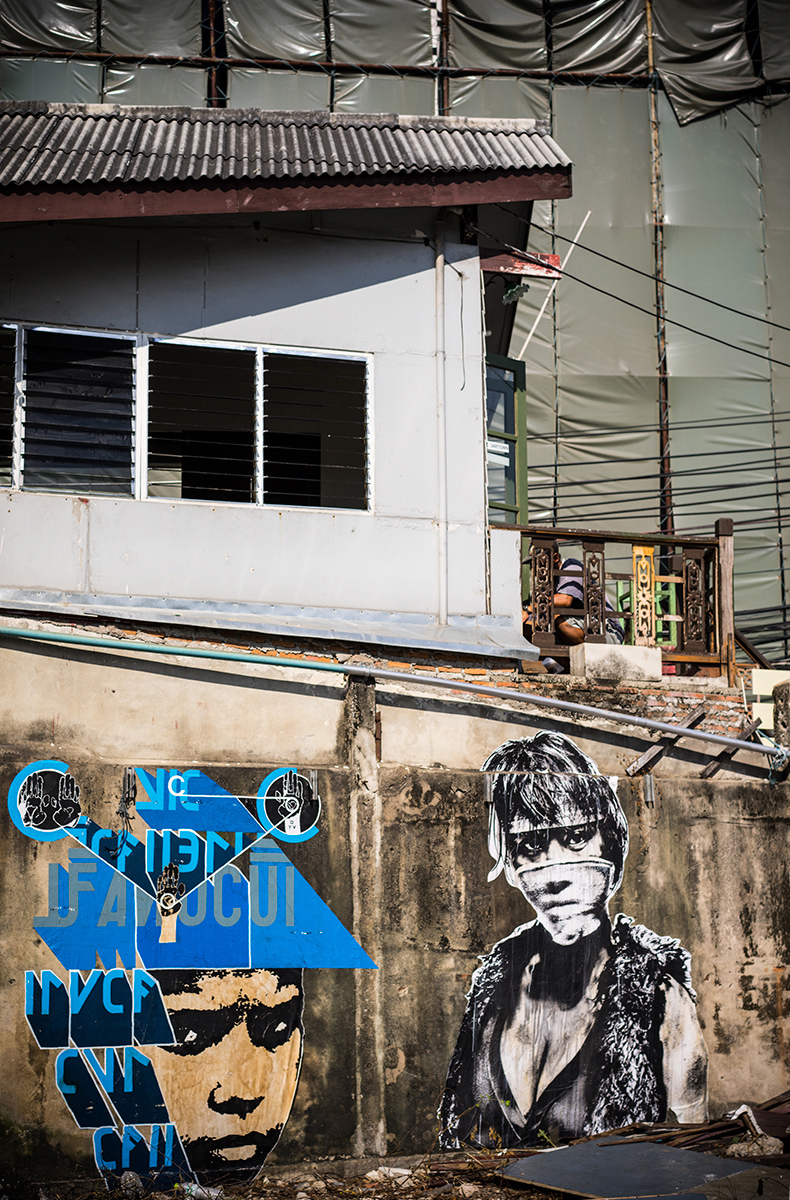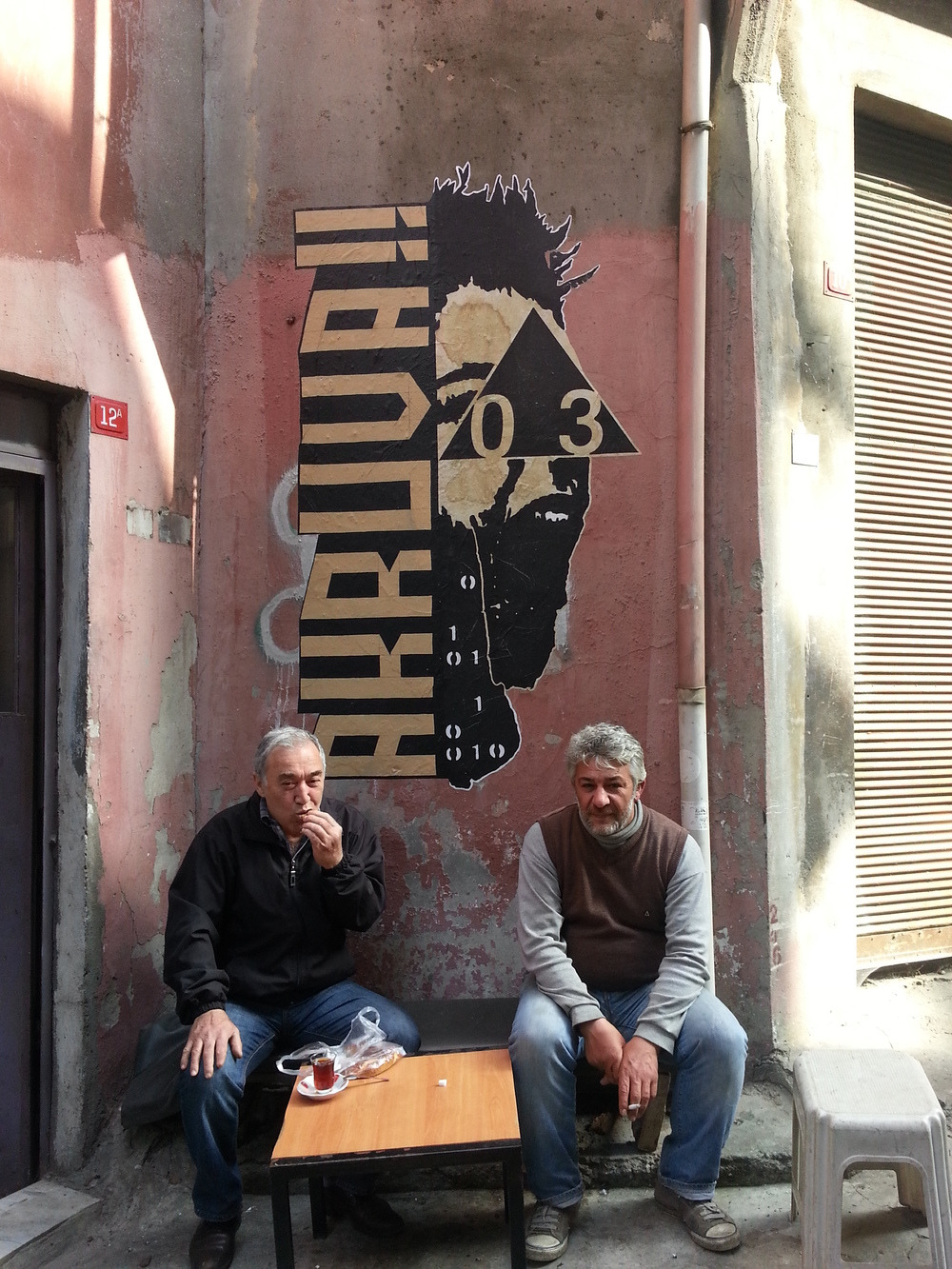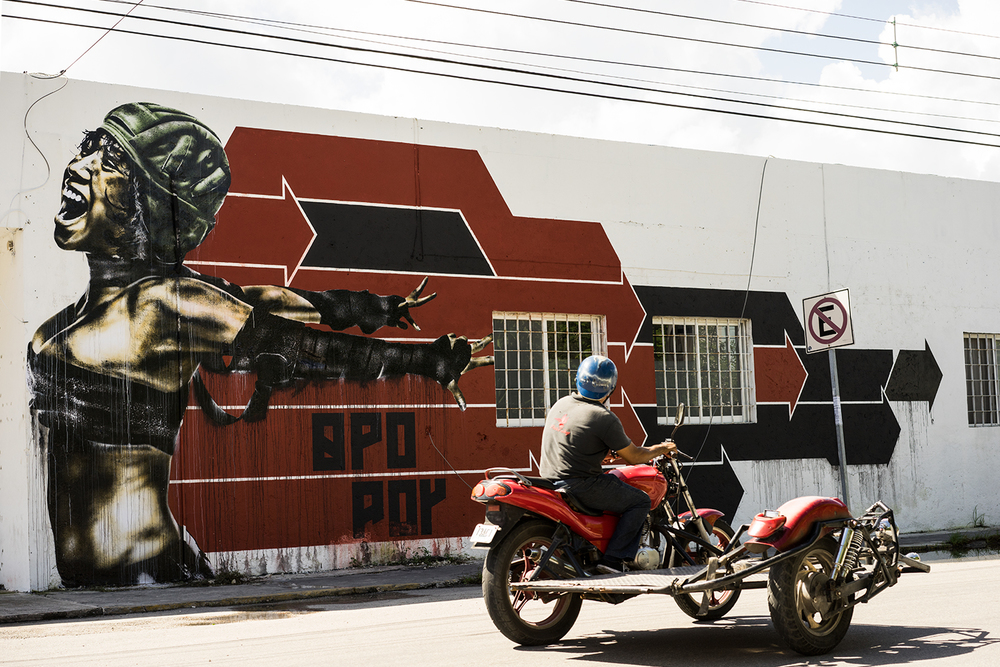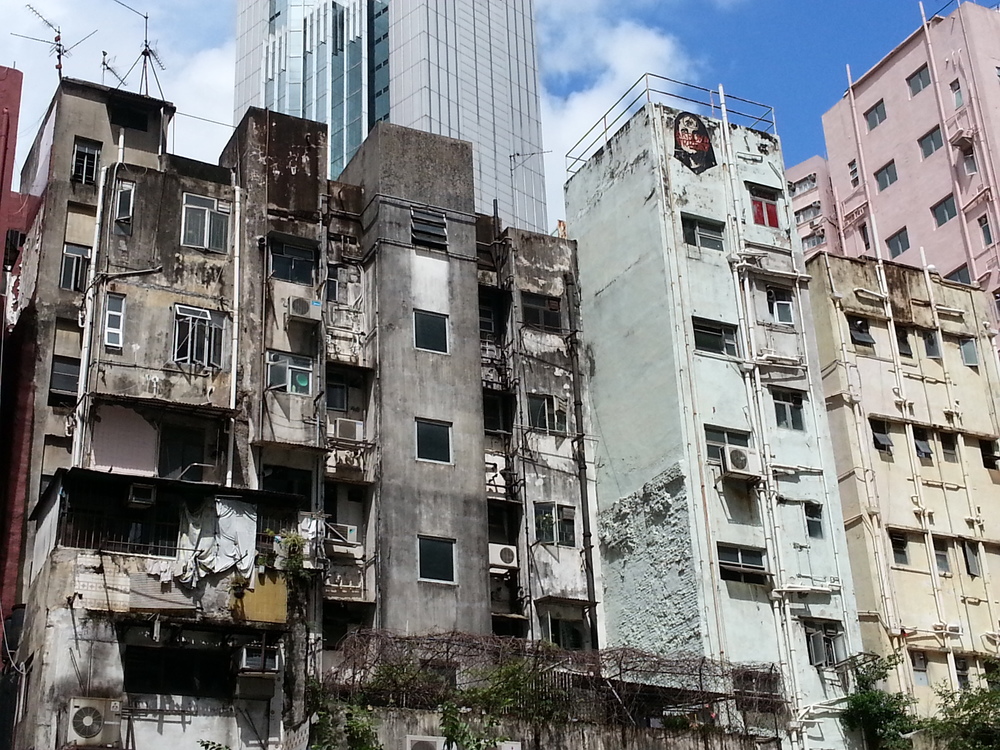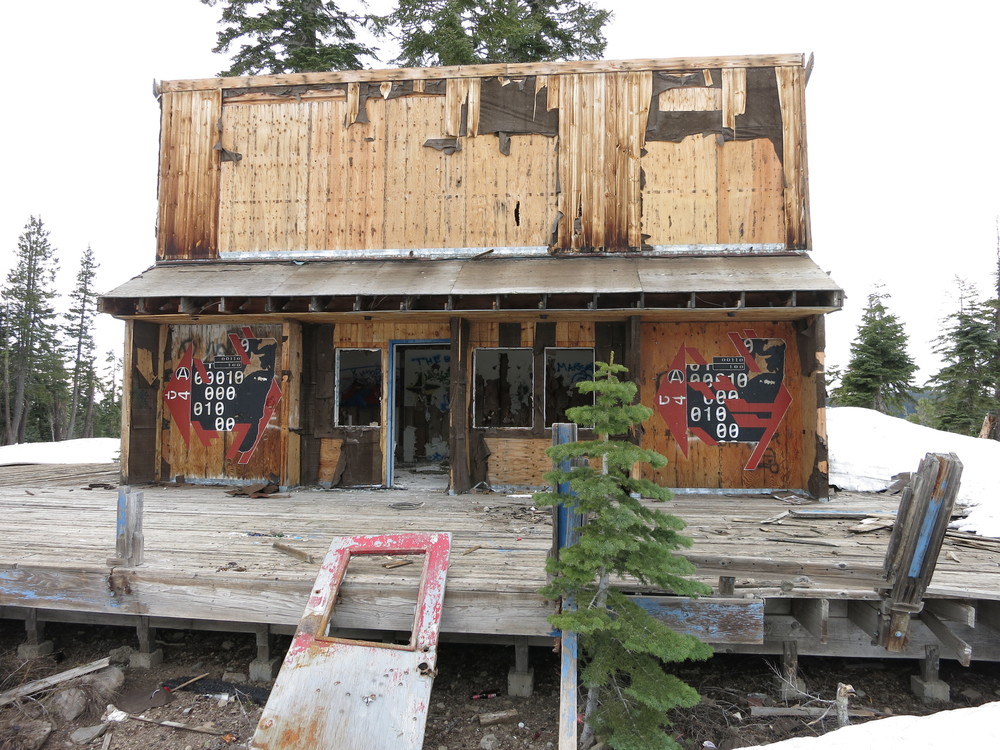 Travel is an integral part of D Young V's ever-evolving style. Within this past year alone, he has visited and tagged walls across Hong Kong, Mexico, Thailand and Istanbul, a few of these with fellow artist and friend Eddie Colla. Each destination offers fresh visual trends that D Young V incorporates into his work. '03,' currently on view at Mirus Gallery, is highly influenced by the visual culture of Istanbul. D Young V's '03′ marries his figurative roots with the abstract font he has been exploring. At the center of the 10 foot wall piece a pair of eyes peer out at the visitor, below them lies the body of what could be a fallen soldier or fighter of some-sort. The body lies in a pool of red with drops running down the composition. He/she is clad from head to toe in all black with a mystery symbol proudly worn around his/her arm. The eyes and body emerge from a background of burnt sienna font offset by white.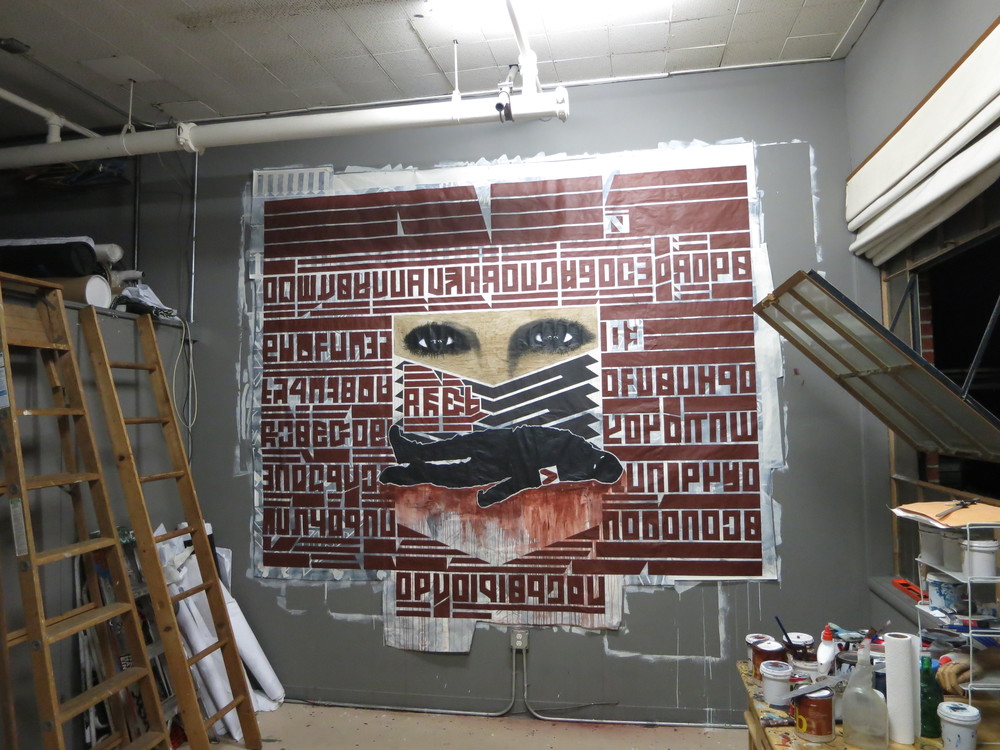 "[. . .] This specific piece was created after I had taken a trip to Istanbul. I wanted to soak up everything I could in that city and combine it creatively with what I was already working on. The under layers of the piece are older street pieces I am no longer putting out there. It was my way of getting over the past and achieving something new. The use of specific reds, grays and blacks were common color tones I saw all over Istanbul. I prefer the muted palette to a loud one as a result of that trip. The geometric block like symbols are representative of much of the Muslim related design work I viewed throughout the cities mosques. I fell in love with it and wanted to find away to adopt it into my style. The eyes protruding from the text is reminiscent of the countless I eyes I saw through burkas. I feel that this was a new way to incorporate the use of a female propagandist figure in my work. I wanted a female (or at least their eyes) to directly engage the viewer. I often use a strong female figure in my work as a symbol of change. The bloodied body below the woman's eyes is meant to represent the end of an old world to allow the rise of a new one," D Young V writes.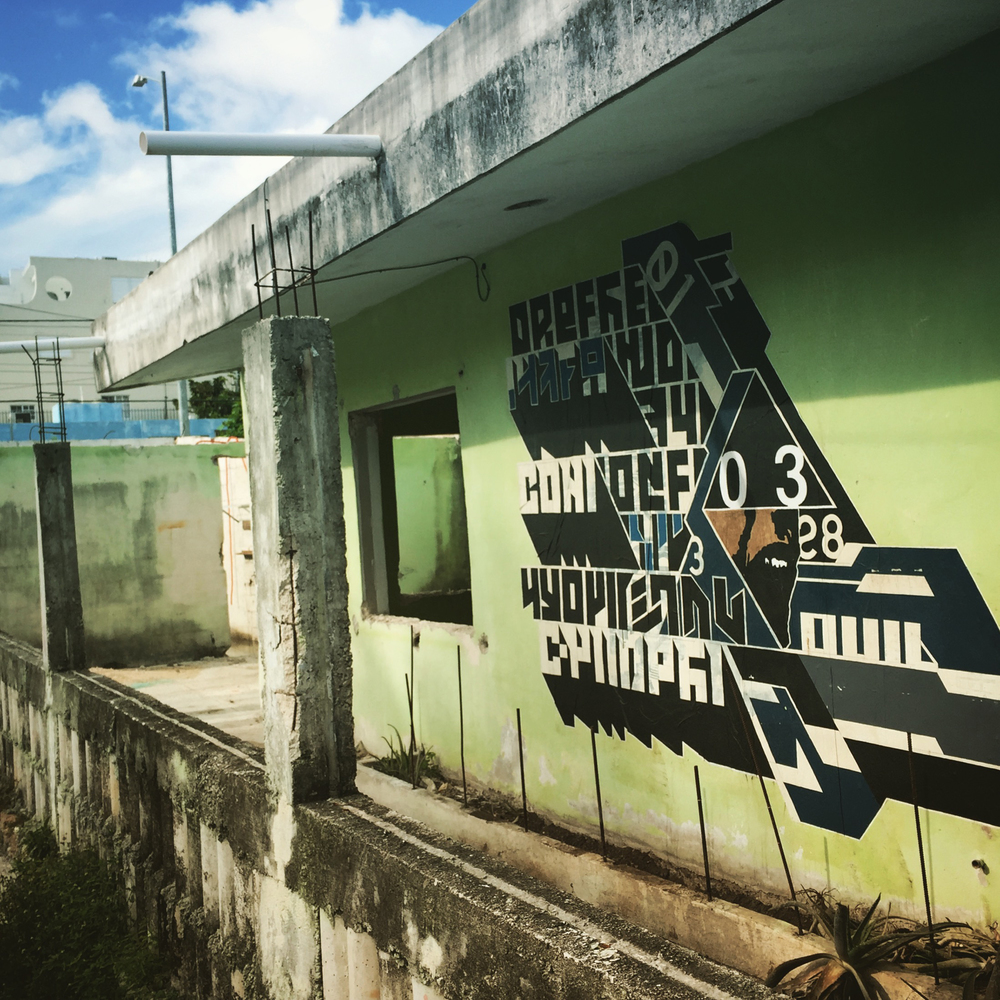 D Young V has come a long way since making the decision to seriously focus on his art with wall pieces incorporated into a number of galleries and graffiti gracing streets and alleyways across the globe. When asked what advice he has for any emerging artists, he answers:
"I'd say challenge yourself, do stuff you're afraid of. Even if it turns out like shit, you know just do it. Always do things you're afraid of, otherwise you'll just become stagnant and your work is just gonna be kinda repetitive, boring, and predictable. Don't let other people's opinions affect you too much. Whether they tell you you're awesome or wether they tell you you're horrible, just take it at like 50%. Praise can be a bad thing too."
D Young V will be creating a collaborative wall piece with Eddie Colla for The Midway's upcoming July exhibition, LIVEWIRE. Join us and LIVEWIRE artists on opening night, Friday July 15th from 6pm to 10pm to be among the first to see the mural which D Young V says will incorporate a new approach.
* * * *
To learn more about D Young V, please visit: http://www.dyoungv.com/
Follow him on Instagram: https://www.instagram.com/dyoungv/?hl=en
Bay Area Mural Locations:
Another Cafe: Pine @ Leavenworth
Jaspers (collab. w/ Aaron Lawrence): O'ffarrel @ Mason
Eleven O One: Polk @ Post
Mochica:18th @ Connecticut
Edinburgh Castle: Geary @ Larkin
111 Minna Gallery: Minna @ 2nd
All images provided by the artist.
Written By: Vanessa Wilson