ArtSpan Pre-Auction Panel Discussion: San Francisco's Art Ecosystem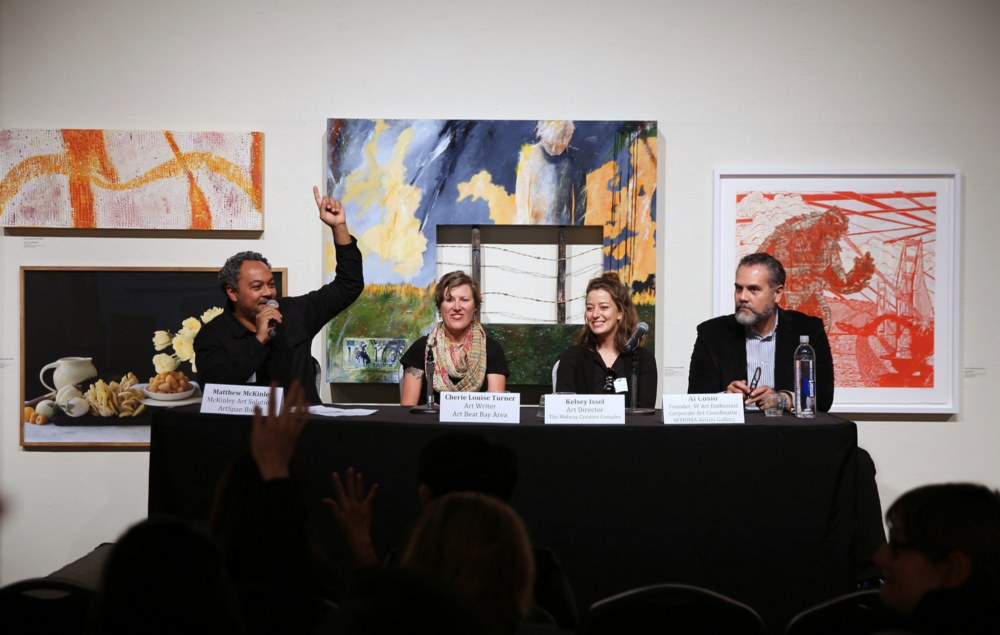 Last Thursday, The Midway Gallery's art director, Kelsey Marie Issel, participated in ArtSpan's Pre-Auction Panel Discussion concerning San Francisco's arts ecosystem. Kelsey joined fellow arts professionals, Al Cosio, founder of the San Francisco Art Enthusiast and Corporate Art Coordinator of SFMOMA's Artists Gallery, and Cherie Louise Turner, contributing writer at Art Practical and author of the blog, Art Beat Bay Area. The gregarious Matthew McKinley, founder of art consulting business, McKinley Art Solutions, and longtime member of ArtSpan's Board of Directors, moderated the panel discussion.
Matthew wasted no time diving into the conversation by asking panel members to identify and address the "generative elements of Bay Area culture that artists are responding to," and their affect, if any, on the larger art market.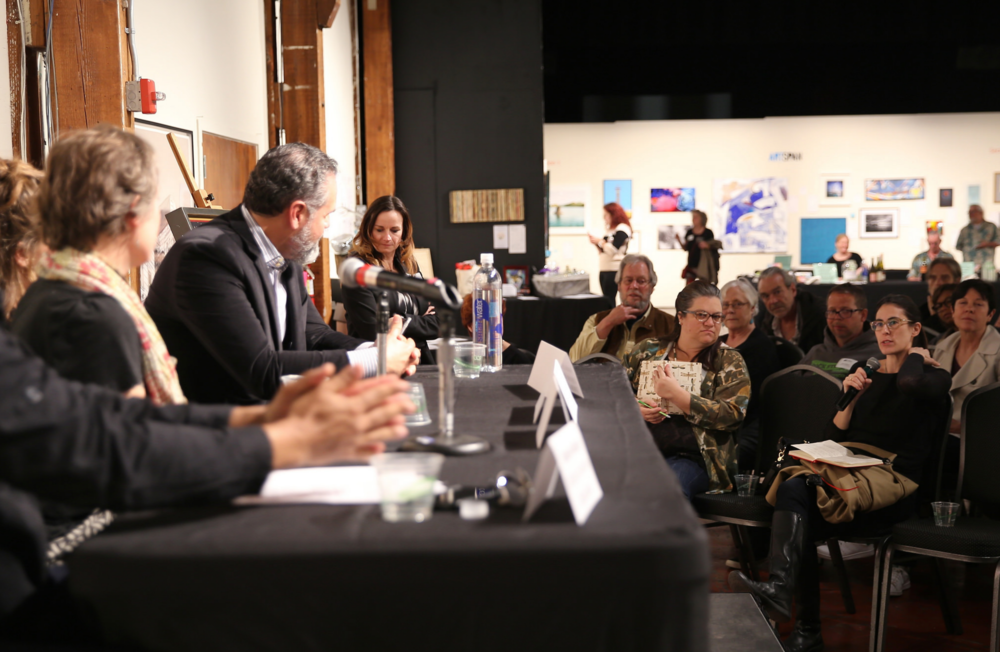 Cherie described San Francisco as an "artists' artist market," in which artists are acknowledging and supporting fellow creators at a greater extent than other patrons.
She added that this trend is on the brink of change as San Francisco is about to "explode" onto the world stage. Cherie cited the Gagosian Gallery's upcoming May 2016 opening, the recent opening of the Minnesota Street Project, and SFMOMA's upcoming re-opening, as evidence of the expansive growth she believes will inevitably propel San Francisco onto the world stage.
Kelsey provided a smaller focused answer informed by her one-on-one work with local artists and her personal experiences since moving to San Francisco from New York seven years ago. She discussed having seen a lot of creative overlaps between art and tech and art and science, which she believes is an influence San Francisco has had on the greater art scene.
"It seems that artists here are working across disciplines and I think that's aided or enhanced by the tech industry being so enforced here," she elaborated, "I think that's really interesting to me because it brings a different collector-base and viewership to the art."
Al addressed San Francisco's absence of a big commercial market, referring to the city as a "fad free town" where art is made but not necessarily sold. However, with the rise of the tech industry and new money generating projects like the extension of SFMOMA, Al hopes San Francisco's small art market will change for the better.
"Now, instead of being a place where artists come to make art and then show it or sell it somewhere else, we might start actually be becoming a market where maybe people will start buying locally. Hopefully," Al stated.
Matthew segued the conversation towards San Francisco's lack of international recognition within the art market.
Answers varied. Cherie opined that SF artists aren't "fame seekers" and are generally disinterested in becoming a part of the world stage. She noted that artists here are more intent on focusing on their work as opposed to "play[ing] that game."
Kelsey pointed out that San Francisco is a huge city that doesn't have an international art fairs. Unlike New York or Miami, cities with a history of hosting fairs, San Francisco hasn't established a tradition in which people come from overseas to view and purchase work. Instead, San Francisco is focused on creating a new collector base sustained by the unconventional emerging artists of its time.
She brought up San Francisco Ballet's recent exposition, Sensorium, a multimedia experience held at the War Memorial Opera House and hosted by local artist, James Buckhouse. Sensorium presented interactive video pieces infused into performative ballet, among other elements. Kelsey mentioned the young, diverse crowd and related this experience to elaborate her point:
"We don't need just a visual art scene that's so strong on it's own that it has to have a legacy like New York. [San Francisco] has this scene where we can incorporate all these different art forms where people are having fun engaging. Truly engaging."
Matthew concluded the night by asking the panel to discuss how to help audiences to understand "art speak," and how much control artists have over their careers, or if it is largely in the hands of their audience.
Kelsey tackled the issue of "art speak" by citing ArtSpan's recent exhibition, Selections. She explained that ArtSpan had installed plaques that provided the artist's biography and explained his/her concept. She observed that this was helpful to those who don't necessarily understand the rhetoric of art because it demystified the work.
Al brought attention to the importance of faithfully representing an artist to diverse collectors, including those who are passionate about the arts but not necessarily steeped in its history. "You don't want to give someone so much art speak that they get turned off," he explained. "Remember that they're there because they're passionate, they love it, and they may not know why." Cherie addressed Matthew's second question regarding career success by underscoring the importance of tenacity.
The night drew to a close with questions from the audience.
Written By: Vanessa Wilson
Photos courtesy of ArtSpan