Featured Artist: Jeffrey Yip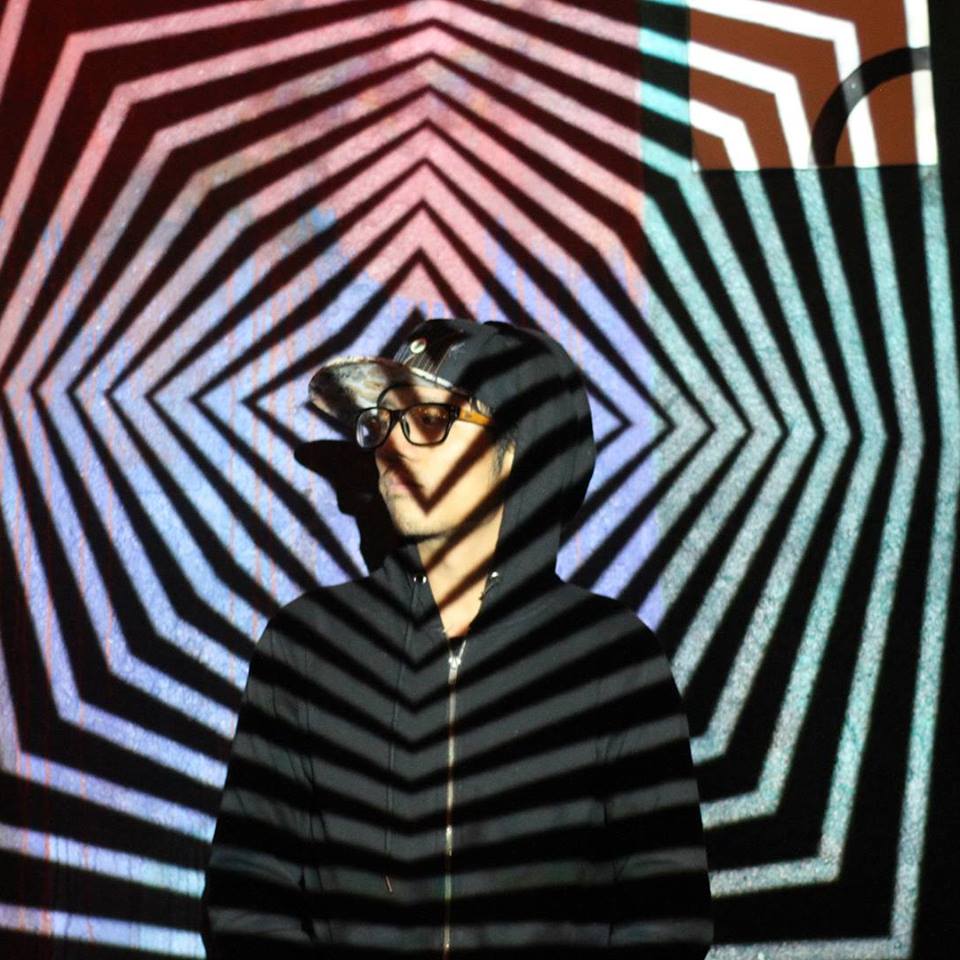 During The Midway's first intern-curated show last November guests were treated to Oakland-based artist, Jeffrey Yip's multimedia installation, Shift.
The piece was composed of truncated pyramids arranged in a three-by-five grid projection mapped with concentric squares and shifting lights. Yip's wall installation mesmerized viewers as multicolored lights danced across its surface, perfectly synced with a low hum which the artist later revealed was a binaural beat. The audio gradually escalated in both speed and sound, accentuating the rhythmic flashes of light and pattern superimposed on Shift's protrusions. The pattern of black and white concentric squares appeared repeatedly only to seemingly collapse into the pyramids. By manipulating the geometric figures, Yip created the illusion of looking into an object even as it protruded out.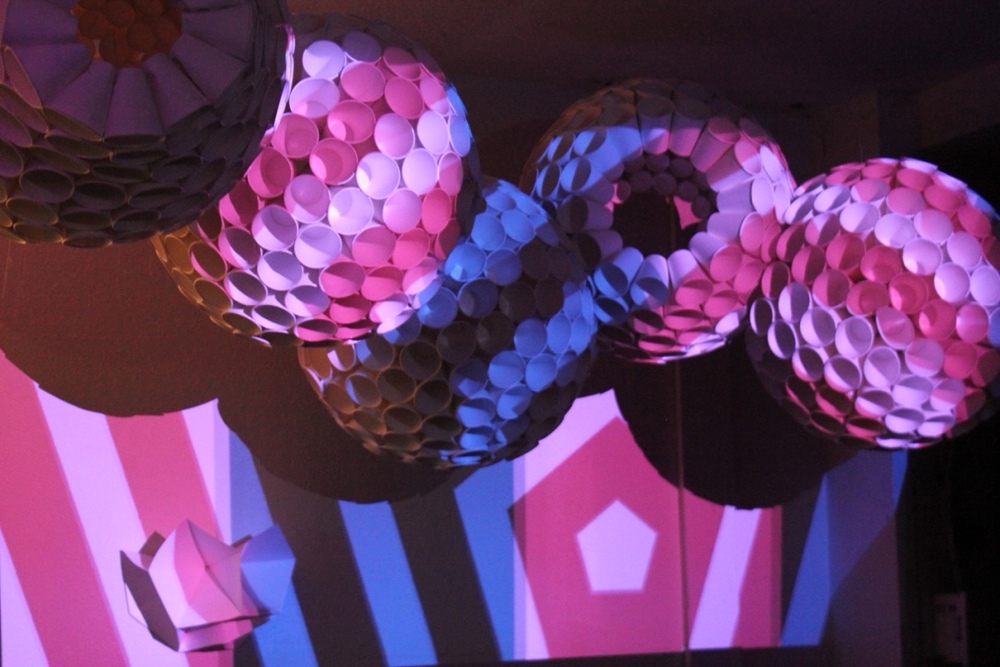 At the core of Yip's work is a desire to create experiences that momentarily remove viewers from their reality, and instead immerse them into a new "digital realm." He partially credits this desire to his fascination with video games.
"Videogames are a time-based medium. I perceive videogames as an art form and I know not everyone does, but you have elements of art in it. You have visual elements, sound elements, and interactive elements that all immerse whoever is experiencing the videogame. I want to take a user, or participant, or viewer, or what have you, and bring them into this other world that's not the default world," Yip explained.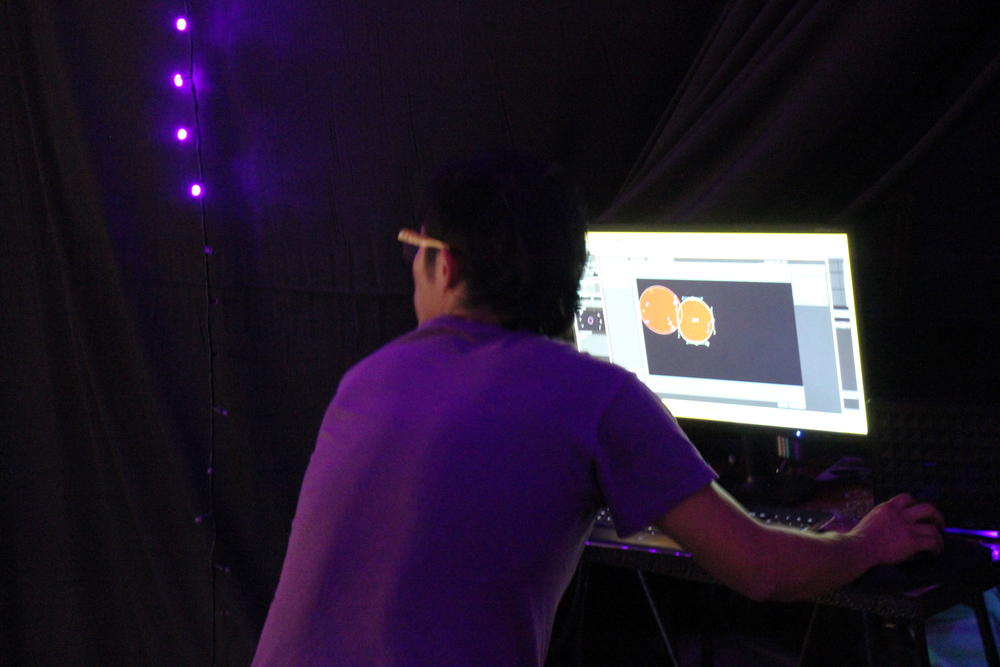 Originally an IT worker, Yip slowly got into graphic design upon the encouragement of his younger brother. He hit a turning point during his last semester at community college while learning to create motion graphics and use Cinema 4D. He made an array of tetrahedrons and projection mapped it. To his surprise, his classmates and teachers loved it. This was a pivotal moment for Yip, after which he decided to study projection mapping at San Francisco State University.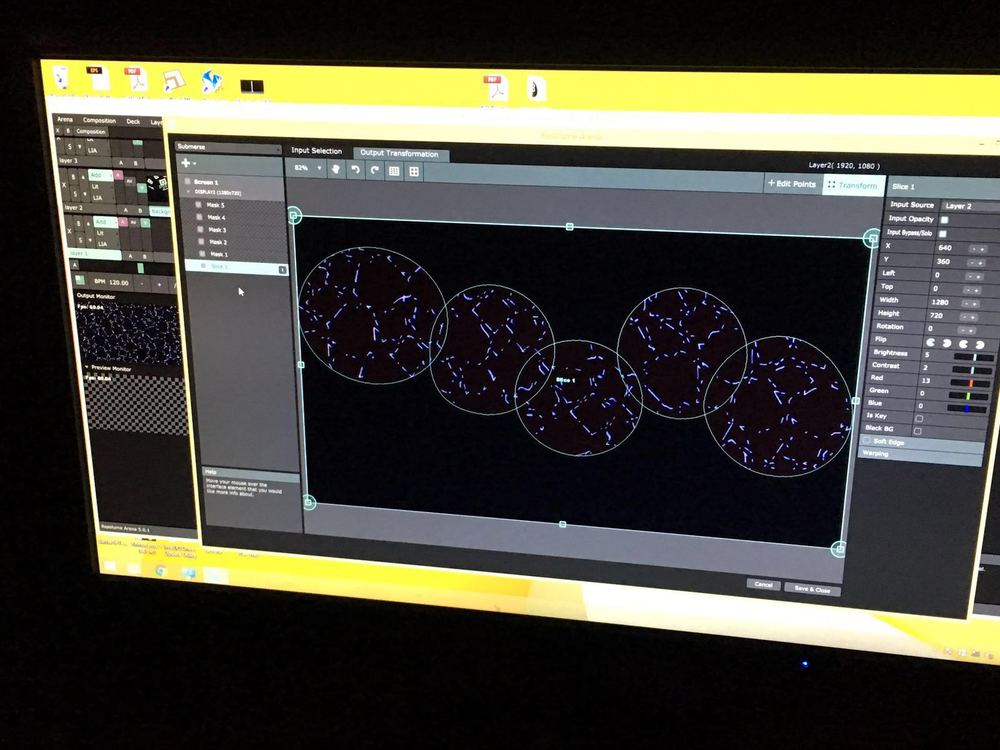 Yip's installations begin with simple geometric shapes that are then compiled to form larger objects. "I love to grab from geometry because, for me, geometry is like the foundation of all art. If you break down any type of art to its rudimentary form you're going to find circles and triangles and squares, things of that nature," Yip elaborated. "Often times using a basic geometric shape can translate very smoothly when communicating an idea."
Once the structure is finalized, Yip begins to tailor-make animations for each form in a trial and error process. Mapping digital content onto a desired surface is his favorite part of the creative process, because it is in this moment that his visualizations begin to take form outside of his mind.
Recently, Yip created an immersive water-themed piece for the group show Submerse. Located in the basement of Suru, a small retail space in downtown Oakland, Submerse presented the works of eleven local emerging artists. The mixed-media show presented photography, painting, sculpture, and two installations, including Yip's.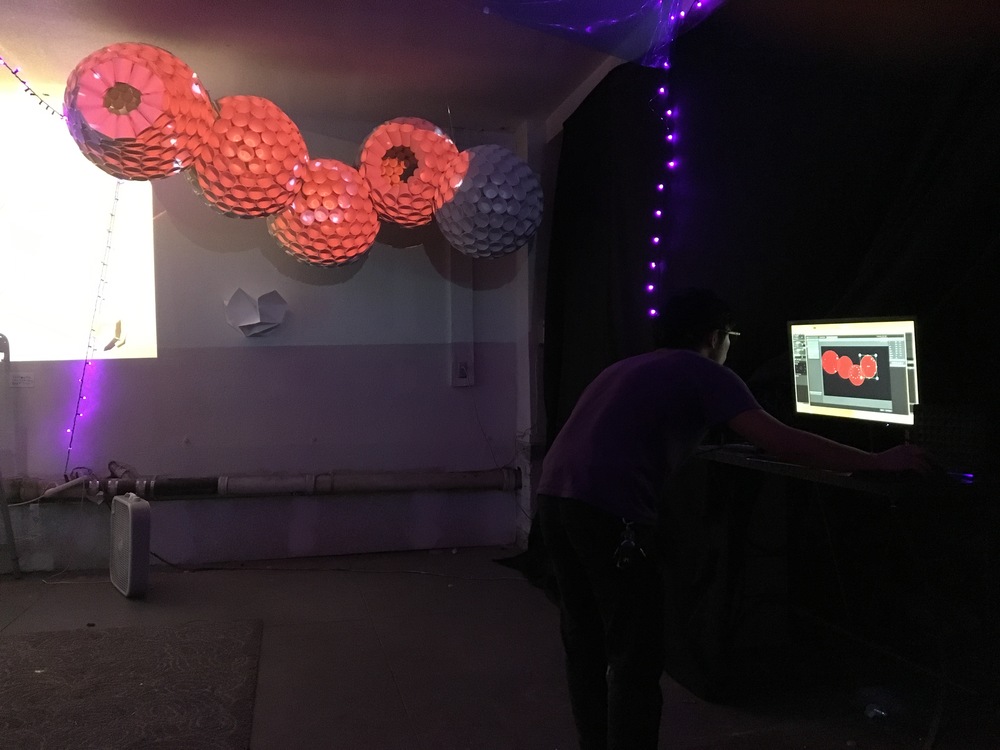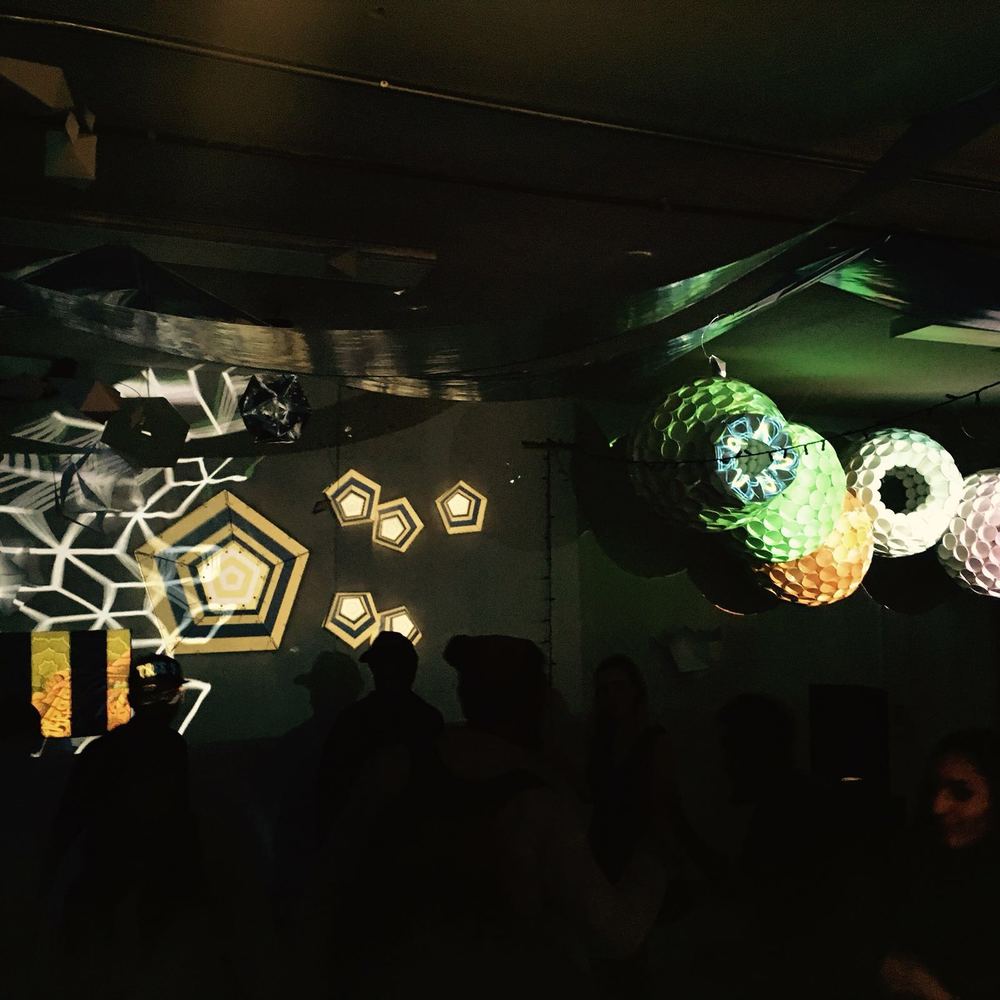 Yip's untitled piece included a representation of a coral reef composed of Dixie cups that hung from the basement ceiling. Hard-edged, pentagon-shaped barnacles decorated the wall beside the reef. The projections alternated between fluid ripples and linear forms, coaxing visitors into a digitized environment under the sea.
"The point is to bring someone out of their normal space and have them feel something else. That's what I'm trying to achieve," Yip stated.
To learn more about Jeffrey Yip, visit: HERE
Follow him on instagram: @blabberbytes
Written by: Vanessa Wilson
Photography by: Jacob Abern