Opening Night: Curious Constructions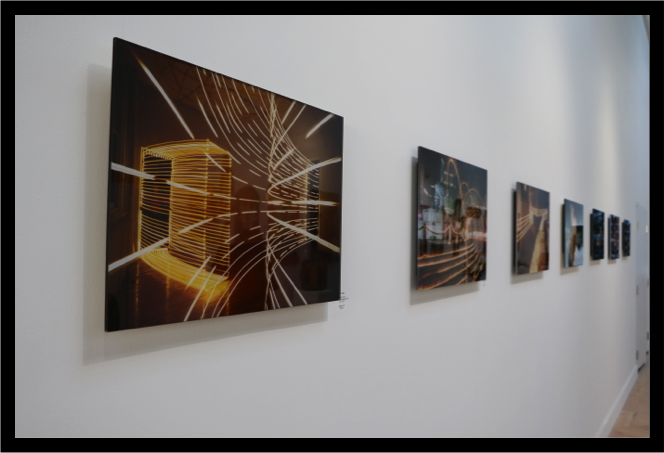 The Midway's latest exhibition, Curious Constructions, officially opened to the public last Friday, September 11th with an eclectic mix of art and music. A midst the soulful beats of Left University's live hip hop performance, visitors were treated to the amazing works of three California-based artists: Eric Staller, Mike Shine and Clint Imboden. Stepping through the Midway's warehouse entrance, viewers are first treated to the light painting photographs of Eric Staller whose work hovers between performance art and documentary photography. Staller's light drawings, from the 1970s, captures the trans formative moments of desolate New York City streets into electrifying dreamscapes. Milling about with hors-d'oeuvres in hand, visitors actively discussed possible techniques used to make these images.
The belly of the gallery reveals a shared space composed of assemblage pieces by Bay Area artists Mike Shine and Clint Imboden. Where Staller regales viewers with whimsical light creations, Shine confronts them with eerie imaginings inspired by the darker side of humanity. Small character portraits precede large scale, collage-like pieces featuring carnivalesque subjects and human-animal hybrids. Each composition has been executed on found objects varying from driftwood to a small travel suitcase and decorated with a sampling of black and white photographs, antlers, ticket stubs and the like. A sense of thinly veiled malevolence undercuts several large-scale portraits as their subjects loom over passersby, at times leering with fully dilated red eyes.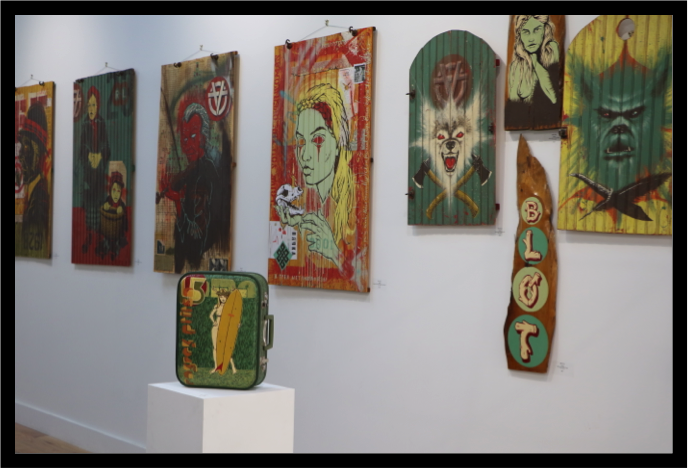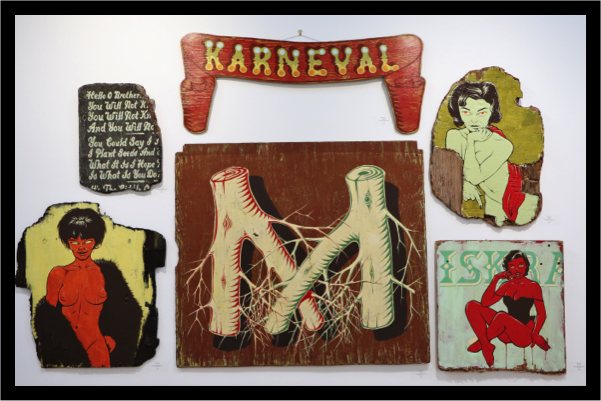 The Midway invites viewers to read Shine's apocalyptic anecdote, "Folstom's Harvest," to better understand the work featured in Shine's installation.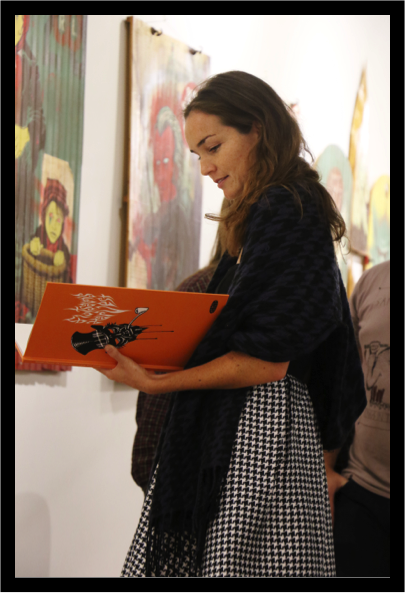 Opposite Shine's installation hangs a collection of Clint Imboden's Cheese Box series, presenting assemblage sculptures composed of found objects carefully arranged within vintage wooden cheese boxes.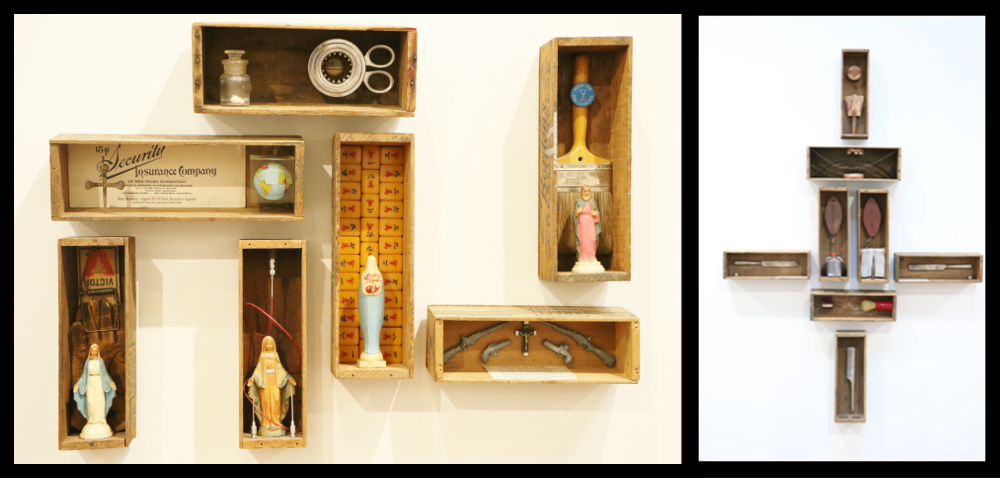 A girl's braid conserved in a test tube, an officer's security badge juxtaposed under a black and white image of a small child, miniature toy guns surround a tiny crucifix, a small magnifying glass encourages viewers to take a look revealing a nude woman. Each box houses it's own personality evoking sentiments of nostalgia, at times appreciation for a clever pun, only to have a neighboring box provoke offense, feelings of voyeurism or confusion.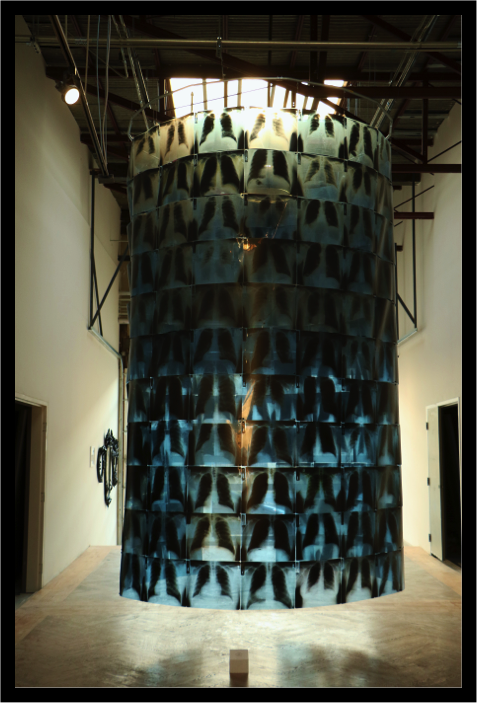 Opening night saw visitors curiously inspecting Imboden's boxes with friends. Fingers pointing at new discoveries made within the confines of each piece, laughter and speculative discussion following a significant sighting as their investigations led them to his immersive installation, Soul.
Imboden's Soul envelops visitors in a cylindrical curtain constructed of salvaged chest x-rays. Inside, some visitors were spotted examining the x-rays trying to spot a malign blotch indicating illness. Those with sharp ears were able to pick up the low thumping of a heartbeat battling against Left University's crisp lyrics. Even fewer were able to catch an abnormality in this heart's beat and questioned if it was meant to be an irregular heartbeat.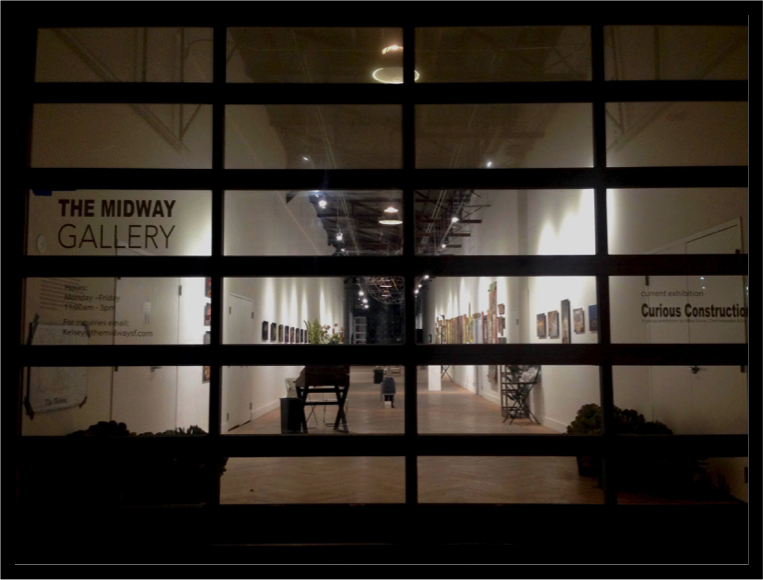 Curious Constructions: A Group Exhibition by Mike Shine, Clint Imboden and Eric Staller will be on display until September 30, 2015. The Midway Gallery is open weekdays from 11am to 3pm and located at 900 Marin St in San Francisco's Dogpatch neighborhood.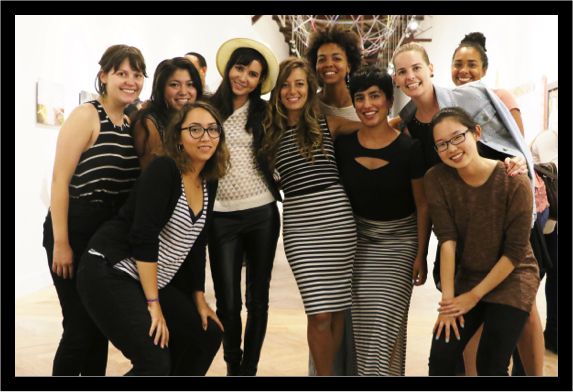 Written by: Vanessa Wilson
Edited by: Kelsey Marie Issel Photos by: Diana Jeanette