2022 Artists
---
Summer Cohort
Shikha Hutchins is an artist and teacher living in San Francisco. She works mostly in clay and paper, drawing inspiration from the conflict and unexpected harmonies between contemporary life and the natural world. To honor the precious limits of life, her works invites a sense of play and light-heartedness. She makes vessels for holding light, foraged flora, a nourishing meal, or nothing at all. Her functional ware is often sculptural, her sculptural work often functional. Her works have been shown at Lala Land Gallery in Fayetteville and X?X Gallery in San Francisco.
Artist Statement:
My current focus explores our deep connection to and place in nature. I believe that we are nature, we are fauna. My hope is to use my art practice as a way of reconnecting and remembering this fundamental fact by using the process of play as a portal into the natural world. I want for people to see themselves reflected in my work and, in seeing themselves, to be transformed.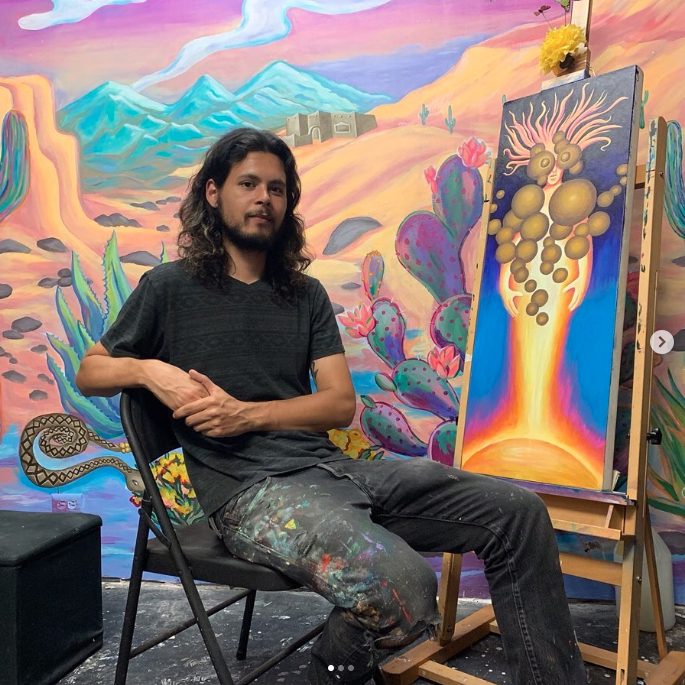 Alex Sodari (he/they) is an Mexican-American artist based in Oakland. His work is inspired by his community, comic books, folk art, local history, and the natural world. They create paintings, illustrations, zines, and large scale murals.
A graduate in Illustration from the California College of the Arts, Alex is the founder of the Lazer Zine, a comic and illustration anthology publishing Bay Area artists. They are also the cofounder of the Mission Art and Comic Expo, an event highlighting Queer and POC artists in San Francisco.
Alex has exhibited in numerous Bay Area galleries, and his most recent show "Dualidad" (with artist Jacqueline Krase-Ochoa at Rock Paper Scissors Collective) celebrates the magic of their Mexican heritage. His current work examines the history of colonization in the West through the lens of magical realism.
---
Winter Cohort
Yijun Ge was born in Xiang Yang, in the province of Hubei, China. She received her Bachelor's from Hubei Institute of Fine Art. During that time, she taught art workshops in oil painting, charcoal drawing and printmaking, and assisted instructors at Hubei Institute of Fine Art University.
Yijun received her MFA in painting from the Academy of Art University, San Francisco, California. Her work has been exhibited in multiple galleries across the United States including Contemporary Venice Art Fair hosted by Itsliquid and Rossocinabro Gallery. Yijun was the featured muralist for the publication "Mural Artist Takes a Stand on Violence against Asians" by the Asian American Press. On November 20th of 2021, and on December 8th of 2021, she was the champion of the ArtBattle Oakland, and ArtBattle San Francisco. Art Battle is live competitive painting, a global tournament of talent.
ARTIST STATEMENT Dreams are the inspiration for my art. The elements that show up in my dreams help to create a painting's theme. They become symbolic language and represent larger concepts. I design my art language from dreams, and in my dreams, there are often some interesting elements, such as spiders, sailboats, cats and dragons. These elements serve my art creation to choose the art themes, and they are unique for symbolic meaning. For example, a dragon means a life journey full of possibilities.
Stephen Longoria is a Texan currently living and working in Japantown San Jose, CA. His focuses include printmaking and silkscreening, as well as woodworking, welding, and other forms of fabrication. Through screen printing, he showcases his illustrations and mixed media pieces.
ARTIST STATEMENT My illustrations focus on creating bold dark shapes on light colors. My work depicts what I want out of life and what I love to do.
Jeffrey Yip is an interdisciplinary artist of color based out of Oakland, producing installations and performances with an emphasis on using technology as a tool of creation. Interested in uniting the senses as an approach to building experiences, he often combines light and sound in physical as well as virtual spaces. Thematically his work revolves around exploring technology to facilitate healing as a form of radical justice and often works collaboratively to create sustainable communities.
ARTIST STATEMENT I'm an interdisciplinary artist building multi-sensory experiences in the framework of healing justice. Conceptually, my work draws inspiration from science fiction, magic, and themes from the distant future. I create spaces for healing with emerging technologies, combining light, sound, sculpture, and human-machine interaction. My art practice offers alternative modalities to traditional western wellness and sparks dialogue around community resilience.